What To Know Before Buying a Christmas Tree — And How To Make It Last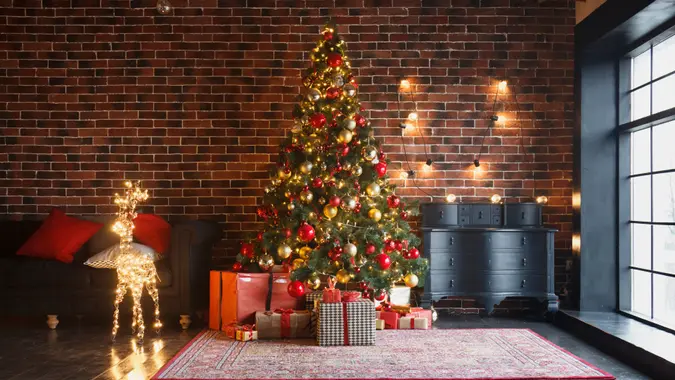 Oxik / Shutterstock.com
The holiday season is in full swing, which for many families means it's time to get a Christmas tree. Roughly 21.6 million real trees and 12.9 million artificial trees will be purchased this yuletide season, according to data from Nielsen Research.
Thanks to inflation, Christmas trees are much more expensive this year than in previous years, so it's extra important that consumers know exactly what they're getting into before buying a live or artificial tree, in order to get the best bang for their buck. 
What should you know before purchasing a tree, whether it is real or artificial? And how can you make these trees look their best for the holidays and last the longest?   
What To Do Before Buying a Real Christmas Tree 
Compare prices at different lots. "Make sure to compare prices at different lots — both big-box stores and local farmers," said John Dave, an arborist and the owner of the blog AgroFever. 
Check the tree for freshness. "Fresh trees have deep green needles that are hard to pluck off the branches," Dave said.  
Inspect the tree for bugs. "If you see any bugs or evidence of bugs, move on to another tree," Dave said. 
Consider a smaller tree. "I know many people enjoy getting the biggest pine their family room can accommodate, but I'd like to caution against that," said Jeremy Yamaguchi, CEO of Lawn Love. "Large trees need far more in the way of nutrients to stay 'healthy,' which a chopped tree will never truly be. This is why pine needles are a constant problem with real trees. A smaller tree will need less and can get by for longer with just water. It will shed fewer pine needles, which means way less cleanup and less worry that pets or small children will ingest."
Make Your Money Work for You
What To Do Before Buying an Artificial Tree 
Have a budget in mind. "Artificial trees have huge price variations," said Chris Butler, CEO at National Tree Company. "They can be less than $50 to more than $1,000. Know about how much you're willing to spend before you go too deep into your search."
"Assess the warranty," said John DeCosmo, president of Ulta-Lit Tree Company. "A good manufacturer will always stand behind their product."
Think about setup and breakdown. "Artificial trees either come hinged or hooked," Butler said. "Hooked branches need to be manually attached to a tree's trunk and can be a laborious process. Hinged branches simply fold into place, which is an easier process."
Replace burned out bulbs immediately. "If the tree is pre-lit with incandescent light bulbs, then we want to make sure we replace any burned-out bulbs immediately as we notice them," DeCosmo said. "Not doing so adds extra voltage onto the good, functional bulbs in the section — which wears down the bulbs at a quick rate and decreases their life span."
Read reviews. "Lastly, if you can't go to a showroom to see and feel the tree you're interested in, be sure to read reviews to see what other people are saying about a given tree," Butler said. "A good artificial tree can be a significant investment; you want to make sure that when the tree comes in it will be something you and your family will cherish for years to come."
How To Make Your Christmas Tree Look Best and Last Longest 
"Let your live tree settle before hanging lights and ornaments," DeCosmo said. "This can make decorating easier, since the branches will have time to flower and spread out." 
Water live trees daily. "Make sure to keep your tree watered — daily is ideal," DeCosmo said. "In addition, cut half an inch off the stump once the tree is bought or when you get it home. A poorly watered tree is dangerous. If you use a real tree and a lot of incandescent C7/C9 or mini bulbs, you will dry out your tree quicker."  
Keep trees away from heat sources. "Don't place your live Christmas tree within three feet of a radiator or any heat source," DeCosmo said. "According to the National Fire Protection Association, live-tree fires outnumber artificial-tree fires 3-1 and cause 20 times more injuries. One in four home Christmas tree fires resulted from a heat source placed too close to the tree."
String the lights properly. "​​When stringing lights on a tree, begin at the top of the tree and wind the strands through its center, widening with the tree's shape," DeCosmo said. "You can tell if you have any dark spots in your tree or if your lights need to be more evenly distributed by performing a squint test. Simply stand back from your tree and, going over it from top to bottom, squint your eyes to see if you notice any dark spots."
"Hang a minimum of 100 lights per one vertical foot of your tree," DeCosmo said. "Serious decorators often double that amount to make a tree stand out."
Don't hang ornaments from the light wire. "The ornament hooks could puncture or wear the insulation of the wire," DeCosmo said. 
Invest in a quality tree stand. "Don't use an inferior tree stand as you don't want to risk the tree falling over," DeCosmo said. 
Make Your Money Work for You
More From GOBankingRates