Why a Fake Christmas Tree Is Your Best Holiday Investment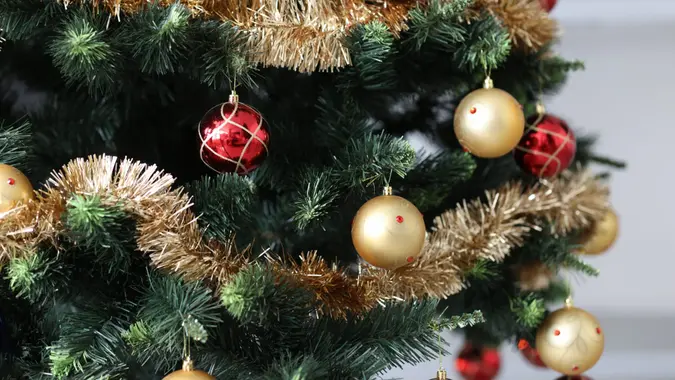 megaflopp / Getty Images/iStockphoto
As if Christmastime wasn't expensive enough with gift purchases and holiday plans, you might also be paying quite a bit more for a real Christmas tree this year. As we previously reported, a survey in August by the Real Christmas Tree Board showed that 71% of respondents (Christmas tree wholesalers) plan to raise the wholesale prices that retailers pay on Christmas trees by 5% to 15% and even as much as 20%.
Additionally, real trees may be in shorter supply as climate conditions such as drought and wildfire have had a negative impact on live Christmas tree growth, according to the American Christmas Tree Association (ACTA). This kink in the tree supply, coupled with a reduction in the number of anticipated trees that retailers will order, is likely to further drive up the cost of these trees.
While it will likely depend upon where you buy your tree, most consumers will be looking at higher prices for a tree versus last year. What's more, Reader's Digest reported that a tree you paid $81 for in 2020 will most likely cost you closer to $100 this year. And a $150 tree will be more like $180.
Make Your Money Work for You
Another new GOBankingrates surveys found that 7% of respondents are not planning on buying a real Christmas tree this year due to these costs. So, what's a Christmas lover to do? Consider looking into a fake Christmas tree.
It Saves You Money
Fake Christmas trees are typically made of plastic and other fibers. While you may initially pay as much as $30 more for a fake tree versus a real one, according to Real Simple, you get exponentially more uses out of the fake tree, which can be reused year after year with very little wear and tear. Above all else, this is the main benefit of a fake tree compared to a real one, but there are other reasons why it might be the best thing for your future holidays, too.
It's Safer
Along with the financial aspect, know that fake Christmas trees have several other advantages. For starters, you're far less likely to run a fire risk from hot lights or light-up ornaments (or sparks from a nearby fireplace) with a plastic tree. No worries about those pine needles inciting allergies, either, or injuring a curious cat or dog who wants to climb it.
Low Maintenance
Your fake Christmas tree requires no water, no special stand, and is easy to store — as most of them fold up and come apart into pieces. You don't have to worry about your fake tree dying or having to clean up a ton of dead needles either.
Make Your Money Work for You
Likewise, they are much easier to bring home. Fake Christmas trees typically come folded up in an easy to transport box, which doesn't require any fancy configuring on the roof of your car or in your trunk with ropes and other means to secure it.
And with a fake tree, there's no worry about how to dispose of it. You just fold it up and keep it in your garage, attic or closet for next year to 30 years.
It's Practically Perfect Every Time
While it can be fun to spend the time searching for just the right real Christmas tree, a fake tree saves you the trouble of having to hide a "bald spot" or other imperfections. Your fake tree is perfect, every time, every year, because it remains the same.
Variety
Another bonus of fake trees is that you can buy a variety of different kinds, from flocked white Christmas trees to those pre-loaded with lights, and many are incredibly natural looking. Just plug in a pine scented candle or air freshener, and your guests might not even notice that your tree isn't real.
Make Your Money Work for You
Recyclable
Lest you fear that an artificial Christmas tree is just destined for the landfill, you might be pleasantly surprised to learn that most of them are recyclable. According to the ACTA, which did a "life cycle analysis" of natural and artificial trees, they found that after five years of use, an artificial tree uses 1.5 times fewer renewable resources than a natural tree.
So, if you keep the same tree for ten years, it's three times less wasteful than a natural tree.
If you're still not convinced, and regardless of whether you buy live or artificial, you may want to follow the recommendation of Jami Warner, Executive Director of ACTA. Warner said, "While there may be enough trees for everyone who wants one, the options may be more limited. Our 2022 recommendation to consumers is straightforward: If you want a specific type, style, or size of tree, artificial or live, find it early."
More From GOBankingRates
Make Your Money Work for You