Why It's Even More Important To Stick to Your Holiday Budget This Year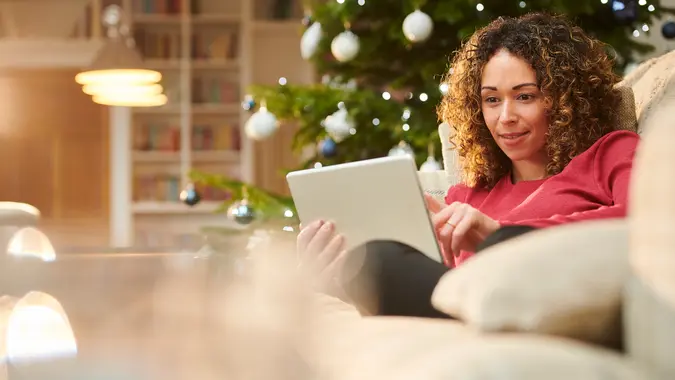 sturti / iStock.com
The holidays are often a busy — and expensive — time of year. Americans are expected to spend $1,455 on gifts per household this year. Due to inflation, prices are up 10%. Americans are giving fewer gifts than they did last year, however the amount is still estimated to be about the same.
Though sticking to a budget is a good idea year round, you may need to be even more diligent as we head into the 2022 holidays. Here's why you should be watching your finances especially close this holiday season.
Interest Rates Are Rising
Because of inflation, the Federal Reserve is set to raise the interest rate for the sixth time this year. How does that affect holiday shopping? It depends what your current investments are, but most likely, rising interest rates will affect you one way or another.
If you have a mortgage, your interest rate on your payments is going up, which means you'll have less cash in your pocket for holiday spending. The average interest rate for 30-year fixed-rate mortgages is now near 7%, which is the highest it's been since 2002. 
Using a credit card to pay for presents? Higher interest rates apply to credit cards as well. The annual percentage rate, or APR, is now close to 19% on average for credit cards, so you might want to rethink opening a card just to pay for holiday expenses. Your money might be better used on paying off your current credit card to avoid skyrocketing interest rates.
And, these aren't the only accounts affected by rising interest. Auto loans and student loans will be affected as well. If you have any of these assets, you'll want to stick closely to a budget that takes into account how much extra you'll be paying in interest. 
Make Your Money Work for You
Inflation Is Still a Reality
Though gas prices might be yo-yoing, prices are still very much on the rise. Prices for energy, housing, and food are all going up. This means going into 2023, you can expect to have to budget more for these items. It's important to think beyond the holidays and know you'll be spending more on food and energy than you did before. Look at your finances and find a dollar amount that you'd be comfortable spending on gifts. Then, make sure you stick to that figure no matter what.
The Stock Market Isn't Stable
If you invest in the stock market, you've been on a bumpy ride this year. The S&P 500 is down 20% year-to-date. When the market is low, it's a loss for your pocketbook, but it also sends warning signs to investors, who might sell their shares. It could take years for the market to recover. In the meantime, prices will continue to rise. To reiterate a theme: costs are going to go up, so it's important to be wise when it comes to making big purchases. 
How To Save on Holiday Expenses
Given the issues holiday shoppers are likely to face this year, it can help to trim down your holiday budget and make room for higher costs. Here are a few ideas.
Embrace the Gift Card
Forget the stigma around giving gift cards. They tend to be more appreciated than you might think. For one, asking someone what they want for the holidays can be a bit awkward, especially if their desired gift is out of budget (or they really can't think of anything). A gift card makes sure they get something they truly want or need.
Opting for a gift card can also help you stick to your budget since you don't have to worry about finding an item that's priced exactly within your spending limit. 
Make Your Money Work for You
Give Something Homemade
If you have a talent for baking or crafting, costs can stay low while thoughtfulness remains high. Think about something you can give to those on your gift list that you can make yourself. Most likely, people will love these gifts more because it was made with love.
More From GOBankingRates
Casey Bond contributed to the reporting for this article.