5 Home Improvements Boomers Should Make Before 2024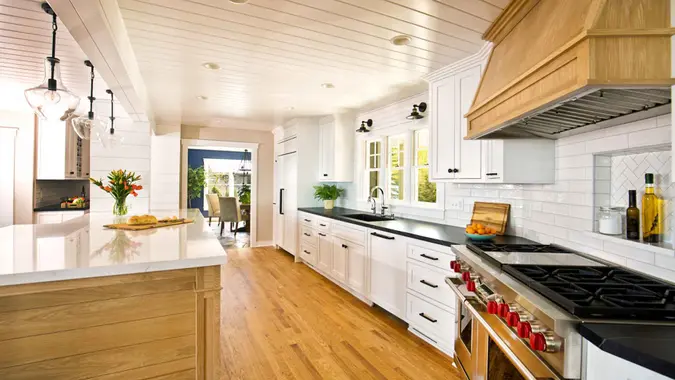 YinYang / Getty Images
As the Baby Boomer generation enters its golden years, the idea of aging in place has become a focal point for many. Creating a comfortable, accessible, and sustainable living environment is paramount.
With 2024 just around the corner, it's the ideal time for boomers to consider specific home improvements that can enhance their quality of life for years to come. Here are five recommendations:
1. Install Age-Friendly Bathroom Features
Bathrooms can pose several challenges as mobility decreases. Consider:
Walk-in showers and tubs: These eliminate the need to step over a high threshold, reducing the risk of falls.
Grab bars: Positioned near the toilet and in the shower, they offer support when standing or moving.
Non-slip tiles: A simple yet effective measure to prevent falls, especially on wet surfaces.
2. Enhance Lighting Throughout the Home
Good lighting can help prevent accidents and make everyday tasks easier, especially for those with diminishing eyesight.
Motion sensor lights: These are particularly useful for hallways and exterior paths.
Under-cabinet lighting: This can brighten kitchen workspaces, making food preparation safer.
Dimmable switches: They allow residents to adjust the brightness to their preference, ensuring comfort and clarity.
3. Rethink Flooring
As mobility decreases or if wheelchairs or walkers become necessary, certain floorings might become problematic.
Remove high-pile carpets: These can be tripping hazards. Instead, opt for low-pile carpets or consider hardwood, laminate, or vinyl flooring.
Level thresholds: Ensure a smooth transition from room to room by eliminating any raised thresholds.
4. Widen Doorways and Hallways
As boomers age, there might be a need for mobility aids, and typical door widths might not suffice.
Expand doorways: A width of at least 32 inches can comfortably accommodate wheelchairs and walkers.
Lever door handles: These are easier to operate than traditional doorknobs, especially for those with arthritis or limited hand strength.
Make Your Money Work for You
5. Smart Home Technology Integration
Modern technology can add an extra layer of safety and convenience.
Voice assistants: Devices like Amazon's Echo or Google's Nest can help with tasks like turning off lights, setting reminders for medications, or calling for help.
Security systems: Consider installing smart security cameras, doorbell cameras, and monitored alarm systems for added peace of mind.
Automated thermostats: They can ensure the house remains at a comfortable temperature, and many can be controlled remotely.
For Baby Boomers aiming to enjoy their homes for as long as possible, these improvements offer a blend of safety, comfort, and modern conveniences. While some changes might require a substantial investment, the benefits — both in terms of well-being and potential property value — can make them well worth the effort.
Editor's note: This article was produced via automated technology and then fine-tuned and verified for accuracy by a member of GOBankingRates' editorial team.
More From GOBankingRates