7 Affordable Ways To Upgrade Your Primary Bathroom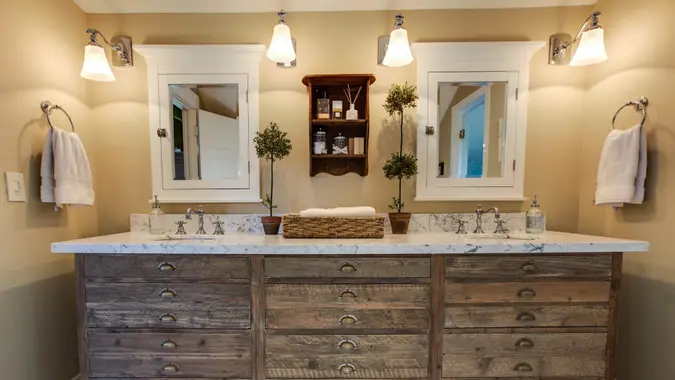 contrastaddict / Getty Images
Your primary bathroom is a decent space, but you know it could be better. More than just a place to shower, shave and brush your teeth, you want to transform it into an oasis.
No doubt, you've dreamed about updates you'd make if you had the time and money to invest, but a big project isn't in the plan right now. Thankfully, there's no shortage of improvements you can make on a budget.
Whether your primary bathroom needs a new look or an upgraded accessory to give it a more luxurious feel, doing so can actually be quite affordable. Here are seven ideas to help you make this space more inviting.
Get a New Showerhead
If your showerhead is rusty, filled with gunk or barely jets out enough water to wash your hair, it's time for a change. Swapping your current fixture with a new showerhead will make getting ready an anything but lukewarm experience.
Make Your Money Work for You
Home Depot sells waterfall showerheads starting at less than $20. If you prefer a handheld version, Bed Bath & Beyond sells the sleek and modern Waterpik® 6-Spray Twin Turbo PowerPulse Massage Handheld Showerhead for $44.99.
Upgrade Light Fixtures
Light fixtures are a focal point of a bathroom, so if yours are dated, they're definitely aging the entire space. Thankfully, trading an old light fixture in for a stylish new one is a lot cheaper than you probably realize.
For example, Build With Ferguson sells the seriously glam Metropolitan Three-Light Bathroom Bar from the Saybrook Collection for $64. You could also opt for the rustic TOBUSA Three-Light farmhouse-inspired vanity light fixture, available for $39.99 on Amazon.
Buy a New Shower Curtain
Your shower curtain is a main focal point of the bathroom, so an older style can easily date the entire space. A simple fix, investing in a new shower curtain can give the room a fresh look.
Make Your Money Work for You
A classic look, Target has a Textured Dobby Stripe gray shower curtain by Hearth & Hand with Magnolia for $24.99. For a bolder style, check out the Aaban Geometric Shower Curtain Set and Hooks, available on Wayfair for $47.99.
Invest In Organization
If you have a lot of products and not enough storage space, your bathroom is likely pretty cluttered. Even if your space is otherwise chic, it's not going to look good with so many items sitting around.
Get rid of anything you don't use, then invest in storage options like The Home Edit By IDesign Stackable Hair Dryer Organizer and Two-Tier Organizer, sold at The Container Store for $24.99 and $12.99, respectively. You might also consider heading to Target for the Made By Design Bathroom Shower Caddy — priced at $16 — and the Two-Tier Slide Out Storage Rack by Threshold, offered for $20.
Hang Wallpaper
Give your boring bathroom walls a serious makeover with wallpaper. Cover the entire room or opt for one accent wall — whatever works best for your space. You can find bathroom wallpaper at a variety of price points, in just about every style imaginable.
For example, Target offers the impossibly chic — steam and moisture resistant — gray peel and stick Marble Herringbone Tile Wallpaper, covering 27.5 square feet for $34. Another stylish option, Wayfair sells a 45-square-foot roll of Wellsville Banana Leaf peel and stick wallpaper, by York Wallcoverings for $63.99.
Make Your Money Work for You
Get a New Toilet Seat
Technically speaking, there's nothing wrong with your existing toilet seat. However, one with a few luxury features is a great way to make your bathroom feel seriously extravagant.
Avoid having to turn the bright bathroom light on in the middle of the night by purchasing the illuminated — featuring two brightness levels — Kohler Reveal Round Slow-Close Toilet Seat at Lowe's for $52.51. Alternately, you could make your existing seat feel like new with the Livtribe Toilet Seat Warmer — it discreetly sticks to the inside of your toilet seat ring — for $33.99 on Amazon.
Purchase a Towel Warmer
Make your bathroom feel like a spa by ensuring you always have a warm towel at your disposal. The ultimate in pampering, a towel warmer will actually make you look forward to getting out of a nice, steamy shower.
Buy the Homeleader Towel Warmer and Drying Rack on Amazon for $72.99. Additionally, the TW300 Freestanding/Wall Mount Electric Towel Warmer is available for $66.18 on Wayfair.
Make Your Money Work for You
More From GOBankingRates