The 7 Best Home Security Systems for the Money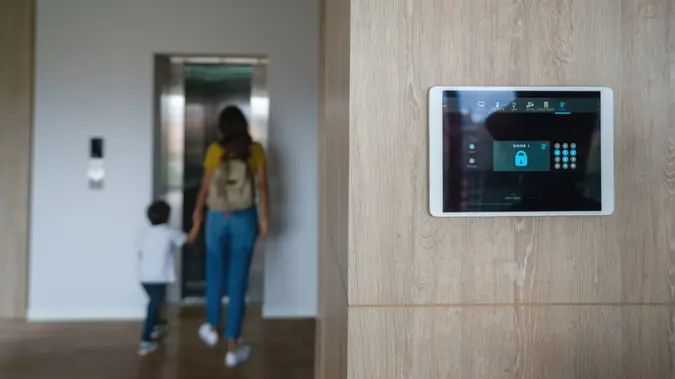 Hispanolistic / Getty Images
If you have any concerns about the security of your home, and you want to add a layer of protection and put to rest anxieties, you may want to consider a home security system.
Read More: Unplug These Appliances That Hike Up Your Electricity Bill
Find out: Here's How Much Cash You Need Stashed If a National Emergency Happens
These can protect against not only burglary and other break-ins, but offer peace of mind during bad weather or in case of fire or flood, especially if you are out of town.
Here's a look at seven of the top security systems and their features to help you choose the best one for you.
Ring Alarm
Starter equipment price: under $200
Monthly monitoring: Between $3 and $20/month
The Ring system may be the most well-known because its price point makes it very accessible. Monthly monitoring starts at $3 per month, and you can choose from four equipment packages for less than $350 (and several for more). 
Make Your Money Work for You
Ring is "no-frills home security," according to Safewise.com, but it will serve the basic function of intrusion detection if a door or window is opened, and motion detection. It's a great place to start for home security that won't break the bank.
Simplisafe
Starter equipment price: $229
Monthly monitoring: $17.99/month standard plan. $27.99/month interactive plan
SimpliSafe is a little bit more expensive than the Ring Alarm, but it can be a great way to test the waters.
SimpliSafe does not require a contract and has a 60-day money-back guarantee with easy setup. The equipment is "stylish" and "affordable," according to Safewise.com. Additionally, SimpliSafe is partnering with RapidSOS. If your alarm gets triggered, certain data will be sent directly to 911 dispatchers. You have the ability to opt in or out of the professional monitoring as well.
Take Our Poll: Do You Tip for Service?
Blue by ADT Home Security System
Starter equipment price: $219.99
Monthly monitoring: $19.99/month
When you purchase the ADT Home Security System, you're paying, first and foremost, for the name and reputation of this company that has provided security for over 140 years. ADT also has monitoring centers all over the country providing 24/7 monitoring, for additional reliability. Smart home control is available. While Blue by ADT starts at $19.99 per month, if you want additional security perks such as video monitoring, smart home control or mobile app access, you may pay as much as $60 per month or more.
Make Your Money Work for You
Abode
Starter equipment price: $279
Monthly monitoring: Starts at $6/month 
Abode offers a number of services including smart home compatibility, optional self-monitoring and custom home automation. This system is better for "smaller living spaces," according to Safewise.com. It offers two plans, the standard at just $6 per month and the more popular pro at $20 per month. For the pro, you receive professional monitoring, cellular backup, homeowners insurance discounts with Branch and can choose from either a smart security kit or an Abode Iota security hub.
Abode can also sync with Amazon Alexa, Google Assistant or Apple HomeKit.
Vivint
Starter equipment price: $599
Monthly monitoring: $29.99/month
Vivint, according to Safewise.com, is known for "[m]arrying smart AI tech and high-end security equipment [which] launches Vivint beyond average home surveillance systems to tackle today's most pressing security concerns." This is a more advanced security system, which centralizes all you need in one home security app. It includes a "smart deter" detection of lurkers, customizable smart security packages and free in-home consultation. There are multiple contract options but the $29.99 per month will give you the best features for the best price.
Make Your Money Work for You
Link Interactive
Equipment price: Starter package under $245
Monthly monitoring: $30.99-$47.99/month
Link Interactive distinguishes itself with an astonishing 48 sensors for windows and doors, as well as sensors for such things as firearms and a backyard grill. Safewise.com says that it is one of the systems that really aims to protect "your whole home," not just your front door. The gun lock has a tilt sensor and a special three-digit lock to reduce the chance of accidental discharge of the weapon. It offers contracts as short as 12 months.
Frontpoint
Starter equipment packages: $392.40 and up
Monthly monitoring: $49.88/month
Frontpoint may be among the costliest on this list in terms of monthly monitoring, but it offers the most monitoring features, according to Safewise.com. For that monthly fee, you have access to the mobile app, security cameras, smart home equipment and life safety monitoring. In addition, installation is free and easy, and there are no contracts for monitoring. If you aren't sure, you can sign up for a free 30-day trial. Safewise also praises its "outstanding customer service" and says it delivers "more security monitoring features" than other systems.
More From GOBankingRates
Make Your Money Work for You