8 Best Video Doorbell Cameras Under $60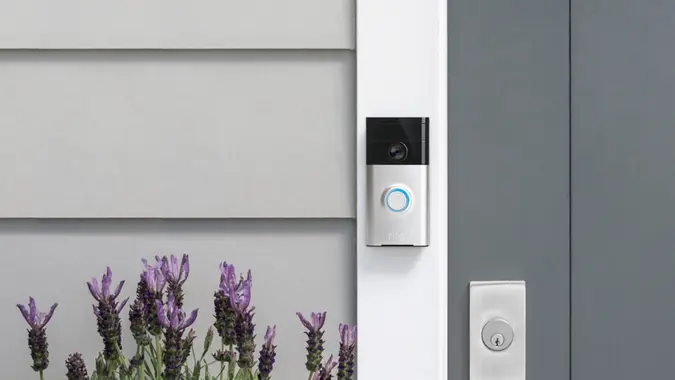 ©Ring Video Doorbell
Doorbell cameras can offer you a heightened sense of security, along with a convenience factor. You're able to see exactly who's at your door, or when packages were delivered, even if you're not home. Finding the best doorbell camera can be tricky, considering there are so many choices.
GOBankingRates took a look at the reviews of the top models and found the best ones that won't cost you an arm and a leg.
Amazon heralds this model as their best budget pick for doorbell cameras. With this doorbell's camera, you can make video calls, and even change your voice if you'd like. The battery is also rechargeable, so you don't have to worry about replacing it frequently. You can also easily share images captured by the doorbell with others, so everyone in your home can monitor what's going on outside.
This EKEN doorbell allows you to have 2-way conversations with whoever is at your door. The smart doorbell has a built-in motion detector, infrared sensors and LED lights to keep your home safe. Another advantage to the EKEN doorbell is that it's wireless, and has rechargeable batteries to power it. All you need to work the doorbell is an app, so you don't need to purchase any other devices. 
Another doorbell that will capture stellar 1080p images and video, plus 2-way audio, motion detection, and the ability to share the doorbell's activity with other people who live in your home. Because the doorbell is wireless, it's pretty easy to install, and is powered by rechargeable batteries. The battery life is said to last 4 months, so you won't have to worry about recharging them too often. Users say that if you want to save footage, you'll need to pay for a cloud service subscription.
Make Your Money Work for You
If you've been looking at doorbell cameras at all, you've heard of Ring doorbells. Ring has a reputation for being one of the best doorbell cameras at an affordable cost. The doorbell is equipped with motion detection, and captures 1080p video with night vision, so you won't be squinting to figure out who's at the door. You get notifications sent straight to your phone. One thing to know: you will need a Ring Chime or a device with Amazon Alexa to connect to the Ring, like an Echo.
The GEREE motion detection camera captures 1080p photos and video with night vision that you can save to a cloud service for an extra fee. In addition to 2-way audio and video, you can set up the app to send you a message with an image every time someone rings your doorbell. There's also a silent alarm function that can alert you when someone is at your door, without alerting them. Users add the GEREE doorbell is very easy to install.
Enjoy 2-way audio and video, and intuitive motion detection that can distinguish between a person, and say, an animal or an object. You can even turn on a "human detection" function, so you only get alerts when a person is at your door. The doorbell also includes six lights for added security. Users say the rechargeable batteries last about two months, so you'll get a pretty long use out of them before having to charge them.
This doorbell has a 166° viewing angle so you can get a comprehensive view of everything going on around your door. The app that powers the KAMEP doorbell can be accessed by multiple people, so everyone in your house can feel secure. You can also have conversations with people at your door via 2-way audio, and even program a prerecorded voice message for anyone who comes while you're away. The doorbell is wireless and comes with rechargeable batteries for easy setup.
Make Your Money Work for You
The Blink allows you to answer your door from your phone, since it has 2-way audio and video. You can also save and share video clips if you need to. The Blink also boasts a two year battery life. Similar to the Ring, you will need a device with Amazon Alexa to connect to it. With the Blink, you also have the option of adding more cameras on if you'd like to monitor more areas of your home.
More From GOBankingRates