8 Affordable Ways to Create an Entertainment Room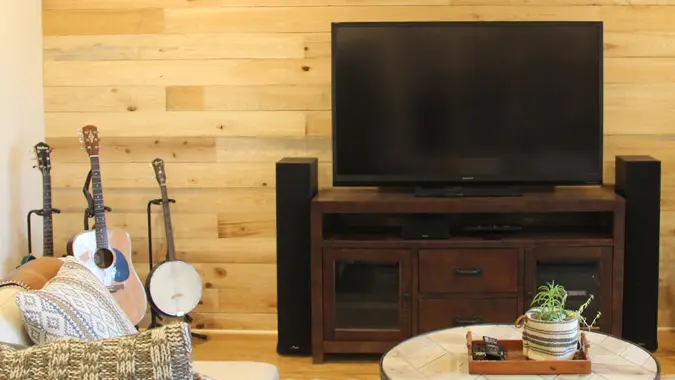 ©GOBankingRates
The family/indoor entertainment center market is booming, with the sector expected to surpass $69.55 billion by 2030, according to findings from Allied Market Research. We're not only seeing this trend gain steam at an industry level; we're also seeing it pick up momentum in our own homes. American spending on digital entertainment reached an all-time high of $32 billion in 2021, up by close to 8% over 2020.
Naturally, folks need a space to consume all of this media, and that's where the home entertainment center comes into play. Think surround sound, mega TVs and gaming consoles. It makes for a heavenly retreat, but it can cost a fortune to create.
"The cost of turning a room into a home entertainment center will depend on the size of the room, the type of equipment purchased and the level of installation and labor needed," said Chloe Hughes, the editor-in-chief at Foter. "Generally, a basic home entertainment center will cost several hundred dollars. This would include a television, DVD player and sound system. More elaborate systems with multiple screens and surround sound can cost thousands of dollars. Installation may also be expensive, depending on the complexity of the setup."
Thousands of dollars? In this economy? No thanks. Let's look at some ways to save on turning a room into an entertainment center. 
Assess Your Space, Needs and Budget 
"Before you do anything, measure the space you have available, figure out what you want to buy, and do your research to find the best products and prices available to fit your budget," Hughes said. "Then, and only then, purchase accordingly."
Make Your Money Work for You
Tap Memorial Day Sales 
"If you're hunting for tech bargains during Memorial Day weekend, your best bets for top sales are Best Buy, Dell, HP, Newegg and Samsung," said Mackenzie Shand, shopping expert with BlackFriday.com. "If furniture and home décor are also on your shopping list for your new entertainment center, you'll want to go to Ashley HomeStore, Kohl's, Macy's and Target for can't-miss Memorial Day deals. Some of the best Memorial Day sales are also hosted by home improvement retailers like Home Depot and Lowe's, so it's a smart time to stock up on tools — especially for those in need of more tools when turning their room into an entertainment center." 
Time Your TV Purchase to Save  
"A TV is often the centerpiece of an entertainment-focused room," said Katie Roberts, consumer analyst with DealNews.com. "You can get stellar deals on even big-screen sets, but when you buy matters. Black Friday is consistently the best time of year to buy a TV if you want to nab a great discount, and we've seen a lot of TV deals show up in December, too. Outside of the holiday season, March can bring a significant number of TV offers."
Use a Wall as a Screen for a Projector 
"Investing in a good quality projector will not only save you money on purchasing a large TV but will also remove the necessity to buy a TV stand or mount," said Volodymyr Barabakh, co-founder and project director at Structural Beam. "It is a great option for those with less space as it will seamlessly transform any room into an entertainment center, only to become invisible when switched off. This gives you the freedom to double up a living room or dining area with an entertainment center, saving you money and space."
Make Your Money Work for You
DIY Furnishings with Pallets and Crates  
"Not only are pallets and crates available almost at any woodworking shop, it's also cheap and can even be done DIY," said Brian Lee, the founder of Drill & Driver. "This brings a different setting to your entertainment center without spending hefty costs on store-bought furniture. A rustic interior is always in and never goes out of style, plus it can create a much more engaging ambiance for when you want to relax. Crates and pallets are also more unique, which will make your entertainment center stand out, regardless of your home's interior accents."
Lee added to make sure you get the correct measurements so your wooden crate/pallet entertainment center will look polished. 
"Whether you're buying one from the port or building your own, it's best to keep exact measurements to make your piece look more appealing," Lee said. 
Go Local and Used for Game Tables
"Ping pong, foosball and other game tables tend to show up in places like Facebook Marketplace, Craigslist, and yard sales," Roberts said. "Often, people will decide to get rid of these bulky items when they're moving or cleaning out the house. If you're not set on getting a brand-new game table, opting for a used one from one of these local sources can be a great way to save."
Consider All-In-One Tables
"Maybe you or the kids want a room where they can play pool, air hockey, table tennis … the list goes on," Roberts said. "Buying separate tables for all of those games can both take up a lot of space and be a drain on your wallet. Look into getting a combo game table instead, as these usually feature three or more table-based games in one product. That way, you can still enjoy the games you want without paying for several different tables."
Decorate With Your Favorite Movie Memorabilia  
"If you are a movie lover, then you have probably searched for a place where you can display all of your favorite movie posters," said Kerry Sherin, consumer advocate at Ownerly. "Add curtains to your screen and any windows. Your favorite movies can even be displayed in their cases on the wall. Add a lock to the door to prevent break-ins."
More From GOBankingRates