7 Affordable Ways To Upgrade Your Backyard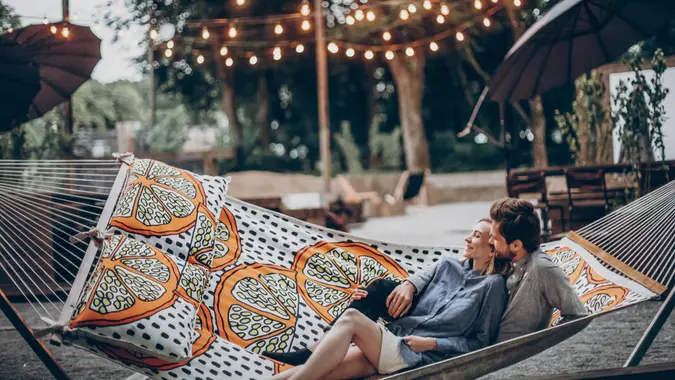 ©Shutterstock.com
Your backyard has great potential, but let's be honest — you're not currently maximizing it. Right now, it's not much more than the outdoor area behind your house, but you want to turn it into an extension of your home. 
Related: In Less Than a Decade, You Won't Be Able To Afford a Home in These Cities
Shopping: 8 Best Food Products To Buy at Costco
Whether you're hoping to create a relaxing space for yourself or a beautiful area to entertain, you're ready to bring your vision to life. However, you don't have a ton of extra cash to dedicate to an expensive backyard renovation. There's no need to stress, as there are plenty of ways to transform your space into something magical on a budget. Here are seven affordable ideas that will make a serious impact.
Plant an Herb Garden
More than just pretty décor, a backyard herb garden is the upgrade that keeps on giving. No matter what size space you're working with, you can create an efficient setup literally tailored to your tastes. You'll also save money at the grocery store, because you'll no longer need to purchase herbs. Plus, fresh fare from your garden always tastes better.
As an easy DIY project, you can start your herb garden from seed or speed up the process with mature plants. Home Depot sells a Back to the Roots brand Organic Herb Seeds Variety Collection — five packs — for $24.98. Alternately, you could find a similar variety pack of herb plants — i.e., basil, parsley, cilantro — on Amazon for $10.99
Make Your Money Work for You
Poll: Have Gas Prices Affected Your Driving Habits?
Repair Fence Holes and Cracks
More than just a means for privacy, the fence surrounding your backyard is part of its overall look. If it's currently filled with unsightly holes and cracks, it's time to make some much-needed updates. No matter how nice the rest of your yard looks, a fence in need of TLC will cast a shabby vibe over the rest of the space.
The average cost of fence repair ranges from $299 and $876, according to HomeAdvisor. Costs vary according to the construction of the fence and the extent of the damage.
Give Your Seating Area a Makeover
If your backyard seating options are uncomfortable or have otherwise seen better days, you're probably not too eager to lounge on them. Investing in new seat cushions, pillows and an area rug to pull the space together will make you want to spend more time outdoors — and invite others to join you.
IKEA chair cushions in the Kuddarna style start at $5.50 and the Vrensted indoor/outdoor rug is just $39.99. Amazon also offers a four-pack of Wonder Miracle brand outdoor seat cushions — in a variety of colors — starting at $32.98, as well as a four pack of Pendali brand throw pillow covers starting at $13.99.
Make Your Money Work for You
Get an Outdoor Heater
Maximize the use of your backyard by investing in an outdoor heater. This will keep you from having to stay inside on nights when temperatures fall below your comfort level.
If you'd prefer one powered by propane, Amazon sells an FDW brand tall hammered finish outdoor heater — 41,000 BTU — in bronze for $89.99. Home Depot also offers a Hampton Bay 48,000 BTU propane heater that warms up to 200 square feet for $119.
Hang String Lights
If being in your backyard past sundown is too dark for comfort, add beautiful white lights to illuminate it. This is a cheap and easy way to transform an ordinary space into something magical.
Amazon sells a 25-foot strand of Konictom outdoor lights — with white wire — for $15.99. Alternately, the company Solar Flame Flickering Lamp Torch sells a 17-meter string of solar powered fairy lights for $14.99 — available in white, red, blue and green.
Buy a Fountain
There's something calming and beautiful about a backyard fountain. Give your space a sense of Zen by purchasing one to add to your outdoor décor.
Overstock.com sells a Havenside Home Polyresin Tiered Pots Outdoor Fountain for $133.16, with an electric pump and two brown birds placed on each side. You could also opt for the Teamson Home Polyresin Three-Tier Garden Fountain — including all necessary parts and a pump — for $148.99 at Home Depot.
Make Your Money Work for You
Create a Kids' Play Area
Make your backyard a fun place for your little ones to play. They'll create lasting memories — and burn off plenty of extra energy — in their own personal playground. There's no shortage of ideas to craft this child-focused space, so focus on activities tailored to your kids' interests.
A childhood classic, Target sells the Little Tykes Turtle Sandbox in green for $44.99, as well as the brand's Farmers Market Playhouse for $214.99 (though it is currently on sale for $107.50). You can also get the Movement God brand Metal A-Frame Two-Seat Swing Set on Amazon for $154.99.
More From GOBankingRates
Make Your Money Work for You