How Much Is an Average Electric Bill?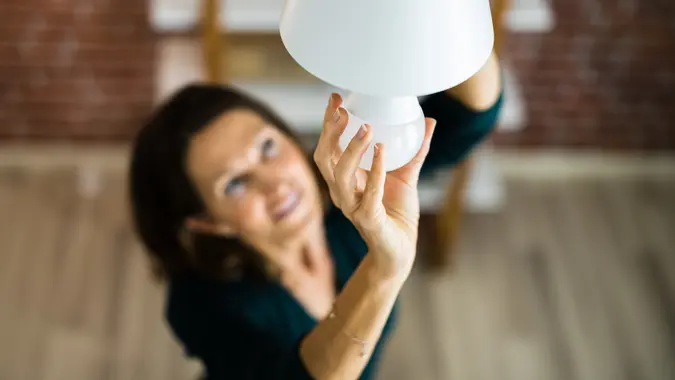 AndreyPopov / iStock.com
The current economic situation is affecting a lot of people. According to the International Monetary Fund, the global economy is dealing with an unexpectedly sharp downturn and higher inflation than many adults have seen in their working years. Electric bills are no exception to rising costs.
Instead of feeling hopeless, you can take action. Checking in with your recurring bills is one way to protect yourself from spending instead of saving. Read on to learn about the average electric bill cost and how you can save.
Learn: If Your Credit Score is Under 740, Make These 4 Moves Now
What Is the Average Monthly Electric Bill in the US?
According to the Bureau of Labor Statistics, the average cost of electricity in the U.S. was $0.166 per kilowatt-hour in October 2022. Assuming the typical household consumes about 886 kWh of electricity per month, electric bills cost an average of $147.08 in October.
This is an increase of almost 57% from 2020, when electric bills cost about $93.83 per month. By 2021, the average electric bill for American households grew to $121.01 per month.
Make Your Money Work for You
Factors Affecting Cost
The costs of electricity and many other utilities vary considerably from state to state, as does usage.
States with more extreme climates will have higher usage, which affects the demand for electricity and drives the price up. Places with limited access to power generation sources will have a lower supply, which also increases the average electric bill.
3 Tips for Saving Money on Electricity
The following tips can help you save on your average electric bill and reduce your energy consumption. 
1. Turn Down the Heat
Opt for a lower indoor temperature in colder months, and you could reduce your average electric bill by up to 10%. When you lower your thermostat by 7°F to 10°F for several hours a day — like when you're asleep — your heating systems don't have to work as hard.
This habit might even make you more comfortable in general. If you're acclimated to cooler indoor temperatures, the outside air won't be so jarring. Also, people who sleep in cooler rooms have more restful sleep.
Make Your Money Work for You
2. Wash on Cold
Your water heater is another big energy consumer. Use less hot water by washing a full load of dishes in the dishwasher instead of washing each by hand. You can reduce energy usage even more by skipping your appliance's built-in heated drying and letting your dishes air dry instead.
Take cold — or at least cool — showers to give your water heater a break, reduce your stress and improve your circulation.
3. Upgrade What You Can Afford To
Upgrading your household is more than switching to high-efficiency appliances. It's also about upgrading windows and checking the weather seals on your doors. After all, well-sealed and insulated barriers will help keep the air you pay to heat or cool inside.
Sometimes upgrading is about downsizing. Smaller appliances, like microwaves and toaster ovens, use significantly less energy than their full-size counterparts. Use this as a reason to get that air fryer you've been eyeing.
Final Take
Electric bills are rising. By staying on top of your bills and adopting frugal habits like Warren Buffet, you will be able to cut down on your spending.
Our in-house research team and on-site financial experts work together to create content that's accurate, impartial, and up to date. We fact-check every single statistic, quote and fact using trusted primary resources to make sure the information we provide is correct. You can learn more about GOBankingRates' processes and standards in our editorial policy.
Make Your Money Work for You