Bathroom Renovations That Will Add the Most Value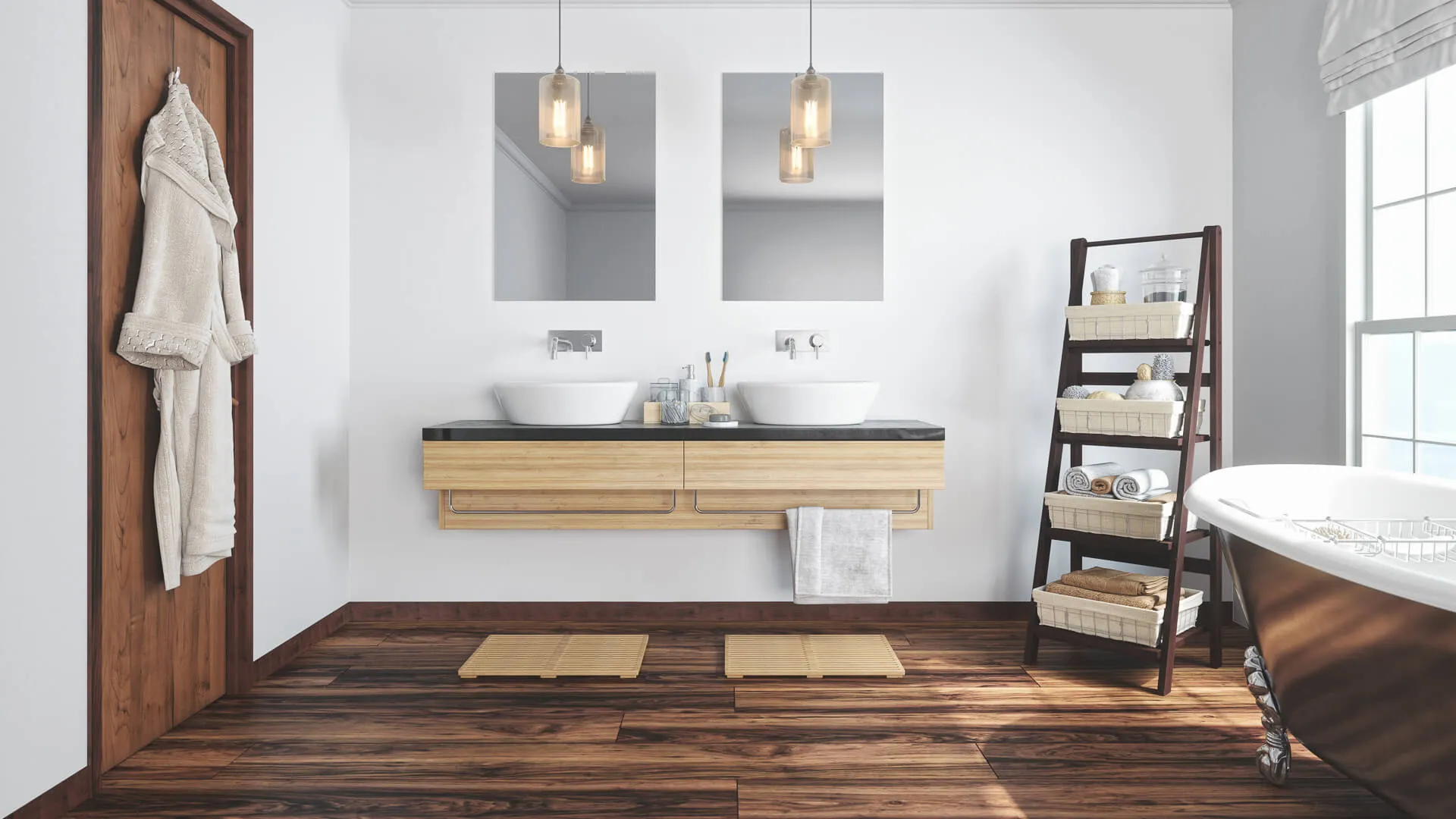 Upgrade Your Countertops
"By far, the most important part of a bathroom renovation is the counter," said Donald Olhausen Jr., licensed real estate agent and owner of We Buy Houses in San Diego. "Upgrading from laminate to a stone finish will make a huge impact on the perceived value of the home."
The average cost to install new countertops is $3,419, according to HomeAdvisor.
Upgrade Your Flooring
"As a bathroom isn't usually a huge space, upgraded flooring can make a huge difference, and it won't cost too much," said Trey Van Tuyl, real estate agent and owner of Discover Homes Miami. "High-end flooring might only run around $5 per square foot, but the result will make the space shine and will almost always improve your home's value."
Although it's more expensive than simply replacing tiles, you may also consider installing heated floors.
"Heated floors in your bathroom work as both a functional feature and a luxury, and they add a lot of value to the resale value of your home," said Keith Sant, owner of Kind House Buyers. "Installing heated floors to a bathroom may be an arduous and lengthy process, but it's well worth the effort. Buyers love hidden features in a house that enhance their comfort and convenience."
Sant estimates that this renovation will cost between $900 and $1,200 for a mid- to large-sized bathroom, but you can expect an ROI of about 70%.
Make Your Money Work for You
Make Eco-Friendly Updates
"Installing energy-efficient fixtures, such as low-flow showers, toilets and sinks, will always be a hit with buyers," Van Tuyl said. "You won't have to spend more than a couple of hundred dollars either."
Give It a Fresh Coat of Paint
Repainting your bathroom is an "obvious improvement, but one that will always add value," Van Tuyl said. "You can spend less than a hundred dollars here and add so much perceived value in the process."
Give Your Cabinets a New Look
You don't need to replace your cabinets to make your bathroom look more modern (as long as they are in good condition).
"If you have nice cabinets already, you can simply give them a coat of white or gray paint and replace the hardware on the drawers and doors to make them look brand new," said Kevin Bazazzadeh, owner of Brilliant Day Homes.
Retile the Walls/Backsplash
In addition to upgrading your flooring, you may want to replace the tile on your bathroom walls to give the room a fresh look.
"Renovating with quality tiles makes your bathroom a much cooler place," said Ben Fisher, luxury real estate specialist with The Fisher Group. "It is a very common trend to design the whole bathroom centralizing the tiles. Customers are more attracted by the warm look of the tiles than any other component of the bathroom. Choosing and installing the right quality tiles for your bathroom is the most vital part for the sake of adding more value."
The cost of this renovation will depend on the tiles you choose, with some tiles starting at $2 per square foot.
"The ROI you get out of this renovation is around 70% to 75% if you choose the right tiles that will attract your potential buyers," Fisher said.
Make Your Money Work for You
Replace Outdated Plumbing Fixtures
"Adding new fixtures to a shower, tub and sink can make the entire shower, tub and sink look newer," said Khari Washington, a realtor with 1st United Realty & Mortgage Inc. "Stores have beautiful fixtures that won't break the bank."
Reglaze Your Shower or Tub
Instead of replacing your shower or tub, consider reglazing it, which is much less expensive.
"Reglazing can seal any cracks and achieves the same effect of replacing those surfaces for only a few hundred dollars," Washington said.
Replace the Shower or Tub
If you have an older shower or tub, reglazing may not be enough to please a prospective buyer, in which case, it may be worth it to replace it.
"The most valuable bathroom renovation you can make is [adding] a new bathtub or shower," said Marina Vaamonde, real estate investor and founder of HouseCashin. "The reason for this is simple — this is the most used part of a bathroom, so if this part is brand new, it adds significant value to your bathroom. In general, you can expect to pay $3,000 to $4,000 for materials and labor, and such a renovation should add at least $6,000 in value to your home."
Update Light Fixtures
"Lighting can completely change the look of a room," said Chris McGuire, realtor and founder of Real Estate Exam Ninja. "It can make it look more modern, organized, luxurious and even more spacious. Updating your old light fixtures to modern ones with a slick design will make a difference in the overall look and feel of your bathroom, and you don't even have to spend that much money. Lighting fixtures usually range from $30 to $200 on average."
More From GOBankingRates

BEFORE YOU GO
See Today's Best
Banking Offers