Best Home Items To Buy at Dollar Tree in February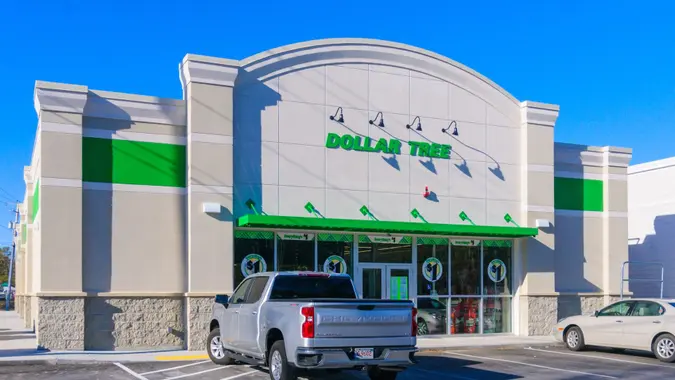 KenWiedemann / Getty Images
We all know that February's big holiday is Valentine's Day. This year, it's time to find true love for your wallet and the best place to swoon over home items that won't break your heart (or bank account) is Dollar Tree.
Related: 11 Grocery Items To Buy at Dollar Tree
More: 3 Ways Smart People Save Money When Filing Their Taxes
All year long, Dollar Tree has some of the best deals on everyday must-haves at the lowest prices. With spring fast approaching, you'll want to be ready for the flowery months ahead as well as keeping up on all the wintery discounts Dollar Tree has to offer.
Bathroom Accessories
The second month of the year typically brings an icy chill with it, oftentimes accompanied by germs and sickness. Yuck! Keep your family's hands clean when you pick up a Clear Soap Dispenser with Pump at Dollar Tree.
Don't limit these classic dispensers to your own household. With a pack of 15 priced at $45 ($3 per item), you'll have enough for your office or workspace sinks as well.
Make Your Money Work for You
Looking for a fun way to spruce up your bathing routine? Pick up an LED Color-Changing Shower Head for $5 so you can sing AND dance in the shower!
Take Our Poll: What Are Your Financial Priorities in 2023?
Bedding
There is no place cozier and warmer than in the comfort of your very own bed, so make sure you have it set up just the way you want it. This February, Dollar Tree has you covered…and blanketed.
Home Collection Full-Size Mattress Covers start at just $1.25 each and a 24-pack of Home Collection Solid Color Pillowcases is just $30, available in an assortment of colors including tan, light blue, gray, navy blue and red.
Home Improvement
It's never too early to start thinking about how to spruce the house up in preparation for spring cleaning. At Dollar Tree, you'll find everything you need for your box and belt to get the job done.
This February, Dollar Tree has offers on Tool Bench's Hardware Nail Kit of 100 as well as their own brand of Plastic Compartmented Storage Case, both priced at $1.25 each. Don't forget to grab a Collapsible Plastic Step Stool for just $5 while you're at your favorite bargain retailer.
Make Your Money Work for You
Pet Supplies
While it still might be too cold to go outside in some parts of the world, that doesn't mean you can't have fun with your family pets inside the comforts of your very own home.
Right now, Dollar Tree has Adorable Squeaky Vinyl Dog Toys available for $1.25 each, or get a pack of 48 starting at $60. With so many different characters, colors and shapes, you might be just as entertained as your furry friends.
Arts & Crafts Materials
Between DIY Valentine's decorations, school projects and Easter on the horizon, you'll need something versatile and flexible when it comes to seasonal crafts. Why not pick up a few Craft Hanging Slated Wooden Signs to have on hand for all occasions?
According to Dollar Tree's website, "These signs are made from unfinished wood so you can customize them to fit your needs…the perfect size for craft projects and much more!" Get a pack of 24 for just $72.
Gardening Tools
It's never too early to start preparing your garden for when the rain falls, the sun comes out and the seeds you planted last year start to bloom. Stock up on Garden Collection Metal Pruning Shears with Comfort-Grip Handles so that the whole family has a pair.
Make Your Money Work for You
Right now, Dollar Tree is offering a 30-pack for just $37.50, which comes with "six house plant snips, six garden scissors with serrated blades, 12 pruners with needlepoint blades, 12 pruners with serrated blades, 12 petite pruners with serrated needlepoint blades and 12 bypass pruners."
Paper Products
Accidental spills never go out of season, so don't get caught off guard when there is a mess in your home. Instead, stock up on all the paper towels and napkins that Dollar Tree has to offer at a great price.
Right now, a six-count of Harmony Giant Paper Towel Rolls is available for $5 each, or you can upgrade to an order of eight for just $40. Not enough for your household? Get an order of up to 192 Custom Size Paper Towels for $240. With a 140-count per roll, that's extra absorption for your buck.
More From GOBankingRates
Make Your Money Work for You