I'm a Contractor: Here Are 5 Ways To Save Money on Home Renovations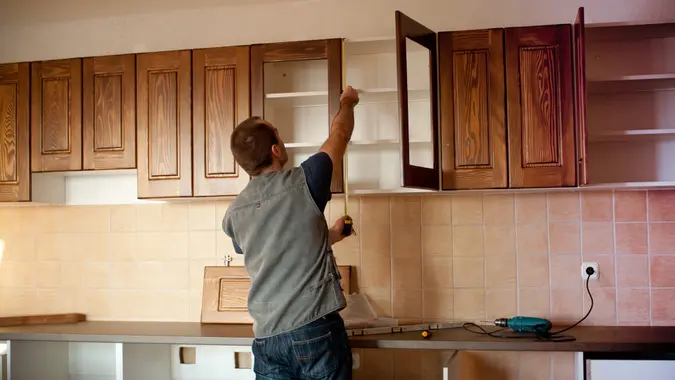 viki2win / Shutterstock.com
It's no secret that the right renovation can add long-term value to your home. But spending thousands of dollars on a new kitchen or a home office can feel extravagant — especially in an unstable economy.
Don't let a tight budget deter you. Whether you're looking to add to your home's resale value or just eager to transform a so-so space into something to brag about, here are several ways to keep your home renovation cost down.
Also see renovations to avoid in this economy.
Have a Plan
If you're hiring a contractor to do your home renovation, it's important to come in with a clear vision of what you want your new space to look like.
Patrick Grayson, founder and CEO of Paramount Property Buyers, advised that knowing exactly what you want allows for better communication between you and your contractor, which makes it easier for your contractor to give accurate estimates.
Grayson also noted, "A well-defined project plan also gives both sides time to consider any potential changes or additions before work begins, helping to avoid costly revisions later on." 
Do Your Research
That said, creating a detailed Pinterest board isn't enough. It's smart to come in knowing what kinds of materials you're interested in using in the renovation.
For example, if you're redoing a bathroom, take the time to research what kind of tile you're interested in using and whether there's an option that you can afford.
Make Your Money Work for You
Also, don't be afraid to compare and contrast costs.
"Always look around for the best prices, don't be shy to negotiate and remember to ask for discounts, especially when buying in bulk," said Matt Hagens, general contractor and founder of Mr. Kitchen Faucets. He also advised to keep an eye out for seasonal sales, which can often provide big savings.
Doing your research also means knowing which projects are worth the time and money. For instance, Hagens warned that plumbing changes can be tricky.
"You might think moving a sink or toilet a few feet is no biggie, but it can mess with your plumbing system and make the cost skyrocket," he said.
That said, Hagens believes it's smart to invest in changes that will save you money in the long run — like energy-efficient windows, a high-quality roof and durable materials in places that see a lot of traffic (e.g., the kitchen and bathroom). 
DIY
Taking the do-it-yourself approach can save a ton of money on labor costs. This doesn't mean you have to be proficient with power tools. Even those with minimum experience can save a little money by doing smaller projects themselves.
According to Grayson, "Doing simple repairs such as replacing light fixtures, fixing broken cupboard doors and patching cracks in the walls can help keep costs down significantly".
Reuse Materials
You don't always have to start from scratch. If you're doing parts of the renovation yourself, consider reusing materials. Scope out salvage yards.
Make Your Money Work for You
"Think creatively about repurposing stuff like old doors or windows — they can add loads of charm to your home," Hagens said.
He also encourages homeowners to be open to repurposing materials they already have in their homes. Instead of getting rid of sturdy wooden cabinets, Hagens suggests freshening them up with a coat of paint or giving them a new look with refacing. This also applies to items you may consider ditching after a renovation.
"If you're thinking of upgrading your kitchen island, you don't have to toss out the old one," Hagens said. "You can turn it into a cool bar or even a workstation somewhere else in your house." 
Use a Handyman
If doing it yourself isn't a possibility and hiring a contractor is beyond your budget, Grayson suggests alternatives like hiring a handyman or an online design service.
"These services can often do the job for less money and with higher quality results than traditional contractors," said Grayson.
Take Advantage of Tax Benefits
Saving money doesn't just mean being cost conscious with your renovation. It can also mean choosing energy-efficient upgrades that will give you money back come tax season.
Grayson said projects that garner tax breaks can include adding insulation and installing energy-efficient water heaters.
"Other projects such as solar panel installation, geothermal heating systems or using alternative renewable energy sources can also be eligible for certain tax credits and incentives," he added.
It's also possible to get a tax break on a project that will increase your home's resale value.
"Home offices may be eligible for deductions and credits related to energy-efficient changes or renovations," Grayson said. "Additionally, some homeowners may qualify for capital gains exclusions when they sell their primary residence, if part of the proceeds are reinvested in their next home."
That said, he advised that any homeowner considering these types of renovations should first consult with a tax advisor.
More From GOBankingRates