Do This Window and Door Maintenance ASAP To Save Big on Your Heating Bill This Winter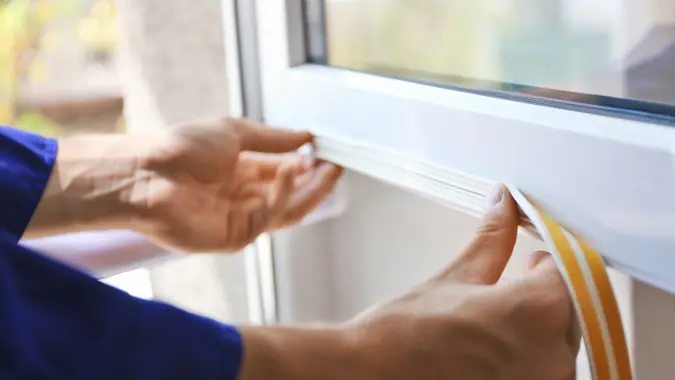 ©Shutterstock.com
With the price of natural gas on the rise, your heating bill may be more than usual this winter. But fortunately, doing some home maintenance on your windows and doors can help lower your bill for the coming months.
Save More: Unplug These Appliances That Hike Up Your Electricity Bill
Find Out: How Much Money Should You Budget for Home Maintenance in 2022, Based on Inflation?
Here are the home improvement projects you should tackle ASAP to lower your heating bill.
Check Your Windows and Doors for Possible Air Leaks
"Air leakage is the most important thing to check, and many times, air leakage is easy to address," said Steve Hoffins, VP at Cornerstone Building Brands, manufacturer of Simonton and Ply Gem Windows. "The easiest way for homeowners to check for leaks is by feeling around windows and doors with their hand."
Hoffins recommends checking your windows and doors annually for any new possible leakage spots.
"For doors, ensure the hinges, rollers, locks and keepers are properly adjusted and tight," he said. "Also check the weather stripping — this can be damaged over time by the sun, pets, insects, etc. and should be replaced every few years depending on wear. For windows, homeowners should ensure locks are tight and secured, weather stripping is intact, etc. Window tracks should be clean and free of any insects or debris that may cause gaps."
Make Your Money Work for You
See: Seasonal Home Maintenance You Need To Do To Maintain Your Home's Value
These gaps could be adding to your heating bill if they are not addressed.
"Skipping these types of checks and repairs can allow for unnecessary air infiltration, leading to excessive heat loss and increased energy consumption," Hoffins said.
Check Out: Who Pays For Home Renovations on Your Favorite HGTV and Other Shows — and What Do They Cost?
Seal Any Small Cracks or Gaps
If you discover air leaks during your annual check, you may be able to address them through some DIY sealing.
"Addressing air leaks around doors and windows is very inexpensive," Hoffins said. "Homeowners can seal leaks around windows and doors with simple, inexpensive items like caulk, low-expanding window foam or even temporary seasonal window films."
And it can help you save significantly on your heating bill.
"The U.S. Department of Energy found that sealing air leaks in a home can reduce energy expenses by up to 30%," Hoffins said. "While air leaks around windows and doors are not the biggest energy-saving strategy, it can definitely add up to a lot of savings, especially in older homes with deteriorating windows or doors. It can also have a profound impact on the comfort of the home by eliminating drafts and keeping room temperatures more consistent."
Make Your Money Work for You
Learn: Bathroom Renovations That Will Add the Most Value
Replace Windows and Doors If Need Be
Sometimes a DIY sealing job won't be enough to keep the heat in your home.
"If you notice issues like air leakage, peeling paint, difficult operation and/or condensation between the panes of the window, it's likely time to update," Hoffins said. "Or, if your windows do not have insulated dual- or triple-pane glass, it's likely time to consider replacement — which may be more cost-effective than you think. The recent Zonda 2021 Cost vs. Value report listed vinyl window replacement as a home improvement with an ROI of more than 68%. So, for homeowners looking to replace, this overall ROI should be weighed in addition to potential savings in energy costs."
Explore: 7 Easy Home Renovations for $5,000 or Less
Choose materials wisely when selecting your replacement windows. Hoffins recommends vinyl windows for their energy efficiency.
"Vinyl is ideal for windows due to its long-lasting, strong and moisture-resistant nature," he said. "Vinyl also doesn't transfer heat easily, making it energy-efficient. Vinyl windows are designed with frames that provide the best possible sealing, saving homeowners energy and money."
Make Your Money Work for You
You should also pay attention to the type of glass.
"Since a lot of energy can be lost through glass, it is important to consider the type of glass and construction your new windows have," Hoffins said. "Quality brands offer a variety of glass packages that can reflect or absorb the sun's energy as needed for your situation. Most new windows are double-paned for sound control and energy performance, but brands are also beginning to offer triple-pane windows in vinyl sashes for optimum energy performance. Window buyers can now also choose from various gas filling between the panes, like Argon, Krypton or even Krypton/Argon blends for maximum performance in harsh climates. Today's windows are higher performing and a significantly better value than those found in homes from even 10 to 15 years ago, where you typically see a lot of wood rot and other deterioration."
More From GOBankingRates
Make Your Money Work for You