Fall Cleanup and Other Shared Costs With Neighbors: Who Is Responsible?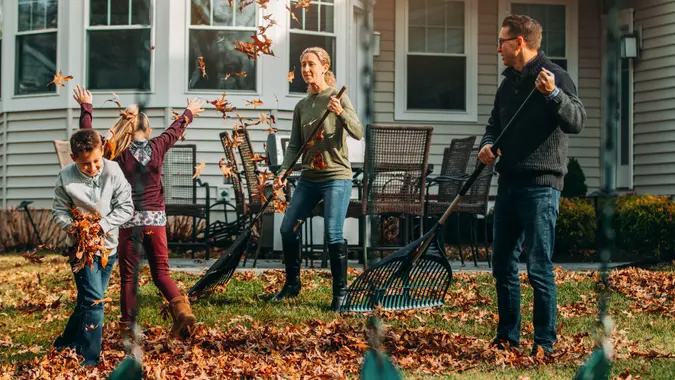 vgajic / Getty Images
As leaves change color and the air cools down this fall, it's important to be aware of who is responsible for fall tasks and how to go about distributing neighborhood duties with your neighbors. From falling leaves to sharing the cost of a fence or planting new vegetation, having a conversation with your yard-mates can be awkward. To avoid building any tensions with those around you, it's best to follow expert advice.
GOBankingRates talked to property managers and real estate agents to get the inside scoop on sharing fall responsibilities — and general yard responsibilities — with neighbors so you can avoid conflict and enjoy the yard of your dreams. Keep reading to find out what they recommend.
Who Handles Raking the Leaves?
When sharing a court or street with several homes, the falling of leaves can make it difficult to determine who holds the responsibility of cleaning them up.
"Leaves in the streets generally fall to the owner of the property that fronts on the street, though municipal services will often handle this task in many cities," said Leonard Ang, the CEO of iProperty Management, an online resource guide for landlords, tenants and real estate investors.
Who Manages Vegetation Planting?
The liability of vegetation planting depends on the situation. If you have a home and property lines, you are responsible for planting and caring for vegetation on your property. However, if you are renting through a landlord, you might find that your landlord is willing to take on vegetation upgrades, especially if you organize the planning for them, Ang said.
Make Your Money Work for You
Additionally, if you maintain trees or shrubs near or over the property line, it's important that you remove or trim any limbs that extend over the line that is on your property.
What if a Tree Falls Down?
Windy weather and stormy days are common in the cooler seasons. As the weather starts to shift this fall, be sure to take accountability for weak or falling trees and vegetation in your yard.
"If a tree falls on someone's property, that homeowner is typically responsible for removing the tree and paying for any damages that may have been caused," said Boyd Rudy, an associate broker at Dwellings Michigan. "The best way to respond to these types of situations is to be proactive and take care of maintenance issues as they arise so that they don't become bigger problems down the road."
When in Doubt, Be Charitable and Keep an Open Line of Communication
It can take time and experience to master communicating with neighbors on the yard and street responsibilities. When in doubt, be proactive and helpful when coordinating neighborhood responsibilities.
"It's important to be friendly and communicative with your neighbors so that everyone can work together to keep the neighborhood looking its best," Rudy said.
More From GOBankingRates
Make Your Money Work for You