Is Your Home Due for a Financial Checkup? 6 Ways To Save on All Your Housing Costs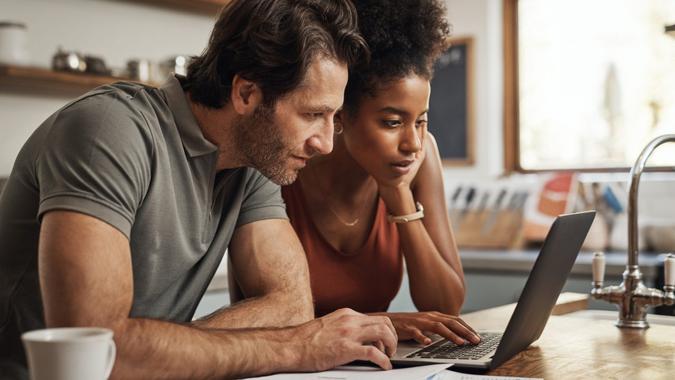 PeopleImages / Getty Images
If you're looking to save or recoup money around the house, you might already have cut your cable, switched to store-brand groceries or had a giant garage sale. Still, we all can do more to slash costs.
Good To Know: Unplug These Appliances That Hike Up Your Electricity Bill
Find Out: 50 Ways You're Throwing Money Away
The start of spring, in fact, is a great time to give your home a financial checkup to figure out more ways to save on recurring costs, as well as to address small issues that could turn into major, budget-busting expenses. Here are six places to start.
Reduce Your Utility Bills
Residential electricity costs increased by 4.3% from 2020 to 2021, according to the U.S. Energy Information Administration. Still, you can lower your utility bills by following these tips, according to the website of home maintenance guru Bob Vila:
Unplug gadgets that aren't in use, such as your phone charger or other electronics, old VCR, coffee maker or game console
Change furnace filters to increase energy efficiency
Install a programmable thermostat
Use appliances, such as dishwashers, at night when power consumption is lower and less expensive
Wash laundry on cold and dry your clothes on the lowest heat setting possible
Install a low-flow shower head
Check for water leaks
Seal air leaks with weatherstripping and caulking
Switch to energy-efficient light bulbs
Make Your Money Work for You
Lower Your Homeowners Insurance Rates
Where you live, the age of your home, your coverage amount and deductible, and even your credit report affect the cost of your homeowners insurance. The national average for an annual premium increased to $1,398 in 2021, according to the Insurance Information Institute.
Before buying an insurance policy for your new home, or renewing your existing coverage, shop three or more companies to compare their rates. Ask for any applicable discounts. Did you install a security system in the past year? Do you also have an auto policy with the company? You're likely to see a premium reduction.
You also could consider raising your deductible — the amount you pay out of pocket on a claim — to lower your rates. The III reports that moving from a $500 to $1,000 deductible can save as much as 25% on your premium. Set aside the savings in a household emergency fund.
Helpful: 10 Ways To Lower Your Cost of Living Without Moving
Refinance
Over the past few years, refinancing would have been at the top of the list of ways to save money on your home. But in response to inflation, the Federal Reserve Board raised interest rates in March for the first time in more than three years, sending mortgage rates to their highest number since 2019.
Make Your Money Work for You
If you purchased your property in the past few years, you probably can't beat the interest rate you have. But if you have an older mortgage with a higher interest rate you never refinanced, or an adjustable-rate mortgage, it's worth checking into refinancing before rates go even higher. It doesn't cost anything to inquire.
Remove PMI
If you didn't have a down payment of 20% when you bought your home, you probably are paying private mortgage insurance. PMI, as it is known, protects the lender if you default on your loan. PMI adds between 0.5% to 1% of your loan amount to your payment each month, according to Rocket Mortgage. If you have a $400,000 loan, your PMI would cost $2,000 to $4,000 per year, divided into 12 monthly installments.
Once you've paid down 20% of your loan, you can request to have the PMI removed. Your mortgage lender might not do it automatically, and you could be throwing away a few hundred dollars each month. If you're close to that 20% mark, paying extra on your loan each month toward your principal will get PMI removed faster.
Service Your HVAC System
Your furnace and air conditioner are two of the most expensive components of your home, and it pays to keep them in top shape with regular maintenance. Having a professional tune-up done before the winter cold and summer heat set in can help to extend the life of your HVAC system, lower energy bills and prevent breakdowns that could be expensive to fix, not to mention leave you freezing or overheating.
Make Your Money Work for You
The cost of the annual checkup is $75 to $200, according to home service website Angi.
Don't Skip Other Regular Maintenance
Your home needs regular love and attention. And if it doesn't get it, problems can occur. Cleaning your gutters once or twice a year, for example, can keep water flowing through your downspouts and away from your house. If water doesn't flow properly, it can wind up in your basement, creating a flood or leading to mold. Or, it can impact your foundation, attract pests or create algae.
If you have a single-story home and a sturdy ladder, gutter cleaning might be a job you can handle yourself. And some other repairs could be DIY-friendly. Stopped-up toilet? You could pay up to $275 to have a clog cleared with a plumber's snake, Angi estimates. With the help of instructional videos on YouTube and a $15 toilet auger from Home Depot, you probably can tackle that plug yourself in less than a minute.
Know your limitations, however. DIYers should attempt projects involving electricity, for example.
More From GOBankingRates
Make Your Money Work for You