Home Inspection Checklist: The Ultimate List of Items to Look For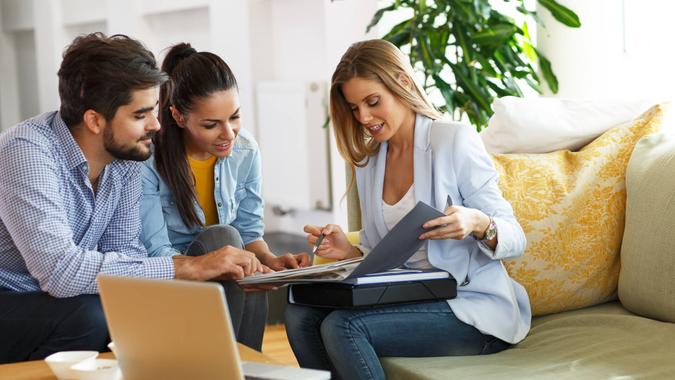 Solis Images / Shutterstock.com
You've finally found it: the home of your dreams. It's perfect, and you can't wait to move in. Before that happens, though, you need to have a home inspection to make sure there are no significant problems and that the home is worth what you're paying for it.
What Is a Home Inspection?
A home inspection is an important part of the home-buying process, as important as securing a low rate for a mortgage. Although you looked around carefully before you made your offer, a home inspection can reveal problems you might not have noticed.
Some issues can be expensive to repair or replace, so you'll want a home inspector to go through the property. While they won't uncover every little thing, a certified home inspector will be able to identify any major problems and safety issues.
How To Prepare for a Home Inspection
The home inspection occurs after the buyer has signed the purchase agreement but before the final closing. Make sure the purchase agreement has a home inspection contingency because you'll need that if the worst happens and you need to back out of the sale. Some home repairs are surprisingly expensive, so a home inspection will let you know what to expect.
Make Your Money Work for You
The home inspector will examine the property thoroughly, including every major system. The home inspection will take somewhere between two and three hours, less for a condo. After the inspection, the inspector will give you a copy of the home inspection report. You as the buyer should be present at the home inspection so you can ask questions. The home inspector will expect you to have questions, so don't be shy.
These are some of the things your home inspector will look at, according to Total Home Inspection:
Exterior
No evidence of leaks
Roof in good condition
Exterior paint in good condition
Septic tank in good condition
No rotted wood on exterior structures
Structure
Window frames square
No cracks in the foundation
Ridgelines and fascia straight and level
Straight sides of the house, not sagging or bowed
Interior
Any strange smells
The ductwork in good condition
Walls, floors, and ceilings in good condition
Countertops and cabinets in good condition
Insulation in good condition
Make Your Money Work for You
Plumbing and HVAC
No evidence of water damage
Sump pumps in good condition
Water flow and pressure safe
No damage or decay under sinks
The water heater and thermostats in good condition
Electrical
Light fixtures working
Service panel in good condition
Cables secured and protected
Overcurrent protection in good condition
Fuse boxes and breakers in good condition
Problems with electrical systems were the third-most-common cause of fires in homes from 2014 to 2018, so electrical inspections are important before you purchase a home.
What Isn't Included in a Home Inspection?
While a home inspection should uncover any major issues, inspectors don't check everything. Anything not readily accessible is generally excluded.
Make Your Money Work for You
Here are some other exclusions, according to the International Association of Certified Home Inspectors:
Air quality
Property lines
Code compliance
Environmental hazards
Rodents and other pests
The life expectancy of any system
The size, performance or BTUs of any system
Presence of mold, mildew or fungus
Who Pays for a Home Inspection?
Usually, the buyer pays for the home inspection. According to Realtor.com, the average cost of a home inspection is between $300 and $500 for a single-family home. However, some markets may charge more, and rates vary from state to state. The size of the home is also a factor.
How To Find a Qualified Home Inspector
Many people ask their realtor for a referral, which makes sense because they work with many home inspectors.
You could also ask for referrals from family and friends. You could also go to a professional home inspectors association such as the International Association of Certified Home Inspectors or the American Society of Home Inspectors and enter your zip code. Both of these organizations will tell you about an inspector's experience, special certifications and construction background.
Advice

Buying a home is a significant investment. Although most people get emotional about their homes, make sure your dreams of homeownership don't interfere with your ability to consider reality.

Get a home inspection and ask questions. If the home inspection turns up issues, you'll need to decide what you can ask for from the seller and what you can realistically deal with yourself.
What Happens After the Home Inspection?
A completely squeaky-clean home inspection is very rare. Most houses have at least a few issues. Expect your inspection to uncover a handful of concerns you didn't notice when you toured the property.
After the home inspection is complete, your real estate agent will go over the findings with you. These are outlined in the report the home inspector gave you. If all goes well and you're happy, you'll move on to the closing. If the report uncovers major issues, such as with the plumbing or electrical system, you have a few options:
Ask the seller to fix the issues.
Ask for credit towards the closing costs.
Negotiate a new price based on the results of the inspection.
Back out of the deal entirely.
Ignore the issues and move in.
If a deal falls through because of a failed home inspection, the seller is obligated to disclose this to future buyers. This means owners should be willing to negotiate in one way or another.
If Issues Arise from the Home Inspection
Certainly, if there are safety issues or major issues, you can request the seller to either repair those or give you credit so you can make the repairs yourself. However, some things are not reasonable to ask the seller to address, such as:
Cosmetic issues
Nonstructural cracks in concrete
Nonstructural cracks in drywall
Repairs to exterior buildings, like sheds
Landscaping not related to drainage
Repairs that will cost less than $100
After you and the seller agree on repairs, credits or a new price, you can schedule the closing and move into your new home.
GOBankingRates' Homebuying Guides
Our in-house research team and on-site financial experts work together to create content that's accurate, impartial, and up to date. We fact-check every single statistic, quote and fact using trusted primary resources to make sure the information we provide is correct. You can learn more about GOBankingRates' processes and standards in our editorial policy.