How Much It Costs To Do a Kid-Friendly Backyard Upgrade

5 min Read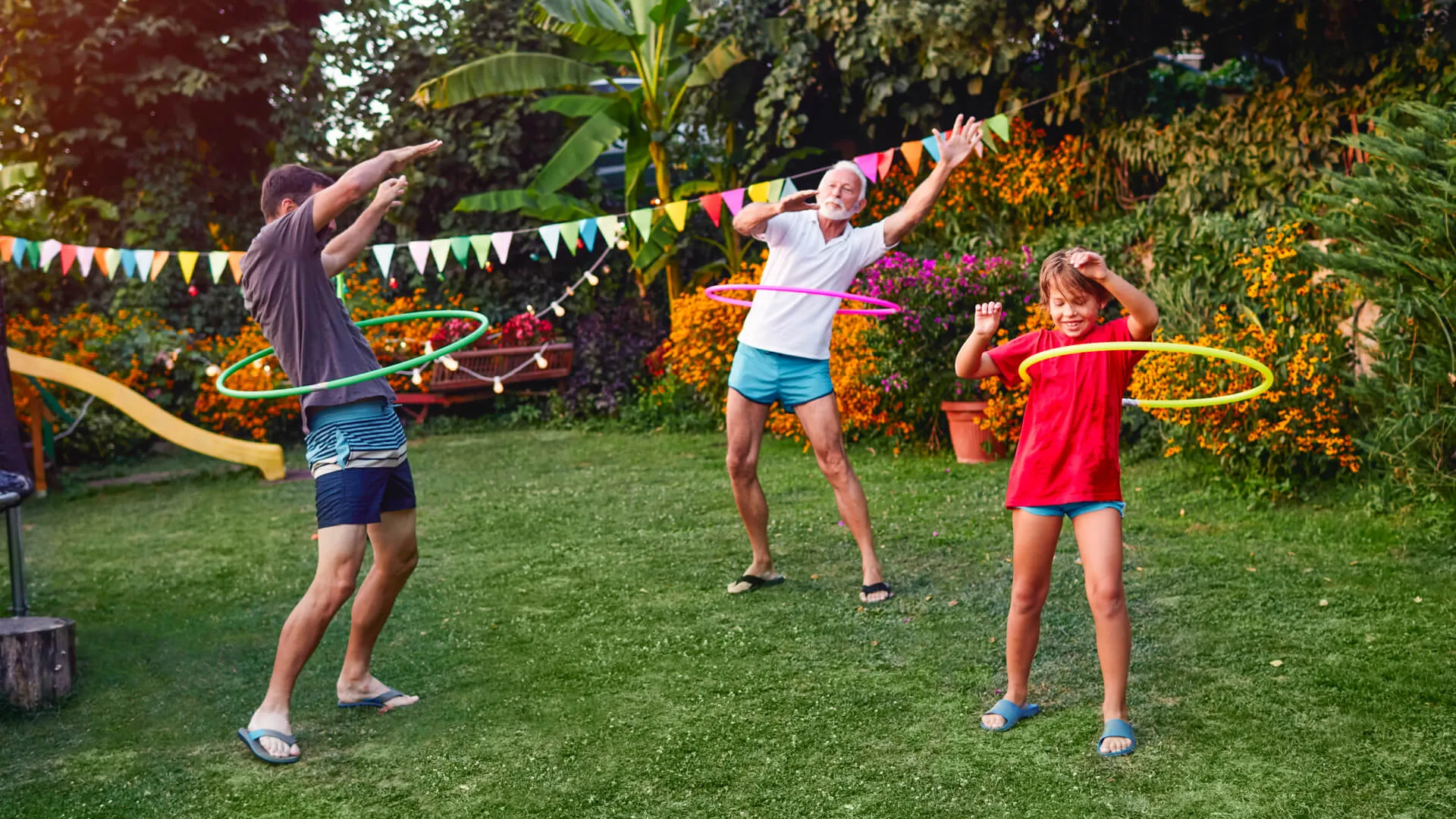 Make Your Money Work for You
Play Area
"The best way to create a kid-friendly backyard space is to outline a considerable part of the backyard and lay it with playground tiles," Brian McKenzie, a landscape designer and co-founder of gardening blog BumperCrop Times. "These tiles can be laid down on any underlying surface, including a paved patio, and make the environment much safer for active kids who fall all the time."
Specifically, he recommended Rubber-Cal Eco-Sport Interlocking Tiles, which are sold in a five-pack of 20″ x 20″ tiles on Amazon for $120.26.
McKenzie said the soft and study materials are firm enough to survive harsh exploitation.
"That's why I always use them for public playground renovation projects," he said.
After the new flooring is laid, he said you can place active entertainment items like the Milliard DIY Rock Climbing Holds Set — priced at $42.99 for a 25-piece set — and the Dimples Excel saucer-shaped tree swing — priced at $49.99 — on them. As an added bonus, he said, the space will stay free of dirt because the flooring keeps it at bay.
Lush Grass
Not only does a yard filled with brown patches of grass or spots worn down to the soil look terrible, but it's also not great for cushioning falls. Kids are known for having a ton of energy, so create a safe space for your little ones to run wild by giving less-than-plush grass a makeover.
Sod — i.e., real grass sold in rolls that looks like a pre-grown grassy rug — installation costs $1,983 on average, according to HomeAdvisor. Specifically, installers charge around $1-$2 per square foot for labor and materials. Removing your old grass and/or changing the shape of your lawn costs extra.
Swimming Pool
Installing a backyard swimming pool is a dream come true for many kids — and adults. Make public pools a thing of the past by adding an in-ground or above-ground pool to your outdoor space.
The national average cost to build an in-ground pool ranges from $20,000 to $110,000, depending on the size and materials used, but the average homeowner spends $70,000 for a 12 x 24-foot fiberglass pool, according to Fixr. The cost drops to $5,000 for an above-ground pool, according to Fixr. Kids just want to play in the water, so choose the style that best suits both your backyard and budget.
Make Your Money Work for You
Privacy Fence
For your backyard to really be an oasis for the family, you need a privacy fence to create boundaries with the neighbors. This will make the space truly feel like an extension of your home and help keep curious little ones — with a penchant for running off — safely in your yard.
Several factors will determine the price of your fence, including the size of your yard and the materials used. Generally speaking, 150 feet of wood privacy fencing averages $2,950, and 150 feet of vinyl fencing averages $3,820, according to HomeAdvisor.
Outdoor Fire Pit
An update that works for all seasons, an outdoor fire pit is a great place to enjoy chilly summer nights outdoors with your kids. Whether you're roasting marshmallows or telling ghost stories, this is an investment you won't regret.
The average cost to build a fire pit is $700, according to HomeAdvisor. There are several different fuel types to choose from — i.e., electric, gas, propane — so decide which you're most comfortable with, that also fits your budget.
Sandbox and Water Table
Give your backyard a beachy vibe with a budget-friendly sandbox your kids will enjoy for years to come. The cost of a pre-made box ranges between $40 and $300, according to HomeAdvisor, depending on whether it's plastic or wood and ready-to-play or anchored to the ground. Expect to pay $100 to $200 to have a hole dug for the latter.
Take this project a step further by adding a water table. A custom wood table costs up to $500, according to HomeAdvisor. However, you can buy one premade for as little as $30, or build one yourself for $50 to $150.
More From GOBankingRates
About the Author