House Hacking: 3 Ways You Can Hack To Get Free Housing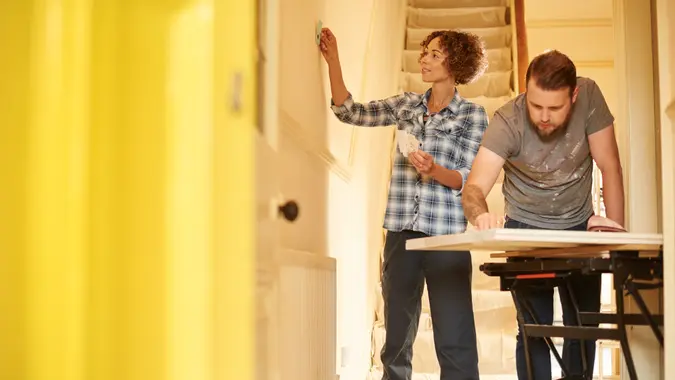 sturti / Getty Images
Homeownership can be a path to financial security for aspiring real estate investors. But sometimes it can be hard to get your foot in the door as homes continue to get more expensive. Enter house hacking, the latest trend in real estate. It's not for everyone and it's not a guaranteed path to free rent wealth-building, but it's an option if you're willing to be creative and think outside the housing box.
What Is House Hacking?
The idea behind house hacking is to buy an investment property and figure out ways to generate income from that property. For example, you could buy a multi-unit property and live in one unit. Any profit you're able to make from the other tenants covers some or all of your expenses while you live there. This allows you to live for free or as close to free as possible.
While you're living for less, you can save your income. When you're ready, you can move on to your next home but keep the rental property as an investment.
3 Ways House Hacking Can Get You Free Housing
House hacking can create homeownership opportunities for many. It also offers the potential of being able to live for less or even free with the long-term hope of building equity. Whether it is your primary residence or an investment property, here are three ways to maximize your rental income to cover your housing costs:
Have your tenants pay while you save
Use a long-term or short-term rental
Utilize a loan program
1. Your Tenants Pay While You Save
Let's say, for example, that each unit in a tri-plex you purchase needs to be rented for $1,000 for you to break even on the property's monthly mortgage. If the local housing market supports a rent price of $1,500 per unit, you can set that as the rent price for the other two tenants. That way, they're paying your rent and allowing you to save the monthly funds that you would normally allocate toward rent.
Make Your Money Work for You
2. Use a Long-Term or Short-Term Rental
You can house hack by using long-term or short-term rentals. These could be any of the following:
A duplex or triplex
Single-family home
A basement apartment
Garage apartment
In-law suite
Mobile home
Tiny home
The key is to have a space of some kind that can reasonably be rented out to someone else and have those tenants cover all your housing expenses.
3. Utilize a Loan Program
Rather than conventional loans, you can look into utilizing a loan program, like an FHA loan. By using these loan programs, you can avoid putting the standard 20% or more toward a down payment on the property you choose. There's a chance that you could buy a property with very little or no money down, allowing you to keep your savings in place as a buffer.
As an owner-occupant you will also be eligible for optimum loan terms and therefore privy to lower interest rates than if you were to simply buy a rental property as an investor. These favorable conditions help you both in the short- and long term, especially if you decide to hang onto the property once you've moved elsewhere.
Why You Should Consider House Hacking
Anyone can learn how to house hack. However, it's an especially good fit for young people with an eye on building wealth and establishing additional revenue streams for their retirement years. Here are some key takeaways:
You'll learn about real estate: Most of us don't grow up learning about real estate, so as adults, there's often a lot to learn. There are many layers to finding a place to call home, from location to school zoning, neighborhood characteristics and more.
You'll learn the true cost of a property: Owning a home isn't just about making mortgage payments. It's also about the maintenance required to keep the property up. This involves everything from the water heater to the roof, lawn, appliances, flooring, security system and more.
Upkeep and maintenance fees: You may have some maintenance fees that are specific to multi-unit properties but you'll be able to get at least a partial sense of how often home repairs are needed and how much each one costs. 
You'll get the landlord experience: Becoming a landlord can help you create the financial leeway to own your own home later. Once you reach that point, if you ever need additional income, you'll have the confidence of knowing that you can rent out a room or an area in your home, giving you a financial advantage that can be a boon in hard times.
Make Your Money Work for You
How To Start House Hacking
Are you interested in house hacking, but not sure where to start? Here are some basic rules to follow.
Research and Network
To be a successful house hacker, do your homework on all fronts. You'll need to know:
Personal plans: What your plans are over the next five years — for example, do you plan on having children? Major life decisions could derail your willingness to stay involved in a house hack, so consider this carefully.
Neighborhood: Which neighborhood makes the most sense for your price point and needs?
Contractors: Which contractors you'll call for common repairs?
Network of landlords: Whether there's a local network for landlords that you can participate in.
Rental contracts: How to draft rental policies and contracts.
Eviction: How to handle tenant eviction, if needed.
Prepare Yourself Financially
The point of house hacking is to create a financial opportunity for yourself, so you need to start with a strong grasp on money and an even stronger credit score. Here are some factors to consider:
Down payment: Do you have enough saved to make the needed down payment?
Slush fund: Is there a slush fund in place for needed repairs, as they arise?
Gaps: Could you cover your rent for a while if one or more of your tenants moved out and you had a period of vacancy?
Remodels: Will there be remodeling needed on the property and if so, do you have the funds for that?
Tax deductions: Do you understand the tax deductions that landlords are allowed or have access to an accountant who can help you navigate that? Do you have a tracking and itemizing process in place?
Outline Your Tenant Selection Process
Before you hand anyone the keys to your property, you'll want to be as sure as you can about how they'll fit in, especially because you plan to live on-site, too. Have a plan for:
Accepting tenant applications.
Conducting interviews with potential tenants.
Screening, including background checks and reference checks.
Final Take To GO 
If the idea of house hacking seems overwhelming right now, take the time you need to do your research. It's just one of many investment strategies available to you once you're ready to commit to real estate and ease your cash flow in the process.
There's no harm in saving your money, learning and keeping an open mind. Successful house hackers tend to start with the end in mind anyway, so it's wise to proceed with caution and fine-tune your strategy over time.
FAQ
Here are the answers to some of the most frequently asked questions regarding house hacking.
What is an example of house hacking?

An example of house hacking is when you buy property and then figure out a way to generate income off that property. This could be by renting out a room or the whole space to cover your housing costs.

Is house hacking legitimate?

Yes, house hacking is a legitimate way to make money off of your house. Here are some examples of how you can live for free by house hacking:

Have your tenants pay while you save.
Use a long-term or short-term rental.
Utilize a loan program.
Caitlyn Moorhead contributed to the reporting for this article.
Our in-house research team and on-site financial experts work together to create content that's accurate, impartial and up to date. We fact-check every single statistic, quote and fact using trusted primary resources to make sure the information we provide is correct. You can learn more about GOBankingRates' processes and standards in our editorial policy.