How To Set Up a Home Bar on a Budget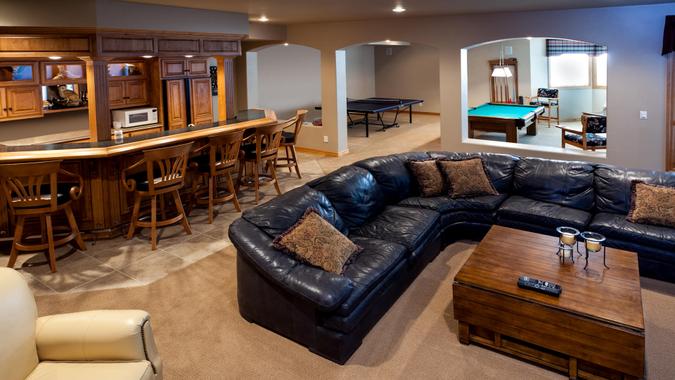 JamesBrey / iStock.com
You see entertaining in your future — inviting friends and family over for a game night, to watch the big game or maybe to gather around the bar and share stories.
You've got the games. You've got the TV. What you don't have is the bar.
Learn: 9 Bills You Should Never Put on Autopay
See: 50 Ways You're Throwing Money Away
When you think of a bar, you probably picture something like any TGI Friday's: a big room with a long plank of wood with barstools on one side, a bartender on the other standing in front of shelves full of spirits.
But chances are you don't have the space in your home to devote to such an elaborate setup — or a big budget to build one. If the only spot you can spare is a corner of the living room, don't let that stop you. Even with a small space and a small budget, only your creativity can limit how you set up a bar.
Make Your Money Work for You
Read on for a couple of easy and inexpensive bar ideas.
The Old Furniture Bar
If you have enough room for an old piece of furniture — maybe a TV cabinet or an armoire — there's the start of your bar. Measure your space, then search thrift stores or antique stores or online marketplaces for an old cabinet that will fit. You're bound to find something that will do.
POLL: Do You Make a Weekly Meal Plan or Other Regular Household Budget?
Say you find a TV cabinet that has a main compartment with shelves or drawers below. There are a variety of ways you can use this space, starting with the top half that used to hold a TV.
Before filling it up, rehab the cabinet to fit the décor and vibe of your room. You can paint or stain the outside to match your furniture, but then on the inside, use a party color to brighten the space and cover the back wall with glass squares, fabric or wallpaper to give it a festive touch.
Make Your Money Work for You
When you build the bar, attach racks to the top to hang your wine glasses. Fill the shelf on the left side of the compartment with your chosen alcohol and mixers and leave some prep space to the right for mixing your drinks, cutting limes and such.
Use the space below the compartment for valuable storage. Fill those spaces with bar glasses, bottles of wine, cocktail napkins, stirrers and bar tools such as corkscrews, bottle openers, jiggers, paring knives, strainers, spoons and tongs.
The Bar Cart
Why pay top dollar for something sold as a "bar cart" when you can turn any utility cart — or even a table — into a bar cart?
Consider, for example, the 28-inch, bronze-color framed Terrace Bar Cart sold at West Elm for $495. It has two open shelves to hold your spirits and barware. Then, look at the very similar Groeryd utility cart, also trimmed in a bronze color, sold at Ikea. Your guests would never know the difference — and the Ikea price is $150.
Make Your Money Work for You
If that's still too much for your budget, look at the other utility cart options at Ikea, many of them less than $50, that you could dress up into a bar cart. Or, make your own. Paint an old bookcase or table found at a yard sale, turn it over and add sturdy casters to the bottom — and you have a bar cart of your own at a bargain.
Add a rack to hang stemware from the underside of the top shelf. The best bar carts have a top and two shelves below for plenty of storage.
Stocking Your Bar
Since your refinished piece of furniture or your bar cart won't have unlimited space to store liquor bottles, choose your contents carefully. You'll want to have on hand the basic spirits and mixers from which you can make a variety of cocktails.
Distiller.com says you can start your bar for about $200 by choosing value-priced items. The website recommends starting your bar with the following:
Bourbon or rye whiskey
Scotch whisky or Irish whiskey
Gin
Lightly aged rum
Tequila
Vodka
Brandy
Triple sec/orange liqueur
Campari
Vermouth
Bitters
It's worth having a tablet handy, too, with an app, such as Bartender's Choice, loaded to give you cocktail recipes at your fingertips. What better way to impress your friends than to mix a cocktail to perfection?
More From GOBankingRates