Gen Z: How To Talk About Money With Your Roommate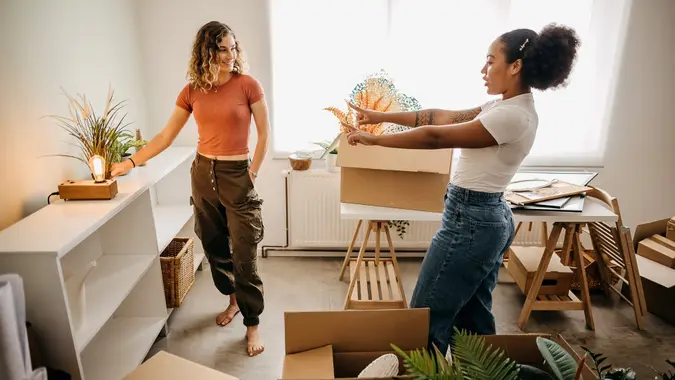 StefaNikolic / Getty Images
Living with roommates for the first time can be an adjustment, and it can get awkward when finances come into play. If you're planning an off-campus move or are moving into your first post-college apartment, this will likely be the first time you're responsible for paying for everything from cleaning supplies to toilet paper — and with one or more other people in the mix, it's hard to know how to figure out who pays for what and when. But it's important to talk out a plan for shared budget items so that no one person feels taken advantage of.
Check Out: 22 Side Gigs That Can Make You Richer Than a Full-Time Job
Learn: Should You Still Buy a Home in Today's Market?
Here's how to approach talking about money with your roommate.
What Budget Items You Need To Discuss
Before divvying up responsibilities, take inventory of all the various items that could be shared expenses. Jay Zigmont, PhD, CFP, founder of Childfree Wealth, has identified some key financial areas for discussion:
Electricity: "Are you splitting electricity? What if your roommate decides to put in a bitcoin mining farm and drives the bill up?"
Heating and A/C: "What temperature are you willing to agree upon?"
Cleaning: "Who is going to be doing the cleaning and paying for the supplies?"
Food: "Are you sharing or on your own?"
Timing: "When are you paying the bills and the rent?"
Make Your Money Work for You
Other shared expenses may include internet, home streaming services, light bulbs, toilet paper and trash bags.
Coming to an agreement on all of these terms will likely require some compromise. It may help to invite a neutral third party to take part in this conversation to ensure that everyone feels heard and that whatever you come up with is deemed to be objectively fair.
Live Richer Podcast: How To Get Rid of Your Student Loan Debt
How To Split Costs Fairly
Zigmont recommends splitting costs down the line rather than assigning certain shared items to one person. He also recommends putting everything in writing once you've agreed on how you will split expenses.
"The documentation can be as simple as an email back and forth, but you need to have an agreement before there are any issues," Zigmont said.
One-Off Discussions You May Need To Have
In addition to discussing how you will split the cost of things you use on a regular basis, you should also have open discussions as new financial circumstances may arise. For example, what if one of you has a friend, family member or partner stay long term? Should they be contributing to rent and other expenses? How long does their stay need to be before they are required to pay? These are questions you should collectively answer before the long-term guest arrives.
Make Your Money Work for You
Another scenario that warrants further discussion is if you or your roommate want to make a large purchase for your home. For example, if one of you wants a new couch, it should not be assumed that the other will be willing or able to split this expense. Be sure to have a discussion about expectations about who will pay for a new large purchase before making it.
More From GOBankingRates
Make Your Money Work for You