How To Lower Your Energy Bills This July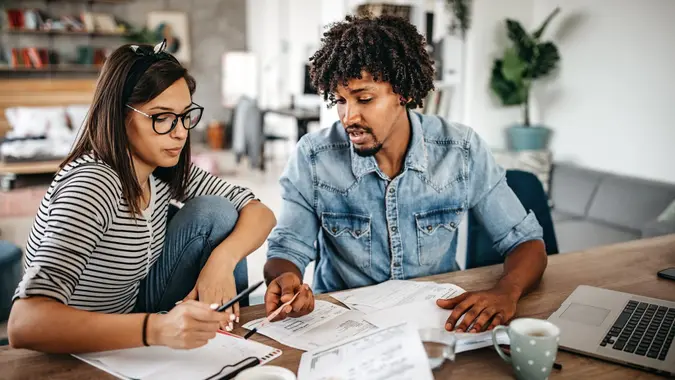 Pekic / Getty Images
At the start of 2020, before we'd ever heard of COVID-19, 20% of employed American adults worked from home, a Pew Research Center study reported. Amid the pandemic, as companies sent their employees home to work, the total grew to 71%.
Read: Cutting Out These 25 Expenses Will Save You $16,142.08 a Year
If you fall into that category, you undoubtedly have noticed one downside: increased energy bills. In fact, research by Steve Cicala, an economics professor at Tufts University near Boston, showed that household electricity consumption grew 10% during the second quarter of 2020. That translated to $6 billion more in electric bills from April to July across the country, according to the research.
And while you're undoubtedly saving some money by working at home – you're not filling your gas tank as often, paying tolls, stopping for coffee and a doughnut or shopping for work clothes – there are ways you can save even more by working to reduce your energy consumption and still keep the laptop powered. At the same time, you'll be friendlier to the environment.
Consider, then, these five super-easy ideas to lower your energy bills while still working from home this summer — and staying home more in general.
See: 31 Hidden Ways You're Bleeding Money Every Month
1. Change Your Light Bulbs
The Natural Resources Defense Council recommends replacing the old incandescent or halogen bulbs you still might have with LED bulbs. While they cost more than other bulbs, they are 85% more efficient, according to the council. They need just 10 watts to do the work of a 60-watt bulb. And since you won't need to change them as often, they'll be much cheaper in the long run. The U.S. Department of Energy says they last 25 times longer than incandescent bulbs.
Make Your Money Work for You
Find Out: Green Tax Credits That'll Save You Hundreds When You File
2. Shut Your Doors
July's a hot month — and the temperatures in 2021 have been record-breaking in some areas of the country, leading many to get inside and turn on the air conditioner. Want to save money on your bills and keep your air conditioner stay in working order longer? If so, then you've got to make sure that all doors and windows leading to the outside are firmly closed so that no outside air gets in and raises the temperature. This way, you're keeping your rooms cool while not overworking the AC.
3. Disconnect
Between you and your kids, you have electronics galore in your home. And they all have cords and chargers. You use "phantom energy" when your leave them plugged in. Get in the habit – and encourage the rest of your family members to do so, too – of unplugging phone chargers and other electronics when they aren't in use. Fans, computers and printers that are plugged in but not being used can zap energy. Phantom energy can cost a family as much as $100 annually.
More: 16 Splurges That Save You Money in the Long Run
4. Fill Your Dishwasher Before Running It
Resist the temptation to start the dishwasher with only your coffee mug and breakfast dishes inside. It takes the same amount of energy to run a quarter-full dishwasher as it does a full one. The same applies to your washer and dryer. And when you save money on these expenses, you can worry less about the money you might spend on summer vacations (or even just the AC).
5. Change Your Furnace Filter
Chances are your furnace got a workout this winter if you were in the house all day, and if you haven't changed the filter regularly, now's the time to do it to prepare for the impending cold weather of fall and winter. You'll lower your electric bill, save energy and benefit from better indoor air quality. If you live in a cold-weather climate, change your filter as frequently as every 30 days. In a warmer climate, do it at least once every 90 days, home guru Bob Vila says.
Make Your Money Work for You
Read: How Unplugging More Often Can Save You Money
And here's a bonus tip.
If you're replacing electronics such as your television, look for models with an Energy Star label. According to the Energy Star website, if every TV, soundbar and DVD player sold in the United States this year were Energy Star certified, Americans would save more than $250 million in utility costs and prevent 2.9 billion pounds of greenhouse gas emissions annually. That's the same as the emissions from about 290,000 vehicles.
More from GoBankingRates
Last updated: July 6, 2021