8 Most Common Emergency Home Repairs You Should Prepare For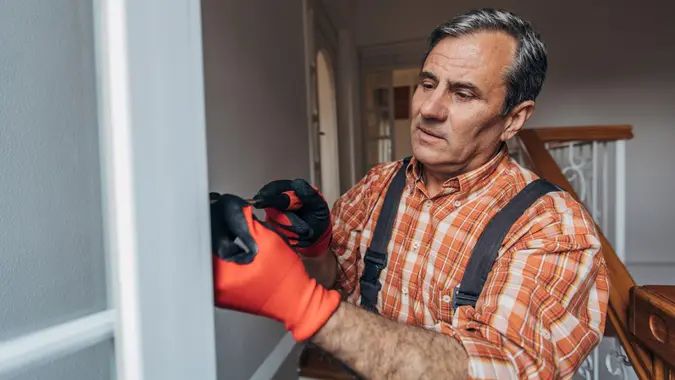 Nes / iStock.com
Purchasing a home, especially if it is your first, is incredibly exciting. For many people, it's a chance to accomplish a big personal — and financial — goal, not to mention a major life change.
Many homebuyers — though not all — come prepared with a down payment, the appropriate mortgage documents and money to pay for closing fees. But one area that often gets overlooked are the costs that come after signing the final paperwork, specifically emergency home repairs.
Also See: 5 Expensive Renovations Homeowners Always Regret
Learn: How To Build Your Savings From Scratch
Even if you're buying a brand-new home, there's still a chance that something will eventually need to be fixed or replaced. So, no matter how excited you are about buying a house, it's a good idea to save up some money for these unexpected expenses — just in case.
"First-time homebuyers will quickly find that homeownership can be full of surprises, with expenses you may not have budgeted for," said Dr. Enoch Omololu, a personal finance expert and founder of Snappy Rates. "This is why it is crucial to plan for both closing costs and emergencies when saving for your home purchase."
Make Your Money Work for You
Having a separate fund for both regular and emergency home maintenance costs can help prevent financial problems in the future. Even if you don't end up using it, having a financial cushion can alleviate some of the stress that often comes with purchasing a home.
Another thing you can do prior to purchase is get a home inspection.
"When purchasing a home, it is always recommended to have a home inspection completed to provide you with a list of items … that will require repair or replacement," said Jonathan Rundlett, owner at EXIT Mid-Atlantic.
Knowing what might need replacing in advance can give you time to prepare.
So, how much do you need to set aside? That depends on several factors, but the most important consideration is your budget. Think about how much money you can realistically save for emergency repairs and go from there. This could be $100 a month, or it could be $500. Whatever the case, it doesn't hurt to save up more than you need.
You also can set aside money following the 1% rule. Essentially, you save 1% of your home's total purchase price each year for repairs and maintenance. If your home is $300,000, for instance, you would need to put aside $3,000 annually — or $250 a month.
Make Your Money Work for You
If you're thinking about buying a home and want to avoid any financial pitfalls or surprises, here are the biggest home emergency repairs homeowners face and their approximate costs.
Roof Leaks and Related Damages
One of the biggest emergency expenses homeowners face is a leaky roof.
"A leaky roof that was not detected during your home inspection can become expensive fast," Omololu said. "Leaks in the roof can cause water damage and usually require immediate attention. Repairing a small roof leak can range from $300 to $1,500. If you must replace the entire roof, you can be on the hook for $15,000 to $35,000 in costs. Premium roofing material costs significantly more."
John Antill, co-founder at Brightchecker, added, "Roof leaks are not only expensive, but they can also be incredibly inconvenient: they can add further damage to your home from exposure to water, make you waste money from all of the lost heat and make your property less secure. This is why it's important to address a roof leak quickly and get the problem addressed."
Keep in mind that costs may be higher or lower based on certain factors, such as where you live and the severity of the leak.
Make Your Money Work for You
"Repairing a minor roof leak may cost between $200 and $500," said Mindy Price, broker at eXp Realty. "Whereas, major repairs or complete roof replacement can range from $3,000 to $20,000 or higher, depending on the size and materials."
HVAC System Repairs
An HVAC system is designed to maintain the air quality of your home and keep you comfortable throughout the year. It primarily does this through a combination of filtration and ventilation. But these systems don't last forever, and they can be pricey to replace.
"Minor HVAC repairs might range from $100 to $500," Price said, "while more significant issues, such as replacing a compressor, can cost anywhere from $1,000 to $5,500 or more."
Rundlett has an even higher estimate for HVAC repairs, saying, "If the system fails and needs to be replaced, the average cost can be from $5,000 to $9,000."
Electrical Outages
"Another common problem most households face is an electrical outage, fault or surge," Antill said. "Sometimes these can be relatively inexpensive to fix; however, you can still incur expensive damages to your equipment.
Make Your Money Work for You
"For example, an electricity surge could be remedied simply with the installation of cheap new fuses; however, the damage it's done to your new computer might be irrecoverable."
The cost of electrical repairs can vary significantly based on how complex the issue is.
"Minor repairs might range from $150 to $300," Price said, "while more extensive repairs could cost upwards of $1,000 or more."
Foundation Issues
A home's foundation is vital to its structural integrity and your safety. Even minor cracks in the foundation or the shifting that occurs as a result of the home settling can be expensive — and problematic to your home's structure. The sooner you can address these issues, the better it'll be for your wallet.
"Repairing minor foundation cracks might cost around $500 to $1,000," Price said, "but extensive foundation repairs can range from $5,000 to $15,000 or even higher, depending on the severity of the damage."
Getting a home inspection in advance can help you identify these potential problems and save you thousands of dollars.
Plumbing Leaks
Anything from a burst pipe to a leaking faucet can cause damages to your property or lead to mold. As with any other maintenance issue, it's important to fix these problems as quickly as possible to prevent more significant damages or higher expenses.
Make Your Money Work for You
"Minor repairs, such as fixing a leaky faucet, can cost around $150 to $200," Price said. "However, more significant repairs, such as replacing a burst pipe, can range from $500 to $2,500."
Blocked Sewer Lines
Your sewer lines can get blocked for many reasons. For example, debris or other matter could get stuck in your plumbing system. A broken pipe could also lead to a blocked pipe.
"A blocked sewer line cleanup can easily cost up to $1,000," Omololu said. "If the backup damages your basement, you are looking at other costs to replace carpets and prevent mold."
Exterior Siding Repairs
Not only does the exterior of your property impact its curb appeal and potential sales value, it can also lead to structural problems if you're not careful.
"As the exterior of the house is exposed to the elements, these items can require attention more quickly than items on the interior of the house," Rundlett said. "If siding needs to be replaced, this can cost on average between $5,000 to $15,000, depending on the size of the house. An average cost to paint the exterior of a house can be around $5,000."
Make Your Money Work for You
Hot Water Heater Replacement
Water heaters also need to be replaced every so often. If you're buying an older home, you might need to get a new water heater sooner than you think.
"The average lifespan of a water heater is about 8-10 years," Rundlett said. "If the water heater needs to be replaced, this can average $700 to $1,300, depending on the size and variation of water heater."
More From GOBankingRates