How Much Is Renters Insurance and How Can You Lower Your Premiums?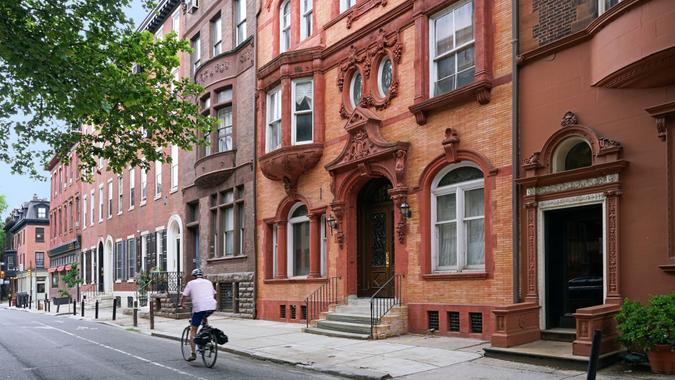 peterspiro / Getty Images/iStockphoto
If you rent an apartment, townhome or house, you might find yourself wondering, "How much is renters insurance?"
Like other types of insurance, the cost of a renters insurance policy varies. Factors such as your location, the type of coverage you want, and your deductible all play a role. Below is everything needed to figure out how much a policy will cost, and also some things you can do to lower your premiums.
What Does Renters Insurance Cover?
Most renters insurance policies provide three types of coverage:
Additional living expenses

Coverage for personal property

Liability protection
Each coverage has a specified limit. You can increase these limits for more protection in the event of a loss, but you will pay higher premiums. You can also add riders for specific valuables — such as jewelry — or disasters, like floods or earthquakes. Again, these provide more protection but will increase what you pay.
What's the Average Cost of Renters Insurance?
According to the National Association of Insurance Commissioners, the average annual cost of renters insurance in the United States is $179, or just over $14.90 per month. It's a lot less than the cost of a homeowners insurance policy. Part of the reason for this is because renters insurance doesn't cover the cost of the building. That's the landlord's responsibility.
Make Your Money Work for You
What Factors Affect the Cost of Renters Insurance?
The average cost of renters insurance is just that — an average. Your actual cost varies based on several factors.
Where You Live
Renters insurance costs vary from one state to the next. If you live in an area that's prone to natural disasters, you'll pay more. You'll also pay more if you live in an area with higher crime rates.
The top three most expensive states for renters insurance are:
Mississippi: $252 per year ($21 per month)

Oklahoma: $236 per year ($19.67 per month)

Louisiana: $234 per year ($19.50 per month)
The three least expensive states are:
North Dakota: $126 per year ($10.50 per month)

South Dakota: $127 per year ($10.58 per month)

Minnesota: $140 per year ($11.67 per month)
What Your Coverage Amounts To
The more coverage you want to protect your personal belongings, the more you'll pay each month.
Whether or Not You Have Pets
Just owning a dog might not have a direct impact on the cost of your renters insurance policy. But if your dog bites someone, the liability portion of your policy may help to pay for the damages or legal costs. If you increase your liability coverage, the cost of your monthly premium is likely to go up.
What Your Credit History Is Like
Your credit score can affect the cost of your renters insurance policy. Generally, the better your score, the lower your cost.
Whether You Choose Actual Cash Value or Replacement-Cost Value
When you get renters insurance, you can choose between an actual cash value or a replacement-cost value policy.
An actual cash value policy pays out the current value of your lost or damaged belongings. A replacement-cost value policy pays close to what you paid for the items originally. The replacement-cost policy will likely have higher premiums.
How Can You Save Money on Your Renters Insurance Policy?
Renters insurance is less expensive than homeowners insurance. Below are a few tips that can help you potentially lower the cost of your renters insurance premiums.
Shop Around for the Best Price
Not all insurance companies charge the same amount for a renters insurance policy. Shopping around and comparing rates from multiple renters insurance providers can help to ensure that you're getting the best price possible.
Make Your Money Work for You
Increase Your Deductible
Your deductible represents how much you need to pay out of pocket before your insurance policy kicks in. A low deductible means you pay less out of pocket when you file a claim. It also means a higher premium. While increasing your deductibles does result in higher out-of-pocket costs, it also means lower monthly premiums.
Bundle Your Policies
Many insurance companies — such as Allstate, State Farm, Nationwide and Farmers — offer renters insurance bundling. They offer a discount for having more than one insurance policy with them. Not every insurance company bundles renters insurance with every other policy it sells, though.
If you like your auto insurance company and it also offers renters insurance, it's worth it to ask if it will bundle your policies.
Improve Your Security

Improving the security of your home could help to reduce your renters insurance rates. You can reduce the risk of damage or theft by installing safety measures such as a smoke detector, fire extinguisher, security system or deadbolt locks. In turn, these features could lead to lower monthly insurance premiums.
What Are the Pros and Cons of Renters Insurance?
If you're still trying to figure out if renters insurance is right for you, comparing the pros and cons can help.
Here's a look at some of the advantages of having a renters insurance policy:
A policy can help to offset the cost of medical or legal expenses if a guest gets injured or their personal property gets damaged in your home.

You have peace of mind knowing that you're protected financially should your personal items get stolen or damaged by a covered event.

You won't have to spend a fortune replacing personal items that get lost or damaged as a result of a covered incident.
Here are some of the disadvantages of having a renters insurance policy:
Higher deductibles can save you on your monthly premiums, but they could also mean you're paying for everything out of pocket. If you have a $1,000 deductible, but the cost of replacing damaged items is $800, you're responsible for paying the entire amount.

The cost of a policy can be high. While renters insurance is more affordable than homeowners insurance, you may still find the premiums to be too expensive.
Is Renters Insurance Right for You?
If you don't have many personal belongings in your rented home other than a bed, sofa and bookshelf, you might not need a renters insurance policy. If you own any personal belongings that are valuable or you can't bear to live without, however, you might seriously want to consider it.
A renters insurance policy can protect your personal belongings in the event of theft or damage. The cost varies based on several factors, but it may be worth it to keep your finances safe. Renters insurance is a small investment that can provide significant peace of mind.
Brian Nelson contributed to the reporting for this article.
Our in-house research team and on-site financial experts work together to create content that's accurate, impartial, and up to date. We fact-check every single statistic, quote and fact using trusted primary resources to make sure the information we provide is correct. You can learn more about GOBankingRates' processes and standards in our editorial policy.