5 Ways To Prepare for a Surprise Home Repair Expense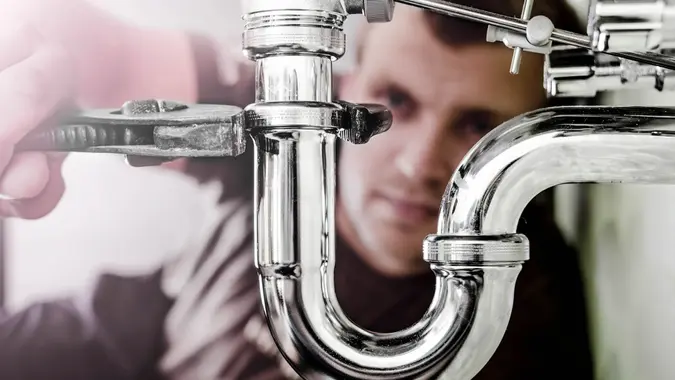 lovro77 / iStock.com
When you buy a home, you expect to pay the mortgage every month, purchase insurance policies to cover your bases and know that some general upkeep will be needed to make sure it stays in shape. Surprise repair expenses, however, you can never really anticipate. That doesn't mean you can't be prepared to pay for them when they do rear their ugly head.
Making sure that you take care of certain home fix-it jobs right away is the best measure to prevent future disasters. That being said, circumstances can change in an instant, with you and your family facing a repair that might dig a deep hole into your bank account.
GOBankingRates checked in with some experts about the best ways to prepare for surprise home repair expenses and how you can monetarily prepare yourself for when they arise. Here's what they shared.
Create an Emergency Fund
It's always good to have some money on hand — particularly cash or an account that's easily accessible — in the event that your home needs some repairs ASAP.
"One of the best ways to prepare for a surprise home repair expense is to create an emergency fund," said Patrick Grayson, the founder and CEO of Paramount Property Buyers. "Setting aside extra money each month in an account specifically designated for any unexpected or major expenses can help you avoid having to take out loans or use credit cards when a major repair comes along."
Make Your Money Work for You
"Keeping a dedicated reserve fund for unexpected home repairs is an absolute must for homeowners," said Artem Kropovinsky, an interior designer and founder of Arsight.
"It may not be the most glamorous part of your design journey, but it ensures that surprises like a water heater failure (which might cost between $600 and $2,000 to replace) don't throw a wrench in your financial or design plans," Kropovinsky said.
Research and Compare Home Warranty Companies
"Researching and comparing home warranty companies can be beneficial if you want to prepare for a potentially large expense," notes Grayson. "By looking at companies that offer warranties or protection plans for the appliances in your home, you can purchase coverage ahead of time that may help reduce the cost of any unexpected repairs."
Purchasing a home warranty policy is another way to help reduce costs when you need to fix your home in a pinch, according to Forrest McCall, co-owner of Mama Needs a Project.
"This can cover the cost of many repairs and replacements that your homeowner's insurance doesn't cover," McCall said. "It's also worth noting that being proactive about maintenance can prevent minor issues from turning into costly repairs. It would be great if you could include scheduled maintenance of your home just like you would do for a manufacturing factory."
Check Routinely for Major System Upkeep
Grayson advises inspecting and maintaining a home's major systems — like plumbing and electrical — in order to help prevent unwanted and surprising home repair expenses.
Make Your Money Work for You
"This can be done by regularly checking for signs of wear and tear, having a professional come in to inspect the systems periodically or checking the manufacturer's recommendations for maintenance," said Grayson.
Plan Ahead with an Annual Home Maintenance Budget
Not only should you have some cash socked away for a rainy day that might cause leaks, but you should plan out each year how much of your home maintenance budget will be dedicated to emergency fixes.
"Creating an annual budget for home maintenance can help you plan and prepare for any surprise repair expenses that may come up," Grayson advised. 
"This should include both regular check-ups and maintenance of the major systems, as well as a little extra to cover any unexpected repairs or replacements that could arise," Grayson said.
Consider Investing in Preventative Measures
Storm shutters and gutter guards are examples of ways to take steps to prevent a problem before it comes one, according to Grayson, who highlights that taking such precautions will "reduce the chances of having to make expensive repairs after a major storm or other weather event."
"Regular maintenance can stave off bigger, more expensive repairs in the future," Kropovinsky said. "Design your space in a way that facilitates easy upkeep, such as having an easily accessible HVAC system (a new one might set you back between $2,500 and $7,500), clear plumbing paths, and spaces that are simple to clean and maintain. This helps minimize surprise repairs and keeps your design looking fresh for longer."
Make Your Money Work for You
More From GOBankingRates