Rising Household Costs: What Americans Are Dealing With Now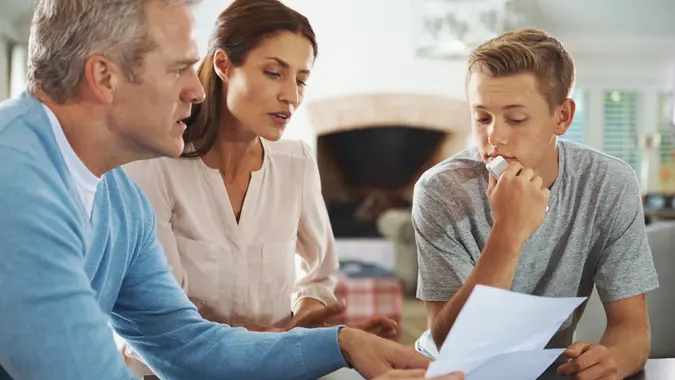 pixdeluxe / iStock.com
If you were surprised by the extra digits on your utility bills this month, you weren't the only one. A recent survey conducted by GOBankingRates found that 78% of Americans saw a rise in their utility bills, including gas, water and electricity. In light of higher expenses, let's take a look at what utilities are rising the most for Americans and by how much.
Keep reading to discover survey results and expert insight on the best money-saving moves to make to accommodate these higher costs.
41% of Americans' Household Bills Increased by up to $25
The GOBankingRates survey revealed that Americans are dealing with higher household costs more than ever before. According to the survey, 41% of Americans are dealing with household utility bills, such as electric, water and gas, increasing in the amount of $0 to $25.
Additionally, 21% of Americans are facing household bills increasing in the amount of $26 to $40, 12% of Americans are facing bills increasing $41 to $55 and 9% of Americans' bills are increasing $56 to $70. Nearly a fifth of respondents' household bills are increasing more than $70, as 4% of respondents stated increases of between $71 and $85, 6% stated increases of $86 and $100 and 7% stated increases of over $100.
45% of Americans Stated Their Electric Bill Increased the Most
When asked what expenses are rising the most for their household, 45% of Americans said their electric bill was hit the hardest and 23% stated it was their grocery bill. Other Americans expressed alternative expenses being hit hardest — 11% are facing an increase in gas expenses, 4% an increase in internet bills and 5% an increase in mortgage or rent. Finally, 6% of Americans are dealing with an increase in water expenses.
Make Your Money Work for You
Here's How To Budget for Higher Bills
There are several easy changes you can make to your budget to accommodate for higher household bills. Let's take a look at a few of them.
Cut Back on Spending
Take stock of where your monthly spending is going and try to eliminate unnecessary spending wherever you can.
"Try making coffee at home to save $5 a day or take your lunch to work, which can also lead to big savings," said Tom Holtam, vice president and senior regional delivery manager at UMB Bank. "Also, see if there are streaming or subscription services that you are paying for that you don't actually use."
Taking a few minutes to go through your monthly and yearly spending and subscription charges can help you identify any subscriptions you are no longer using and wasteful expenses you can eliminate from your budget.
Stick To Store Brands and Clip Coupons
As grocery bills are on the rise, it's important to be aware of all the ways you can save while stocking up on food essentials.
Consider buying off-brand items and shopping sales in order to save as much as possible.
Reach Out to Your Utility Company
While utility companies tend to be monopolized and you might not have the option to switch services to another company, the company might be able to offer some extra flexibility in light of the economic climate.
"Reach out to your utility company and ask if they have an assistance program or if you can break up your payments over the entire month instead of paying in one lump sum," Holtam said.
Make Your Money Work for You
Make Some Electricity Adjustments or Change Your Phone Plan
Don't hesitate to make some electricity adjustments or changes to your phone plan in order to conserve energy and save some money.
"Fight higher costs by making a few adjustments to your HVAC, water, electricity and phone usage," said Anne Marie Ferdinando, member outreach manager at Navy Federal Credit Union. "If your provider offers it, be sure to enroll in a budget plan program to create predictability and consistency. If you haven't already, conserve and reduce electricity and water usage whenever you can. For your HVAC, participate in energy-saving hours and change your filters regularly."
As for your phone plan, consider switching to a cheaper service provider, opting for a prepaid phone or lowering your data plan to save more.
More From GOBankingRates
Methodology: GOBankingRates surveyed 1,003 Americans ages 18 and older from across the country between Sept. 19 and Sept. 21, 2022, asking eight different questions: (1) Have you seen a rise in your household utility bills? (electric, gas, water); (2) How much have your household utility bills (electric, water, gas) gone up each month?; (3) Which expense is rising the most for your household?; (4) Which expense is the hardest to plan for each month?; (5) Have you had to adjust your monthly budget due to rising household bills?; (6) How often do you shop at a dollar store (Dollar Tree, Dollar General, Family Dollar, etc.)?; (7) If there was an additional stimulus check, what would you primarily use it for?; and (8) If you received student loan forgiveness, how will you use this extra money each month? GOBankingRates used PureSpectrum's survey platform to conduct the poll.
Make Your Money Work for You