Where and When To Shop To Save Money on Furniture and Bedding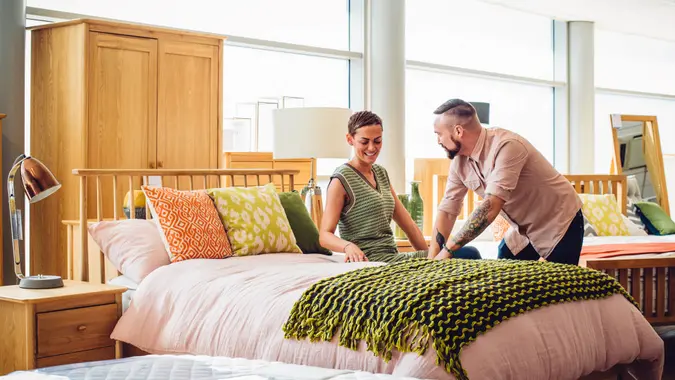 SolStock / iStock.com
Did you know there are tricks to saving money when shopping for furniture and bedding? Different times of the year yield sales for these categories that can make things a little easier on your wallet. And, there are times you'll want to avoid because prices will be higher.
See: Where and When To Shop To Save Money on Clothes
Find: 16 Effective Tips and Tricks To Help You Save Money in 2022
In addition, various retailers have reliable sales for certain holidays that you'll want to know about so you never overspend on furniture or bedding again. Know when to shop to spruce up your home decor, and you can save hundreds, if not more. Check out what to look for the next time you want to buy some furniture or refresh your bedding.
Shop in February or August for Furniture 
The best time to shop for furniture is right when new furniture hits the showroom. Typically, furniture stores will do this at the end of winter and the end of summer, making February and August great times to look. The stores are trying to sell last year's furniture, so they'll do markdowns on last year's models.
Make Your Money Work for You
August in particular brings great deals on office furniture not only because of back to school sales, but because of an office furniture conference that happens in the fall. Before the conference, stores try to sell a lot of their office furniture knowing new styles of it will be announced at the event. You can score hundreds of dollars off the original price by going to the store during these months.
Certain Stores Always Have Presidents' Day Sales 
Another reason to shop in February includes the sales that some retailers will have every year. Stores like IKEA, Ashley Furniture and Williams-Sonoma will have Presidents' Day sales, and sometimes even Valentine's Day sales, every year. You can get good deals on both furniture and bedding if you plan to shop in these stores in February.
Check Out: 10 Things You Always (and Never) Should Buy at the Dollar Store
Shop Out of Season
This trick works for most items, but especially for furniture and bedding. If it's not in season, there's no demand, so prices will drop. This means you should shop for patio furniture in the dead of winter, and a super warm comforter during the summer.
End of season clearance sales are also a great opportunity to get a good deal on items that are just about to go out of season. Stores are trying to make room for the more in-demand items, so they're likely to have sales on items that are out of season.
Make Your Money Work for You
Hit Up the Holiday Sales
In addition to Presidents' Day, Labor Day is known to be one of the biggest sales days of the year for furniture stores. If you're in the market for some new pieces for your home, spend time on your three-day weekend swinging by a furniture retailer to check out the markdowns.
Certain times mean better deals for specific furniture as well. For example, recliners tend to go on sale around Father's Day, and dining room sets will go for less during Labor Day sales since it's close to the holidays. Big-box stores like Walmart and Target are also known to have huge holiday sales (especially on Black Friday), so you can get good deals on both furniture and bedding during these times.
Be Careful: 25 Secret Money Traps at Target, Walmart and Other Big-Box Stores
Know the Industry Holidays, Like 'Way Day'
There are holidays to celebrate beyond the ones on the calendar. For example, May is "Better Sleep Month." Stores like Tuft & Needle and Purple have been known to slash prices during this month or throw in free sheets with mattress purchases. Wayfair also has "Way Day," which actually lasts a few days and is the company's most extensive sale of the year with some items going for 80% off. This year, Way Day is April 28-29, so mark your calendars to get deals on both furniture and bedding.
Make Your Money Work for You
January is also known as a great time to buy bedding since stores are trying to sell what they didn't during the holidays. Stores like Nordstrom, Anthropologie, Brooklinen and Bed Bath & Beyond hold white sales during this month, where you'll find sales on sheets, comforters and other bedding essentials. Thus, this is a great time to spring for the higher quality bedding, since you're getting it for a low price and it will last you a longer amount of time.
More From GOBankingRates
Make Your Money Work for You