Snow Removal and Other Shared Winter Expenses With Neighbors: Who Is Responsible?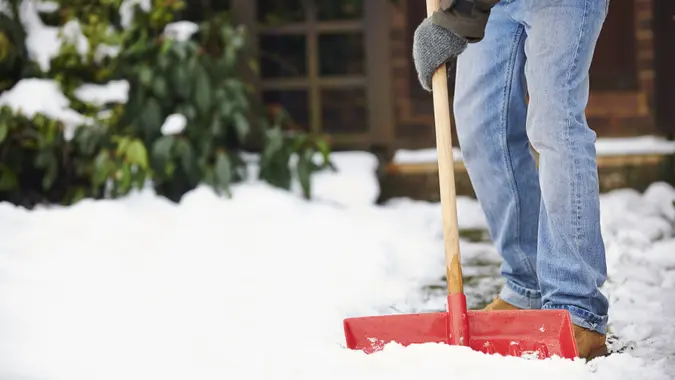 ©Shutterstock.com
In our busy lives, it's not uncommon for people to not know their neighbors very well. While this is fine most of the time, there are certain situations where it may be necessary to get to know them, because you may have to share costs or responsibilities when it comes to tasks like shoveling snow, clearing off driveways or weatherproofing a shared fence.
Holiday Spending: Get Top Holiday Shopping and Savings Tips
See: 3 Easy Tips to Turn Your Credit Woes into Wows
So who is ultimately responsible for the costs and burdens of winter upkeep? Let's let the experts explain.
Look to the Law
State laws generally dictate who is responsible for clearing snow, so a lot depends on where you live and your property, said Bruce Mohr, senior investment advisor and credit consultant at Fair Credit.
"Many states, including Massachusetts and Pennsylvania, make it clear that the property owner is responsible for snow removal and only has a certain amount of time to do so. Normally, the owner of a building, or place of business, that is adjacent to a public walkway or sidewalk is responsible for keeping the walkway free of snow and ice. These regulations set deadlines for when snow needs to be cleared, and breaking them will cost you money."
Make Your Money Work for You
David Lewis, owner and financial expert at Monegenix, added, "Everyone is responsible for shoveling their own property, with the homeowners' association (HOA) taking care of the roads and sidewalks if they've already agreed to. As far as fences go, whoever has the back of the fence facing their yard (the side with horizontal panels across the boards) is responsible for any repairs."
Communication Is Key
Once you have a better idea on what the legal stance is, Lewis said you can approach your neighbor and see what they think about sharing costs.
"If you and your neighbor have bad history or if they are notorious for ignoring any neighborhood requests, you might have to just go straight to filing a claim if you have a case. But hopefully you can come to some agreement without having to go the legal route."
Take Our Poll: How Has Inflation Impacted Your Holiday Shopping Plans?
Write Up a Shared Expenses Legal Agreement
Alex Capozzolo, co-founder of SD House Guys in San Diego, agrees that communication is important when discussing shared responsibilities and finances with neighbors. 
Make Your Money Work for You
"One way to do this is to create a shared expenses agreement between all homeowners. This document should outline the responsibilities of each homeowner and how costs should be divided, such as whether certain homeowners will take on larger portions of the burden or if the costs will be split equally amongst all owners."
This agreement can serve to resolve any disputes that may arise by serving as a reference point for all homeowners. Additionally, having an agreement in place ensures that each homeowner understands their responsibilities and is held accountable for their portion of the winter expenses.
"Ultimately, coming to a consensus on shared winter expenses can help to prevent costly disagreements down the line. By communicating early and often about these costs, owners can ensure that everyone is on the same page and winter expenses are paid in a timely manner."
Deduct Expenses if You're Renting
If you are renting, however, it is typically the landlord's job to handle these expenses, unless explicitly written into your rental contract otherwise. Mohr recommends removing the snow at your expense and deducting the cost from your rent if the landlord fails to uphold his obligations and ignores your requests.
Make Your Money Work for You
"Communication is the key in this situation. Please don't presume that [your landlord] knows how dire things are or that the lease does not include snow removal. I would remove the snow and provide my next month's rent along with a receipt for the snow removal expense if he is unwilling to communicate."
Get To Know Your Neighbors
If you move to an area where there's a good chance you will have to share tasks or financial responsibilities with your neighbors, Boyd Rudy, associate broker at DwellingsMI.com, said it's not a bad idea to get to know them in advance of purchasing.
"Real estate experts recommend getting to know your neighbors before you buy a home so that you can get an idea of their financial situation and whether or not they're likely to be able to contribute their share of the costs. After all, you'll be living in close proximity to them and will likely have to rely on them for things like borrowing tools and keeping an eye on your property while you're away."
He said that it could even be possible to create a shared bank account that everyone contributes to. "This way, there's no confusion about who is responsible for what expenses and everyone know exactly how much they need to contribute."
Shared Driveways and Fences
In the case of shared driveways, Laura Gunn, a finance expert with FreeAdvice.com, said, "In most cases, shared driveways are subject to an easement that outlines who is responsible for maintaining which portions of the shared property. If there isn't a legal easement… then the neighbors will have to determine the divide in snow shoveling."
She said it's common for upkeep or maintenance to be taken care of by the neighbor where the driveway crosses into. "So if you only have a quarter of the shared driveway on your property, then you'd only shovel or maintain that quarter of the driveway. The rest would be the other neighbor's responsibility."
A shared fence, on the other hand, can be a little trickier to determine, Gunn said. "It's important to get your property surveyed; this will help determine exactly where the fence lies. If the survey determines the fence is on your property, then it's your responsibility. If, however, the survey determines that the fence is directly on the property line or part of it lands on a neighbor's property, then the maintenance and upkeep are shared." 
If one-to-one communication doesn't solve anything, you can hire a lawyer to help clarify.
More From GOBankingRates
Make Your Money Work for You