Solar Panels Can Save You $1,346 on Your Electricity Bill — How Much Do They Cost in 2023?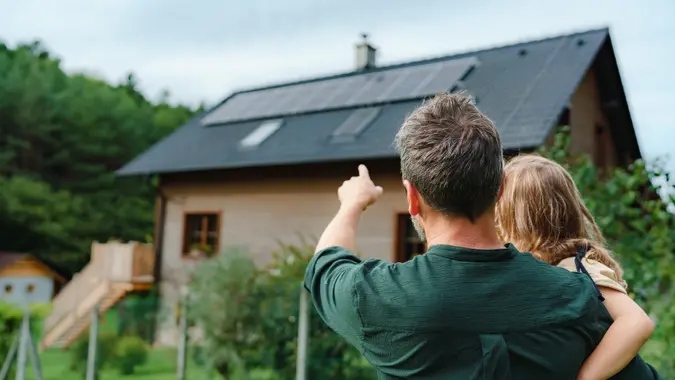 Halfpoint / iStock.com
Determining how much you can reduce your electricity bill through solar energy involves weighing a whole laundry list of factors, from local electricity demand and billing rates to the size of your solar panel system. But if you have the money to install a system, you'll likely save thousands of dollars during its lifetime.
A recent analysis by MarketWatch estimated you could save about $1,346 a year on your energy bills by installing solar panels in your home. That estimate is based on a 6-kilowatt (kW) home solar system that generates 9,000 kilowatt-hours (kWh) of energy, charged at the national average electricity rate of 14.96 cents per kWh.
Over time, MarketWatch estimated energy savings could add up to $30,000. The EnergySage marketplace puts the potential savings even higher, estimating that you could save as much as $97,000 over 25 years depending on where you live, what kinds of incentives you get, and other factors.
Incentives play a big part in potential savings from solar panels — especially in terms of upfront costs to install a system.
On the EnergySage Marketplace, the average cost of a solar energy system is $2.95 per watt, meaning that foran 8 kW system you would pay around $23,600. That's slightly higher than estimates from MarketWatch, which conducted a survey of 1,000 homeowners with solar power. The survey found that the average 10 kW system costs between $15,000 to $20,000, with a few providers "trending towards $25,000 to $30,000."
Make Your Money Work for You
This is where incentives can drastically lower your costs. For example, the federal solar credit lets you apply 30% of your solar system's cost as a credit to your tax bill. This incentive alone lowered EnergySage's average estimated cost to $16,520.
If your tax burden is not high enough to claim the tax credit in a single year, you can roll over the unused difference to the following year, MarketWatch reported. However, you can't claim the credit if you pay for your panels with a solar lease or Solar Purchase Power Agreement.
In some states and municipalities, you might also qualify for additional incentives. These typically come in the following forms, according to MarketWatch:
Sales tax exemptions: let you avoid paying the local sales taxes when you buy a solar power system.
Property tax exemptions: exempt you from having to pay higher property taxes if solar panel installations increase the value of your home.
State tax credits for solar power systems: work similar to the federal tax credit.
In some states, you might also earn cash rebates that reduce your upfront costs. In addition, some states have net metering policies that let you sell surplus solar energy to the local utility company in exchange for credits to your electricity bill.
Another perk to adding a solar panel system to your home is that it increases the home's value. The U.S. Department of Energy cited a study by Lawrence Berkeley National Laboratory showing that on average, solar panels increase the value of a home by about $15,000.
Make Your Money Work for You
More From GOBankingRates