10 Spending Mistakes To Avoid When Updating Your Kids' Bedrooms

7 min Read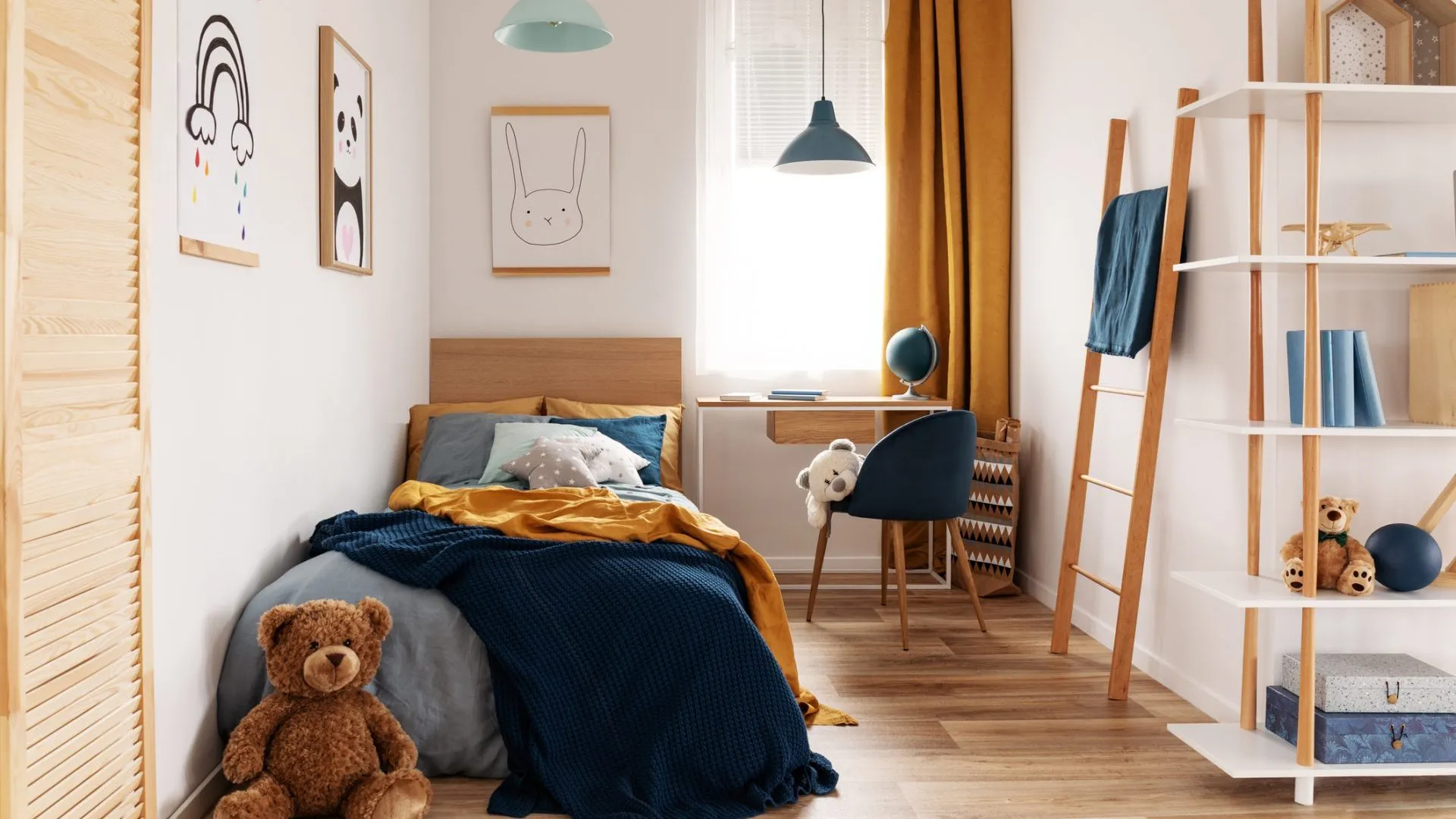 Make Your Money Work for You
Using the Wrong Mattress
If your child will be moving into a bigger bed, you'll need to buy a new mattress. Before making this purchase, Robert J. Fischer, owner/broker at The Robert J. Fischer Team, a Keller Williams Realty firm based in Round Rock, Texas, advised that you take time to find one that's truly a good fit for them.
"Most of the time parents pick up an expensive mattress without knowing the preferred sleep position of their child," he said. "As a result, the expensive mattress can be a painful experience for their child."
The Sealy Healthy Dream Two-Stage Hybrid Crib and Toddler Mattress is $139.99 at Target and the Serta Perfect Sleeper Elkins II 11-inch Plush Twin Mattress is $299.99 at Mattress Firm, so you certainly don't want to have to buy another in the near future.
Not Choosing the Right Window Treatment
Curtains might look cute, but if they're not also functional — i.e., blackout curtains — you'll want to invest in a new pair in no time. Fischer emphasized the importance of both choosing appropriate curtains and being cognizant of window placement when arranging furniture.
"When your kids are sleeping, a little light is enough to ruin their sleep," he said. "So, make sure that you are using the right type of curtain and window for your kids' bedroom[s]."
Bed Bath & Beyond sells Lush Décor Star 84-Inch Rod Pocket Blackout Window Curtain Panels — a set of two — for $38.99 and Wayfair offers Fergerson Solid Blackout Thermal Grommet Curtain Panels — a set of two — for $49.99.
Don't Break the Bank: 30 Ways To Upgrade Your Home Without Blowing Your Budget
Not Keeping Space for Creativity
When designing their kids' bedrooms, Ron Wysocarski, real estate broker based in Port Orange, Florida, said parents often forget their kids' ages and create a space that's better suited to their own preferences.
"Parents should remember that kids have different preferences and styles to express," he said. "Their bedroom is a place where they spend a large portion of their childhood, so there should be enough space to practice creativity and adequate elements to enhance their imagination power."
You mean well, but if you make this mistake, you'll likely have to fix it — and that will force you to spend extra money.
Make Your Money Work for You
Not Using a Neutral Color
The color of a room is a huge design factor, but Wysocarski said all too often parents automatically choose blue for a boy's room and pink for a girl's room.
"Never generalize it with your preferred motif and design," he said. "Rather, keep it neutral so that your kids can make it their own place according to their preferences."
The average cost to paint a room is $100 if you do it yourself and $525 if you hire a professional, according to Angi, so you want to get it right the first time.
Giving Your Kids Too Much Input
In business, the client is always right, unless you're dealing with a 6-year-old, said Rick Berres, owner of Honey-Doers, a home remodeling company based in Lakeville, Minnesota. In this case, he said giving them everything they want can be costly.
"The neon green paint they wanted? They won't want it next year, that's $1,000 down the drain," he said. The bunk beds your boys swore they wanted? In a couple of years they will want privacy, so that's another $2,000 wasted."
Therefore, it's best to let them have a voice on many items but step in with your better judgment when necessary.
Learn More: 20 Insider Tips To Save Money on Every Part of Your Home
Following Trends
Your kids are super into a certain cartoon or movie right now, but it's only a matter of time until they move on to something new. Therefore, Berres said following fads is essentially just throwing money out the window.
"Sure, trolls are the character du jour now, but they won't be next year," he said. "Will you redecorate your kids' room every single time they have a new favorite cartoon character?"
If so, he said you could waste $1,000 to $5,000, depending on how elaborate you go with the updates.
Make Your Money Work for You
Installing Hardwood Flooring
Hardwood floors might look nice when they're new, but Ralph Severson, owner of Flooring Masters & Professional Remodelers, Inc., based in New Albany, Indiana, advised against putting them in your kids' rooms.
"A mistake that we often have to fix in children's bedrooms is having flooring that is easily damaged," he said. "If you have hardwood floors throughout the house, it's only a matter of time before some floorboards in a child's room get some water damage, gouges or scratches and need to be replaced."
Instead, he recommended installing more durable flooring in your kids' rooms.
"Tile is extremely durable and spills will never be a problem," he said. "Luxury vinyl planks are also a great option. They are cost effective, and unaffected by moisture."
Hardwood flooring installers charge an average of $8 per square foot, according to HomeAdvisor, so you don't want to have to redo this project anytime soon.
Not Opting for Vinyl Paint or Washable Wallpaper
If your kids are young, Beatrice de Jong, broker associate and consumer trends expert at Opendoor, said to expect them to make messes on the walls.
"There will inevitably be a crayon mishap, dirty fingers or even spills in your child's room," she said. "Opting for vinyl paint and/or washable wallpaper will make cleaning the walls much easier."
The average cost to install wallpaper is $1,000 per room, according to Fixr, so you'll want to make sure it's washable.
Not Having Adequate Storage
During the planning stage, de Jong advised not making the mistake of skimping on storage options.
"Kids end up with many little toys like legos and dolls, so easy storage is a must," she said. "Using baskets is an easy way for children to access their toys, and also makes clean ups quick and pain free."
Target sells Pillowfort brand Wire Stackable Storage baskets in a variety of sizes, ranging in price from $10 to $15, and a Cloud Island brand Coiled Rope Bin With Color Band for $19.99.
Make Your Money Work for You
Investment Pieces
You want to buy your kids nice furniture they can keep for years to come, but de Jong said they're probably not ready for that yet.
It's likely that furniture will end up with crayon markings or scuffs from playtime," she said. "You likely will end up switching out furniture pieces frequently as your child grows, so I wouldn't recommend spending more than you are comfortable with."
Thankfully, there are plenty of stylish and affordable options available. For example, Wayfair sells the Guilford Three-Drawer Chest by Zipcode Design starting at $133.99 and the DaVinci Kalani Three-Drawer Dresser for $249.
More From GOBankingRates
About the Author