10 Spending Mistakes To Avoid When Updating Your Home Office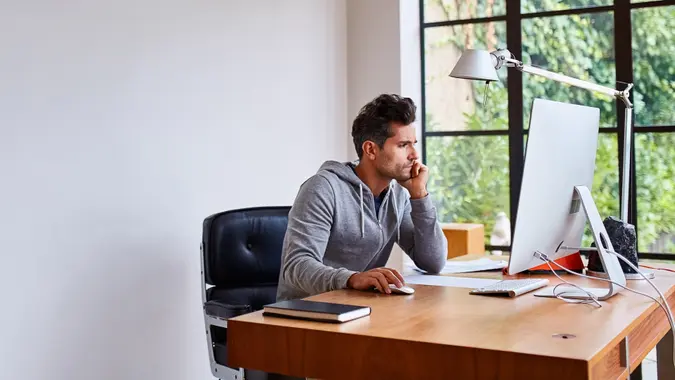 kupicoo / Getty Images
In what might seem like another lifetime, you worked in a traditional office on a full-time basis. You've been remote for a while now though, so you're ready to give your home office a much-needed makeover. Since you spend many hours daily in this space, you want it to be a comfortable spot, conducive to productivity. You're willing to invest some cash in this update, but you want to be smart about it. Good call.
Read: 4 Expensive Home-Remodeling Mistakes To Avoid
More Rooms: 10 Spending Mistakes To Avoid When Updating Your Kitchen
Here's a look at 10 spending mistakes to avoid on your home office upgrade.
Choosing Energy-Zapping Fluorescent Lights

The lighting in your home office should never be overlooked, said Vicky Noufal, owner of the Platinum Group Real Estate team at Pearson Smith Realty. She recommended choosing LED lighting over fluorescent lights, as it is cheaper and saves energy.
"LED lighting not just stands out in terms of functionality, rather they bring a warm and stylish look into your home aesthetics," she said. "The calm and cheery ambiance will enhance your productivity for sure."
Make Your Money Work for You
The average cost to install fluorescent light fixtures in a room ranges from $85 to $217, according to HomeAdvisor. Installing a single LED light strip has an average price tag of $125.
Going for New and Branded Office Furniture

You might be tempted to splurge on chic, expensive furniture for your office space, but Noufal said this isn't the room for that. "You should always prefer functionality over beauty when choosing your office furniture," she said. "This is not a place where you greet your guests after all."
Finding affordable office furniture — that's also notably stylish — isn't as hard as you think. Wayfair sells the Albertdine Desk for $62.99 and the Crompton Reversible Desk for $93.99.
Which Should You Update First: Kitchen or Bathroom?
Choosing the Wrong Office Chair
Your desk chair can have a huge impact on your posture, health, comfort and concentration, so Roy Thompson, director of ACI, an office design and fit out firm based in Nottingham, England, said to spend time finding the right one.
Make Your Money Work for You
"Taking yourself to a shop and physically trying different chairs out would be a top tip here," he said. "It's also important to purchase a chair that comes with personalization and allows you to adjust the positioning easily."
Quality office chairs range in price from $100 to more than $1,000, according to Staples, so not getting it right the first time can be an expensive mistake.
Dedicating the Entire Room to the Office
"One major and probably the top mistake people make when designing and creating a home office is dedicating a whole room for that purpose," Thompson said. He said purchasing minimal office equipment and choosing a smaller desk area is a great way to save space and resources.
When you look at this in terms of the price per square foot in your home, this can equate to serious savings. For example, the median listing home price per square foot in Pittsburgh was $155, as of February 2022.
Buying Too Much Storage

When you worked in a traditional office, you probably had plenty of file cabinets at your disposal. However, Thompson said investing in too much storage is a common mistake you don't want to make.
"Remember it's only you in there," he said. "Only buy space and storage that you need and remember. Most things and resources are now online."
Make Your Money Work for You
Home office storage can be a lot more expensive than you might realize, so going lean on this type of furniture can offer significant savings. For example, the Thaxton 18-inch Wide Two-Drawer Lateral Filing Cabinet by Sand & Sable costs $293.99 at Wayfair and the Caramel Live Edge Wood and Gold Metal Sloan Sideboard at World Market costs $599.99.
More Ideas: 30 Ways To Upgrade Your Home Without Blowing Your Budget
Investing in Raised Flooring
"Every person that we create a home office floor [for] wants a raised floor to hide wiring," said Ralph Severson, a licensed contractor and president of Flooring Masters & Professional Remodelers. "This seems like a good idea, but you can just as easily run these same wires under your existing subfloor."
He said raising your entire office floor will cost about $1,000 to $2,000 more than simply finishing the wires beneath the subfloor that are already in place.
Purchasing an Expensive Printer
When you worked in a traditional office, you probably had unlimited access to at least one top-of-the-line printer. You might think you need to invest in a fancy printer for your home office, but chances are, you don't. Unless your job truly involves massive amounts of printing, you can almost definitely get by with an affordable, yet highly-rated, printer. 
For example, Best Buy sells the HP Envy 6455e Wireless All-In-One Inkjet Printer for $179.99 and the HP Envy Photo 7855 Wireless All-In-One Instant Ink Ready Inkjet Printer for $214.99 — both are rated four-plus stars out of five by thousands of reviewers.
Opting for a Fancy Monitor
If you're working on a laptop all day, it can make sense to purchase a monitor. However, you probably don't need to splurge on an expensive one, as there's plenty of high-quality affordable models to choose from.
For example, instead of purchasing the Apple Studio Display monitor for $1,999.99 at Best Buy, consider the HP 24mh FHD Monitor on Amazon for $174.99. The latter is rated 4.5 stars from nearly 20,500 reviews.
Buying a Paper Shredder
Shredding important work documents when you're finished with them makes sense. However, investing in a paper shredder probably isn't necessary.
You could purchase the Fellowes Powershred 79Ci shredder on Amazon for $245, but you can save space and money by just taking your documents to Office Depot. The company offers secure and sustainable in-store shredding services for $0.99 per pound.
Purchasing Too Many Office Supplies
Chances are, the desk you used to occupy at your company's office was filled with supplies. However, items like staplers, paper clips, three-hole punches, pens and legal pads probably won't be used as much in your home office, since so much work is now completed digitally.
These products aren't typically expensive on their own, but together, they can add up fast. For example, Target sells a 500-count jar of Sugar Paper paper clips for $6.99, a Sugar Paper three-hole punch for $15.29 and a 12-pack of Roaring Spring legal pads for $22.99. Skip all that, and rack up the savings.
More From GOBankingRates
Make Your Money Work for You