If More States Propose Flat Fees for Utility Bills, Would It Save Money?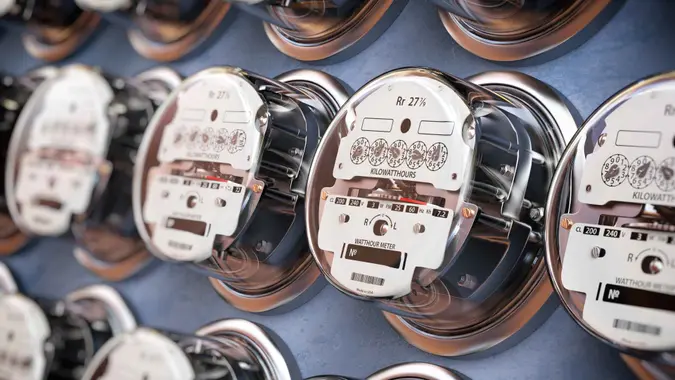 Bet_Noire / Getty Images/iStockphoto
For Americans struggling with high utility bills, California legislators believe they have an answer. Assembly Bill 205 required the California Public Utilities Commission to create an income-based fee plan for gas and electric customers.
However, since the mandate provided no details on how such a plan might work, the CPUC asked for proposals from investor-owned utilities, including San Diego Gas & Electric.
SDG&E senior vice president Scott Crider told KBPS that the utility has been focused on "comprehensive rate reform" and welcomes the mandatory fixed-fee to help reduce prices for San Diego residents.
Currently San Diego has some of the highest electric rates in the country, per Energy Sage, with residents paying an average of $218 per month, or 37 cents per kilowatt hour. This fee includes not just the electricity residents use, but electric grid maintenance, renewable energy initiatives, and state-mandated public purpose programs. All costs are rolled into the price of electricity.
Under the new "fixed fee" system proposed by SDG&E — as well as Southern California Edison (Edison) and Pacific Gas & Electric (PG&E) — consumers would pay a flat rate based on their income for grid maintenance and other programs, and then a kilowatt-hour rate for the electricity they use.
Make Your Money Work for You
The fixed rates for a family of four would be as follows based on their annual income, per Fox 40 and KBPS:
$28k or lower: a fixed monthly fee of $24 in SDG&E territory. Those in Edison and PG&E territories would pay $15 a month, per CBS.
$28k-$69k: a fixed monthly fee of $34 in SDG&E territory, $20 in Edison territory and $30 in PG&E territory.
$69k-$180k: a fixed monthly fee of $73 in SDG&E territory and $51 in both Edison and PG&E territory.
$180k or more: a fixed monthly fee of $128 in SDG&E territory, $85 in Edison territory and $92 in PG&E territory.
Under the system, a California family making $180,000 or more would pay close to (or more than) what the average household in New York pays for their whole bill — before they even purchase any electricity. The average electric bill in New York is $116, according to statistics from EIA.gov.
In California, the average electric bill in 2021 (the latest year for which statistics are available) cost $123.
Take Our Poll: Would You Move for a Job That Paid You a $10,000 Signing Bonus?
However, Crider told KPBS that the plan will help reduce the cost of electricity by roughly 42%. "The fact is, is that lower-and-middle income customers on average are going to save money."
Make Your Money Work for You
He added that, ultimately, higher income customers may also see a difference as they invest in clean technology like electric vehicles and electric water heaters.
However, some energy industry experts disagree that the fixed charges will encourage more conservative energy use. "In general, high fixed charges discourage people from reducing their energy use whether through energy efficiency, conservation or rooftop solar," Dave Rosenfeld of the Solar Rights Alliance.
With proposals still being considered, it's unclear what will happen to California residents' utilities bills as the hot summer months approach and air conditioners begin running around the clock.
In the meantime, taking steps to conserve electricity this summer by improving your home's insulation and using ceiling fans can help reduce your electric bills.
More From GOBankingRates
Make Your Money Work for You