Summer Utility Bills: This Old-Fashioned Trick Will Save You $30 a Month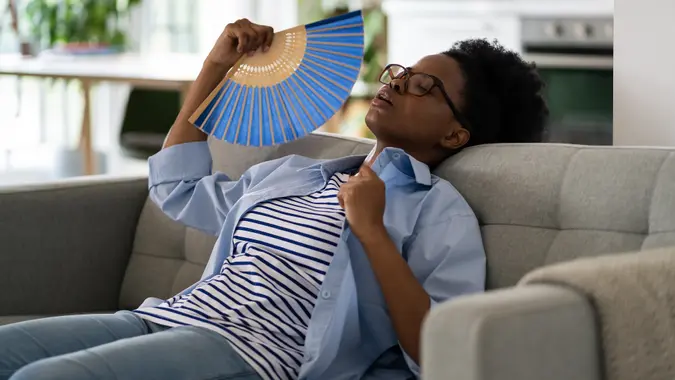 Dima Berlin / iStock.com
Most Americans turn to air conditioning during the hot summer months, but before you crank up the A/C, there's a long-established trick to help you stay cool while saving money.
According to a survey conducted by GOBankingRates, 36% of nearly 7,000 respondents said they are struggling to keep up with utility bills and barely paying them on time. One out of every four respondents said they are partially behind on some bills, and 21% reported that they could not afford their utility bills at all.
If you frequently use your air conditioner during the summer, using your ceiling fans with your A/C can be a great way to keep your energy costs down.
"You can usually set your thermostat a little higher in the summer and a little lower in the winter if you use that ceiling fan to move that air around and you'll be just as comfortable," Shawn Kelley, Manager of Facilities Safety and Support for Texas A&M University Central Texas, explained to 25 News KXXV.
Make Your Money Work for You
Ceiling fans work by circulating the air at a low velocity. But when you turn it on during the summer, make sure the blades spin counterclockwise. This directs the air downward and cools the warmer air above, according to a post by Vredevoogd Heating and Cooling, a plumbing, heating and cooling company in Michigan. A ceiling fan could cool each room by as much as five degrees.
A ceiling fan can also help you lower the setting on your thermostat. This helps reduce the number of cycles the A/C compressor requires to keep your home cold, resulting in less energy consumption.
Learn: 5 Brand-New Items at Dollar Tree That Cost Way More at Target
Find: Check Your $2 Bills — They Could Be Worth Upwards of $4,500
On average, running your air conditioner for eight hours a day can cost as much as $211.20 per month, reported Learn Metrics. But by adjusting your thermostat by four degrees, you can see an average savings of up to 17 cents per hour or about $30 monthly, said Vredevoogd Heating and Cooling.
More From GOBankingRates
Make Your Money Work for You
Make Your Money Work for You