The True Cost of Making Your Home a 'Smart Home'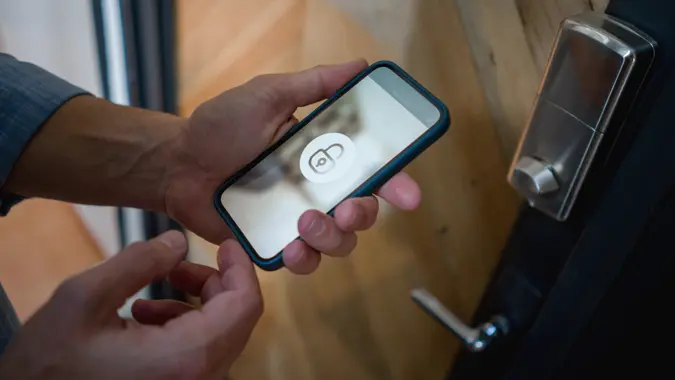 andresr / Getty Images
Choosing to make your home into a smart home, if it isn't already one, is a fantastic decision for homeowners. You'll have the power to automate home functions, such as monitoring energy and water use, and enjoy benefits like saving money on energy bills, improving your home security and even increasing your home's resale value in the long run.
What does it cost to turn a home into a smart home? Here are some of the most popular home functions homeowners choose to automate and their average prices. Plus, find out if it's better to take a DIY approach or hire a professional for assistance.
What Can I Expect to Spend?
Greg Covell, realtor and owner at What's My House Worth, said the total cost of home automation is, on average, between $2,000 to $7,000. 
Remember this cost depends on the amount of installation you plan to do at home and the different types of brands you purchase from or companies you work with and the amounts they charge. Here is the price breakdown of three common rooms in a home.
Smart kitchens. Covell said a smart kitchen requires a smart light setting, smart water dispense, cooking gadgets and more. This will cost from $6,000 to $16,000 fully installed.
Smart living rooms. The cost ranges from $3,500 to $12,000 for completely installed smart appliances. The television, fireplace and coffee table can be automated to improve the room. 
Smart bathrooms. Expect to spend about $2,500 to $7,000 for a fully installed smart bathroom. "The bathroom is the second most used space in a house," said Covell. "Just applying some smart lighting can change the bathroom on a larger scale."
Make Your Money Work for You
"Most homeowners spend around $5,500 to automate their lights, door locks and thermostats and install a smart speaker and hub. And this is for three rooms in a house," said Covell. 
Popular Smart Home Automations
Smart Thermostat
Smart climate control devices, including smart thermostats, allow homeowners to maintain ideal temperature and humidity levels, set schedules, keep track of energy usage and remind you to keep up with your AC maintenance. 
Chris Winters is a marketing specialist at Cielo WiGle Inc., a smart home company primarily focusing on smart cooling and heating controls. Winters said the cost of smart thermostats start at $70. They can go up to $800 in price. 
Smart Locks
Unlock the doors to your home through your phone or a keyless entry by installing smart locks. Prices for smart locks start at $150 and may go up in price to $400 depending on the brand.
Video Cameras and Doorbells
Secure your home while you're at home or away with video cameras and doorbells. Ring, for example, sells doorbells ranging from $100 to $350 in price. They also offer package pricing options for home security automations including doorbell and camera kits and alarm security kits. 
Smoke Detectors
When there's smoke, a smoke detector will alert a homeowner to immediately put it out. You can usually purchase a smoke detector on its own, usually within the price range of $50 to $150 each. 
Make Your Money Work for You
Smart Lighting
Homeowners have a few options when it comes to smart lighting. They may purchase smart light bulbs, which range in price from $5 per bulb to $49.99 for a four-pack depending on the brand, and turn these lights on and off using their smartphones. Or, they can invest in a home connection subscription service to automate various functions of their home including lighting. 
Should I DIY Installations or Hire a Professional?
The answer to this question often depends on the home automation items you need to install. In some cases, it may be easy for a homeowner to install a Ring camera on their own. However, this gets to be a bit tricky if you do not have wireless systems installed or need to automate several rooms in your home and don't have the time to get it all done.
It might cost a bit more to have a trusted professional come in and install everything, but homeowners will receive a greater peace of mind in knowing there's less potential for something to go wrong and all smart devices have been integrated into the home successfully.
More From GOBankingRates