Thinking of Moving To Save Money? See Where the Most Americans Migrated in 2022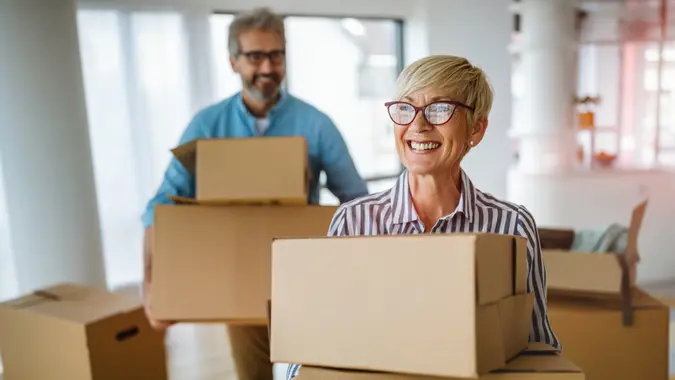 nd3000 / Getty Images/iStockphoto
Americans are on the move. According to the fifth annual U.S. migration study from HireAHelper, which analyzed 107,000 moves that happened over the last year, 4% more people moved during 2022 in the U.S. compared to 2021 — the first time in a decade that moving volume grew year-over-year. The economy was one factor determining where Americans relocated in 2022.
See: 10 Things To Stop Buying in 2023
Find: 3 Ways Smart People Save Money When Filing Their Taxes
"People are adjusting to economic or social circumstances, while others are shifting their career or lifestyle," said Miranda Marquit, chief data analyst at HireAHelper, in a press release announcing the report. "Americans seem to be at an inflection point with many moving in response to adjusting to the post-pandemic era."
These are the top five states that saw the biggest spikes in new residents (in relative terms rather than pure volume) — and how they stack up in terms of affordability.
Vermont
Many a new Vermonter was made in 2022. The state had the greatest net inflow of moves, with 138.7% more people moving to the state than leaving it. Vermont, known for its cheddar cheese and maple syrup, is also not too terribly costly, at least not when compared to states like New York and California. According to the Bureau of Economic Analysis (BEA), the average cost of living in Vermont for a typical individual is around $47,397 per year.
Make Your Money Work for You
Maine
According to the report, 82.1% more people moved into the state of Maine than left in 2022. Maine draws people in with its coastal islands and tasty lobster, and may lure them to stay by being the most affordable state in New England, according to SoFi. The average yearly cost of living in Maine is $45,272.
South Carolina
The Palmetto State welcomed many this past year, as 71.6% more people moved to the state than moved out of it. South Carolina impresses with its white sand beaches but also with its cost of living, which is 4% lower than the national average, according to RentCafe.
Delaware
Over in Delaware, 54.2% more people moved in than moved out in 2022. The state, which is known as "the Chemical Capital of the World" because so much chemical and pharmaceutical manufacturing happens there, is actually not a cheap place to live. According to RentCafe, the cost of living in Delaware is 7% higher than the national average. That said, it's one of the more affordable states on the East Coast.
Take Our Poll: What Are Your Financial Priorities in 2023?
More: 2023's Housing Correction Could Be The Largest Since Post-WWII
Make Your Money Work for You
Arkansas
The Natural State saw 41.9% more people move in than it saw move out in 2022. Arkansas charms with its dazzling lakes and state parks, but also impresses with its low cost of living. According to RentCafe, the cost of living in Arkansas is 9% lower than the national average — and housing is particularly affordable at 21% lower than the national average.
In terms of volume (rather than ratio of moving in to moving out) more Americans moved to Florida, Texas, California, North Carolina and Georgia than other states.
More From GOBankingRates
Make Your Money Work for You