7 Tips To Score Discounted Rent on Your Next Apartment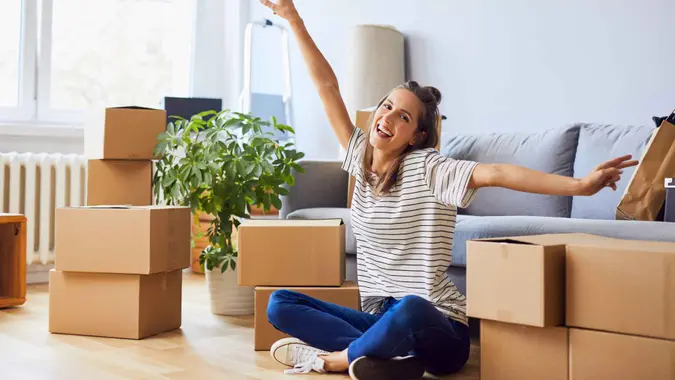 BartekSzewczyk / Getty Images/iStockphoto
Rent rates almost reached a record high in August, as the U.S. median asking price for rent shot up to $2,052, just $2 short of the record set last August. According to Redfin's latest Rental Market Tracker report, the asking rent price went up 0.7% from July.
While these rent prices are discouraging for those looking for a new rental, there are still ways that you can score discounted rent on your next apartment. Even though the asking price for rent has increased, it doesn't mean you have to accept the higher rate.
Here are different ways to score a discounted rate on your next apartment.
Tip No. 1: Research the Rental Market
It's essential that you research the rental market where you plan on moving to so that you're aware of the prices and your ability to negotiate. Even though the asking price has increased, it doesn't mean all the units in your desired community are going for that rate.
Key Things To Research About the Rental Market
What are the prices for similar units? It's worth looking into similar units and prices so that you know what options are available to you.
How long has this unit been on the market? If a unit has been on the market for some period of time, the landlord is losing money on this property. You'll have more room for negotiation if you can find vacant places that aren't finding tenants.
Make Your Money Work for You
Tip No. 2: Search for Landlords Offering Concessions
Try to be on the lookout for landlords offering concessions like a free month, waived fees or something along those lines. According to Redfin's report, many landlords are offering one-time concessions like free rent for one to three months to find new tenants without officially lowering the asking price.
While the rent price won't technically be lower, you'll save money over the lease term by getting a few months for free. This would also give you some time to build up your emergency fund and focus on savings. If you're unsure if these concessions are available near you, the best option is to reach out and inquire about them.
Tip No. 3: Present Yourself as the Best Possible Candidate
Many landlords have dealt with terrible tenants and would likely prefer to find someone they believe will be reliable with payments and overall occupancy.
How can you present yourself in the best light possible as a tenant?
Share your rental history.
Print out your banking statements.
Provide your credit score.
Have multiple references ready.
Provide proof of steady employment.
Complete the rental application in advance.
If you present yourself as the best candidate for the unit, you can ask for a discounted rental price.
Tip No. 4: Offer a Longer Lease Term
Landlords don't want to constantly look for new tenants, as that could become a full-time job. You could try to land a lower monthly rent price by offering to sign for a longer term. If you're positive that you want to stay in the community for the long run, this would benefit you, and the landlord would know that they have consistency.
Make Your Money Work for You
Tip No. 5: Get a Seasonal Deal
When demand drops, rent prices tend to fall, as well. If you could hold out a bit, you can be on the lookout for a seasonal deal, since the rental market fluctuates. December and January are the peak off-seasons for the rental market, according to CNBC. If you're feeling discouraged with rent prices at the moment, the best move could be to wait it out, because prices don't always stay high.
Tip No. 6: Offer Services in Exchange for Discounted Rent
You could offer some sort of barter arrangement where you'll offer to do some work around the rental in exchange for a lower rent price. The easiest way to start would be to offer lawn care if it's a house. You can also offer to complete any repairs or to handle basic maintenance for a deal.
Tip No. 7: Look Into Creative Housing Options
If your desired unit allows it, you can get creative with your housing options. You could try to list the place on Airbnb for when you're not home or put up an extra room on a short-term rental platform to help bring down your monthly rent. You could also try to find roommates or consider moving to a lower-cost-of-living community if your work offers the flexibility to do so.
Closing Thoughts
While rent prices are touching record levels, it's worth mentioning that the year-over-year jumps aren't as high as the last two years, which saw prices skyrocket due to the higher demand. The good news is that you can still find discounted rent on your next apartment if you prepare a little in advance.
Make Your Money Work for You
More From GOBankingRates