10 Easy and Affordable Ways To Upgrade Your Home Office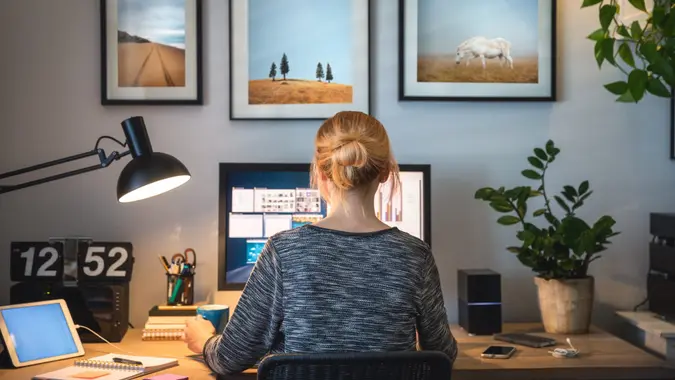 borchee / iStock.com
For many, working from home is now a permanent way of life. And now that you're spending more time at your home office, it's time to spruce it up a bit to make it a space you're happy to commute to every morning. Jazzing up your work space doesn't have to cost a lot. Here are some cheap ways to breathe some life into your home office. 
Advice: 19 Effective Ways To Tackle Your Budget
Also See: 25 Ways To Save 20% More of Your Paycheck Without Even Trying
Give Some Height To Your Computer Screen
For an ergonomic work setup, it's best to have the top of your computer screen at eye level. If you're constantly looking down, it will start to affect your posture. If you have a monitor, you can simply put a few books underneath it to bring it to this level. For laptops, you can buy a riser with an external keyboard and mouse. Your keyboard should be right in front of you, with your wrists in with your forearms, your shoulders relaxed and your elbows close to your body. You can also spring for a fully ergonomic keyboard so your arms are at just the right level to keep your spine aligned.
Make Your Money Work for You
Use a Desk Organizer
Desk organizers are very inexpensive and keep all of your pens, paperclips, rubber bands and other loose office supplies in one place. They may also have spots for your phone so you can set it down and easily find it later.
Good To Know: 101 Easy Ways To Save Money Daily
Get a Back Pillow
This is an easy substitute for spending hundreds on an expensive office chair. You can use any chair as a desk chair, as long as you purchase a curved foam pillow to support your back. If you don't want to spring for a new pillow, decorative pillows around the house, or even a rolled blanket or towel will work well. 
Try Out a Foot Chair
Speaking of support, why not comfort your whole body? A foot chair helps keep your knees and hips at a 90 degree angle so there is less pressure on your sciatic nerve. It also feels extra comfortable.
Save Money: 16 Effective Ways To Trick Yourself Into Saving Money
Clean Up the Cables
Cables can pile up on a desk creating an unsightly mess. There are a ton of affordable ways to organize your cables, including velcro wraps and elastic ties. You can also purchase a cable box cover for under $15 that covers the cables completely and looks keeps everything looking seamless on your desk. 
Make Your Money Work for You
Add a Plant
Plants bring actual life to your space and may reduce some stress and bring you comfort, which seems pretty helpful after hours of Zoom meetings. Plants have also been shown to make you more attentive and less depressed, so having a plant is like an instant mood booster.  
Read: 37 Life Hacks That Will Save You Money
Install a Printer

It might seem unnecessary to still own a printer, but it comes in handy more often than not. Having a printer allows you to get labels for packages as well as important documents in seconds. Printers have become pretty affordable these days, and many will even connect to other devices so you can print directly off your phone. 
Find a Lamp With USB Charging Port
Every desk needs a lamp, but why not make your lamp a multitasker? Many desk lamps now come with USB charging ports so you can charge your phone, headphones and other gadgets without using an outlet, or taking up more space on your desk. 
Warning: 25 Things You Should Never Do With Your Money
Frame Some Photos & Art
Your workspace should be inviting. Make it somewhere you want to be by adorning it with pictures that bring joy to you. Whether that be pictures of your family and friends, or art that really inspires you, put it up on the wall. Framing it makes it look more aesthetically pleasing while preserving it for years to come. 
Make Your Money Work for You
Invest in Noise-Cancelling Headphones
These are a must if you're on calls a lot and work in an environment that's a little distracting, or if you really want to concentrate and need to drown out whatever is going on in the background. These increase the sound quality of anything you're listening to and can be found for under $70. 
More From GOBankingRates
Make Your Money Work for You