5 Ways To Save Money in Every Room of Your Home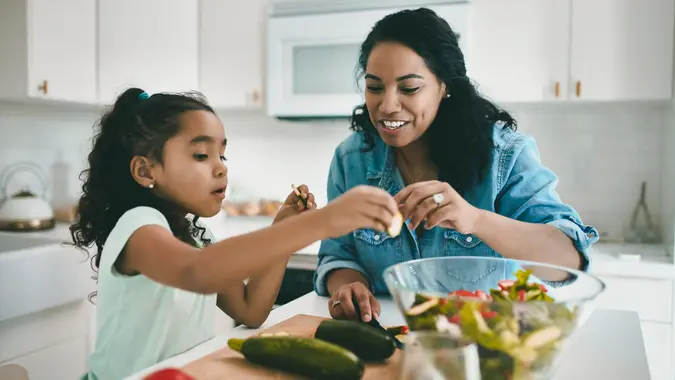 xavierarnau / Getty Images
With difficult real estate market conditions and inflation affecting everyday expenses, many people are looking for ways to save money within their current homes.
By cutting back on expenses now, you might be able to save money for a bigger down payment on your next home, which can reduce mortgage costs. Or, maybe you're planning to stay put for a while and simply want more room in your budget.
Either way, there are lots of simple yet effective steps you can take to save money in different rooms of your home, like your kitchen, living room, bedrooms and bathrooms.
Buy Secondhand Furniture
New furniture can set you back thousands of dollars, so a good way to save money is by shopping for secondhand items.
"While secondhand furniture might not sound ideal, there are so many small hacks to turn used pieces around, like reupholstering them or giving them a new coat of paint," said Carly Blumberg, founder and designer at Carly Home.
That's not to say you have to fill your house entirely with used furniture, but for things like chairs, tables and couches, you can often find good deals.
"You can usually find decent living room furniture on Facebook Marketplace. Many people are looking to sell gently used, high-quality items," said Alex Caras, realtor at Magellan Realty, LLC.
Make Your Money Work for You
Get Crafty
Another way to save money is by making your own household items, which might be more attainable than you'd think.
For example, in bedrooms, you probably don't want to cut corners by buying a used mattress, but a bed frame could be something you save money on. "I have even had clients build their own out of free pallets they received from local grocery stores," said Caras.
You could also start smaller with simple projects, like repurposing jars as bathroom storage containers.
A related way to save money is gardening. For one, you can cut down on food costs by growing your own produce. You can also often save money on lawn care by putting in native plants.
Use Your Kitchen
A seemingly obvious yet often overlooked way to save money in your home is by actually using your kitchen for meal prep, rather than just letting it be a place where you do dishes after ordering food.
Here, too, you can get crafty, such as by repurposing jars to store items in your pantry. Buying bulk, unpackaged items from grocery stores to put in these containers can be more cost-effective than buying packaged goods in smaller portions. Buying high-quality storage containers for leftovers can also be more cost-efficient in the long run than constantly using disposable items like plastic storage bags.
"Cook at home and avoid single-use items in the kitchen," advised Blumberg.
Make Your Money Work for You
Save on Utilities
Focusing on energy and water savings can be good for both the environment and your wallet.
For example, you can use energy-efficient lighting to save money, Blumberg said. Also, fixing leaks and installing low-flow water fixtures in bathrooms can help, she added.
The upfront cost of these changes can quickly lead to net savings.
Low-flow water fixtures, such as showerheads and faucets, typically start at around $10. By reducing your water usage by 30%-50%, these fixtures can reduce your utility bills by $50-$90 or more per year, because you'll use less energy to heat the water and less water overall, HGTV found.
Consider Durability
Lastly, keep in mind that saving money can be a long-term initiative. While you might be able to cut costs now with cheap items, investing in durable furniture and other items that can stand the test of time could be less expensive in the long run.
"If you think about the average lifespan of a mattress and the cost, then it makes sense to buy a new one, as it will conceivably last you a number of years," Caras said. "Other items that have a lower cost but also long-term lifespan can be purchased new."
Overall, saving money in your home requires finding a balance between short- and long-term savings. For example, replacing a garage door returns slightly more on average than the initial investment, based on what it adds to your home's resale value, according to RenoFi.
"Prioritize which items warrant long-term investments, allocate [your] budget accordingly, and research product durability to make informed choices," said Blumberg. "This way, you can achieve financial stability while enjoying both immediate savings and long-term value."
Make Your Money Work for You
More From GOBankingRates