What Is Renter's Insurance and What Does It Cover?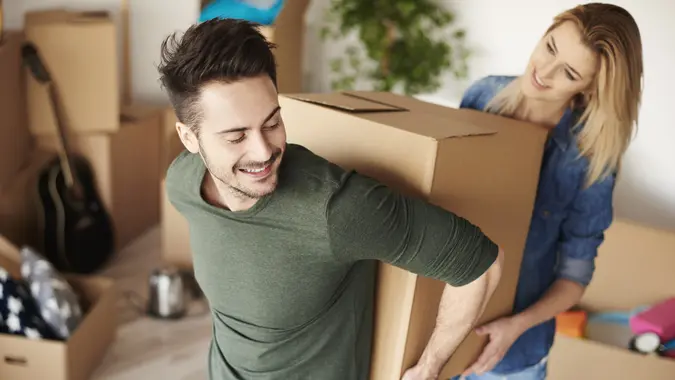 ©Shutterstock.com
Renters insurance — also known as tenants insurance — is often purchased by people who rent homes, apartments, townhouses, condos or another type of rental property. Unlike homeowners insurance, it doesn't cover the actual building you live in; instead, it's a policy that provides protection for your belongings in case of damage or theft. It also can provide coverage if someone becomes injured at your home or files a lawsuit against you for negligence.
Find out everything you need to know in this guide to renters insurance.
What Is Renters Insurance?
In situations where the property you live in as a renter is damaged by a fire, hurricane or tornado, the responsibility to repair the structure falls on the property owner. But if the contents belonging to you inside the property are also damaged, that's when you need renter's insurance.
Renters insurance can also come in handy if the place you rent is broken into and your possessions are stolen. And if someone stumbles and twists their ankle while in your apartment, renter's insurance can help out, too.
Are You Required by Law To Have Renters Insurance?
While you aren't required by law to have renters insurance, your landlord can require you to have it as a condition of the lease. This is true whether you're renting a unit at a large complex or a home from an individual. A landlord's insurance policy doesn't cover renters, so that's why landlords are allowed to require it of their renters if they so choose.
Make Your Money Work for You
Renters who carry renters insurance are often looked at as a lower risk to landlords because they are able to demonstrate that they have the means to cover incidents or damage that occur on the property. Renters insurance can also reduce the likelihood of expensive lawsuits being initiated by the renter against the landlord, which may not be successful but can be a disruption for parties involved.
Do You Need Renters Insurance?
If there is competition for the rental property you're interested in, having renters insurance may be beneficial. Again, landlords and property owners often perceive applicants with renters insurance as being a better risk than a renter who does not carry such a policy. So, having a policy could help you edge out other potential renters.
Plus, having a renters insurance policy could save you from having to pay the full cost of stolen or damaged items, so skimping on this protection to avoid having to pay premiums could be a mistake if your belongings are valuable to you.
In some instances, however, you may not need renters insurance. One such scenario is if you're renting an apartment but you're a dependent who is covered under your parent or guardian's policy. Most homeowners insurance policies cover a dependent's property at 10% of the policy's personal property limit.
What Does Renters Insurance Cover?
Renters insurance covers the unexpected theft or damage of your property or a visitor's injury. Here's a look at some different scenarios where renter's insurance will apply.
Make Your Money Work for You
What It Covers

Personal property: Renters insurance will cover the cost to repair or replace your belongings — furniture, TVs, clothing — up to your policy's limits.
Liability you incur: In the event that you damage another person's property or a guest in your home suffers an injury, renters insurance will pay for repairs, medical bills or legal fees, up to your policy's limits.
Certain costs you incur: If the property you rent becomes damaged or in need of major repair that makes living there impossible, you can be reimbursed for the cost of staying at a hotel through your renters' insurance policy.
What Isn't Covered Under Renters Insurance?
While it can be helpful to have renters insurance, your policy may not cover all losses or incidents. For example, personal property losses that exceed the coverage limit on your policy will not be covered. Liability coverage that exceeds your coverage limit won't be covered either. And if you're responsible for damaging the structure of the building that you're renting, renters insurance policy won't pay either.
The good news is that you can often purchase insurance riders, which offer additional coverage for certain items that aren't covered under a standard renters policy.
Here are some items renters insurance may not cover and that you may want to consider purchasing riders for.
Jewelry
Although your renters insurance may include jewelry in the items it covers, the value it covers may be limited. Additionally, the terms of your loss may also be a condition of coverage, such as the policy will only provide coverage in the event of a theft — not if the item sustained damage in a fire.
Electronics
While renters insurance policies may cover electronics, they may not cover electronics that are of high value. So if you have a $5,000 gaming computer or a $9,000 state-of-the-art TV, the standard renters insurance policy limits may fall short.
Collectibles
Collectibles, including art, antiques, figurines and coins are another category of personal belongings that may not be covered by renters insurance. Unfortunately, the more your collection is worth, the less likely it will be covered by the policy. If you own these type of items, you may want to consider having them appraised so that you can purchase additional insurance riders to cover their value in the event of loss or damage.
Other Coverages That May Be Limited or Excluded From Your Renters Policy
Damage or loss from certain natural disasters, like earthquakes or floods, will not be covered. Also, if you have a home business, any loss or damage to things related to it may not be covered under a standard renters insurance policy.
How Much Renters Insurance Should You Have?
The amount of renters insurance coverage you should have depends on your unique situation. The more assets you have, the more insurance coverage you will need to protect them. Here are some tips to help you determine how much personal property and liability coverage you will need.
Inventory Your Belongings
The first step is to take stock of your possessions. The recommended amount of personal property coverage is $40,000, according to Insurance.com. Make a note of everything of value — from clothing to electronics to housewares. Include information about each item's purchase price.
Depending on the item, other information, such as its age may also be helpful to note. If you have certain items that exceed the personal property limits of a standard insurance policy — such as a $10,000 engagement ring when the policy limits jewelry coverage to $5,000 — you may want to consider purchasing a rider.
Consider Actual Cash Value vs. Replacement Cost
Another important thing to consider is whether to choose actual cash value or replacement cost coverage. ACV will reimburse you for the cost of your property at the time you make your claim, minus the deductible. With ACV coverage, you may not be able to replace your item with something similar because of depreciation. The insurer will only reimburse you for the item's current value, not what you originally paid for it, which means you may not be able to replace the item with the money you receive from the insurer.
Replacement cost, on the other hand, will reimburse you for the full value of a new item. You may have to purchase the item yourself and submit the receipts to your insurance company for reimbursement. But this method gives you the best chance of being compensated adequately for your loss.
Consider Your Liability
Next, you should assess your liability. According to Insurance.com, the recommended liability coverage limit for a renters insurance policy is $100,000, which can help protect your assets in case of a lawsuit. If you have frequent visitors to your home and you have hazards, such as indoor or outdoor staircases or steps, debris around the property or slippery floors, a renters policy could come in handy if injuries happen.
It's good to note that renters insurance could also protect you in the event that you or a family member damages someone else's property, such as if your child hits a baseball through a neighbor's window. Some renters policies will also cover legal costs in the event that a lawsuit is filed against you.
Consider the Deductible
When you take out an insurance policy, you don't know if you'll ever need it. But if you do, you'll want to be able to pay the deductible without breaking the bank. The deductible is the amount that you pay out of pocket for the covered loss or liability claim. So if your $1,200 laptop is stolen and your deductible is $500, you'll pay $500 and your insurer will pay $700.
Common renters insurance deductibles are $500 and $1,000, but you may be able to find a lower deductible if you shop around. Things to keep in mind are that the lower your deductible is, the higher your premiums will be and vice versa. Additionally, if your loss is lower than your deductible amount, you'll be on the hook for the cost, not your insurer. So if your deductible is $1,000 and the replacement cost of your neighbor's window costs $600, your renters policy won't kick in.
How Much Does Renters Insurance Cost?
The average cost of renters insurance policies ranges from $15 to $30 per month, according to the National Association of Insurance Commissioners. Various factors can influence the cost of renters insurance policies.
One factor is location: A rental property in a safer area with lower crime typically means lower-cost renters insurance. And if you live in an apartment building, a higher number of units in your building may result in a lower-priced renters insurance policy. Additionally, if you select accurate policy limits that reflect the true value of your personal possessions, instead of selecting an inflated value, you can save money.
How To Get Renters Insurance
After you've determined how much renter's insurance coverage you need, it's time to shop for a policy. Here's how.
Check with your auto insurance company to see if it offers renters policies. If so, you may be able to get a discount for having more than one policy with the insurer.
If not, shop around to get the best price on renters insurance. Check with insurance providers, such as Lemonade, Geico, Nationwide, State Farm or Allstate.
Be aware that the recommended coverage limits for a renters policy are $40,000 for personal property with a $1,000 deductible and $100,000 worth of liability coverage, according to an Insurance.com rate analysis. However, don't only focus on the policy's affordability, make sure the policy also meets your needs.
Advice

When it comes to renters insurance, it can be smart to have it. Because the average cost of renters insurance is between $15-$30 a month, it's affordable. But to get the best coverage for the best cost, you should shop around and always choose a deductible that you can afford.
Renters Insurance FAQ
Now that you know more about renters insurance policies, here are answers to some of the most frequently asked questions about renters insurance.
Which renters insurance is the best?
According to U.S. News & World Report, Lemonade Insurance ranks No. 1 as the best and cheapest renters insurance available. The company offers renter's insurance policies that start at just $5 per month. Additionally, GOBankingRates' analysis of Lemonade Insurance found that the company has an easy and instant claims process and the unused portion of your premiums will be given to a cause of your choice each year.
Will renters insurance cover a roommate's property?
Unfortunately, renters insurance will not cover a roommate's property unless the person is listed on your policy. If you're considering sharing the cost of a renters policy with your roommate, you may want to reconsider.
If your roommate has belongings that are worth more than what you own, it could be more expensive for you to become insured together than if you had your own separate policy. Plus, if your roommate makes any claims on the policy, those claims will become part of your claims history, too.
Does renters insurance really work?
Yes, renters insurance does really work. However, it comes with coverage limits. It's important to assess how much personal property and liability coverage you need before selecting policy coverage limits. In addition, some scenarios and disasters aren't covered by a standard insurance policy and will require a separate rider if you so choose.
Our in-house research team and on-site financial experts work together to create content that's accurate, impartial, and up to date. We fact-check every single statistic, quote and fact using trusted primary resources to make sure the information we provide is correct. You can learn more about GOBankingRates' processes and standards in our editorial policy.