What To Do If There Has Been a Fire at Your Property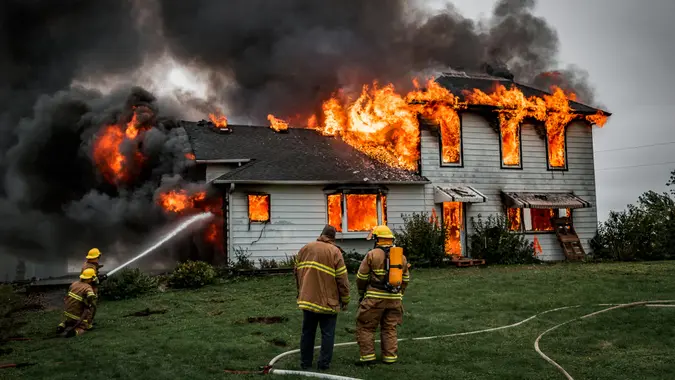 ©Shutterstock.com
House fires are disturbingly common, with over 353,000 reported each year.  
"Most of these [fires] occur because of electrical problems and cooking," said Omer Reiner, a licensed real estate consultant with Florida Cash Home Buyers.
Learn: Survey Finds Most Common Reasons Americans Use Emergency FundsFind Out: Here's How Much Cash You Need Stashed If an Emergency Happens
"While climate change will increase wildfires, these account for only thousands of structures damaged each year versus the hundreds of thousands by electrical and cooking fires. Not to mention wildfires are usually reported more often than house fires."
Ruth Shin, founder and CEO of PropertyNest, noted that according to 2019 data from the National Fire Protection Association, there were more than 1,291,500 calls to fire departments nationwide. 
What can both homeowners and renters do should a fire happen on their property? GOBankingRates consulted finance and real estate experts to nail down a game plan.
Discover: How To Be 'Financially Resilient' — Even in Times of Crisis
Step 1. Contact Your Homeowners Insurance Provider (Or Landlord)
"When fire consumes your home, the first step to take is to contact your homeowners insurance provider, explain your situation, and ask for the scope of help they can extend," said Johannes Larsson, CEO of Financer.com. "Homeowners insurance is a type of protection that explicitly safeguards properties and can extend to personal belongings such as appliances, clothing, and furniture. Almost all homeowners insurance covers fire damage, but it ultimately depends on your chosen policy."
Make Your Money Work for You
If you rent, you should first contact your landlord. 
"Suppose you are renting a property that suffered property damage–the best thing to do is to contact your landlord," Larsson said. "Your landlord can immediately contact their insurance provider to file a claim." 
Read: Best Cheap Homeowners Insurance Companies for 2021
Step 2. Figure Out Where To Live/Stay
If you own the property, some insurers will cover temporary living expenses and some even issue customers a check on the spot, said Christi Houser, agency manager with COUNTRY Financial. "Most homeowners insurance policies also include a benefit for 'additional living expenses' which generally includes the extra costs of eating out at restaurants or having laundry done while you are displaced from your home," Houser said. "If you rent and have renters insurance, contact your insurance agent and your landlord immediately. A typical renters insurance policy often covers your temporary living expenses up to a limit if the place you are renting becomes uninhabitable."
Step 3. Assess the Property When Safe To Re-Enter
"If it is safe to enter the property, mitigate further damage to your property by boarding up broken windows and covering holes with tarps," Houser said. "You want to take steps proper steps prevent any further damage to your property from the elements or other circumstances."
Advice: Tips To Get More From Your Insurance Company
Step 4. Take Inventory of Damaged Items
"Create a detailed list of all damaged property, including vehicles," said Houser. "Include age, model number, date of purchase and current purchase price for each item, if possible." 
Make Your Money Work for You
Remember to check not only for fire damage but for damage caused by water to put the fire out, said real estate expert Dawn Pfaff, founder and president of My State MLS.
Step 5. Document With Photos
"Take photos of any and all damage and give them to your claims representative," Houser said.
See: 7 Major Emergencies That Could Bankrupt You
Step 6. Pin Down the Value of What Was Damaged
"Find out the value of the damage including on the property and your belongings," Reiner said. "If you rent, you need to find out how much value your belongings had. Keep in mind, you may need fire damage coverage to have the costs fully covered.
Step 7. Get Estimates for Repairs
"If you own a property, get estimates from local contractors on current prices to repair and replace any items that were damaged or destroyed," said Pfaff.
Step 8. Use Insurance To Rebuild
"If your home or property is destroyed and you have it insured, you should use the insurance for which you've been paying premium to rebuild," said Houser. "Keep in mind your mortgage company doesn't absolve you from the debt. You will need to continue to pay your mortgage even if your home is uninhabitable."
Make Your Money Work for You
More: Should You Update Homeowners Insurance Coverage as Prices of Lumber and Steel Skyrocket?
Step 9. Save Receipts
"Save all of your receipts from emergency repairs, including receipts for basic items such as tarps or duct tape," said Houser. 
Step 10. Invest in Fire Coverage in the Future
The most important step a homeowner can take comes before a fire even strikes, and that's to get the best fire coverage for your home (or renter's insurance that covers valuables). 
"It's most important to make sure you have proper coverage before anything happens," said Shin. "Unfortunately, if there is a fire and you don't have ample coverage, you won't get the money you need to replace your valuables. It may increase your premiums, but make sure you get coverage to replace your items rather than cash value which is the cost of your items plus depreciation."
More From GOBankingRates
Last updated: Aug. 25, 2021