Why Now Is the Time To Switch Your Mortgage From 30 Years to 15 Years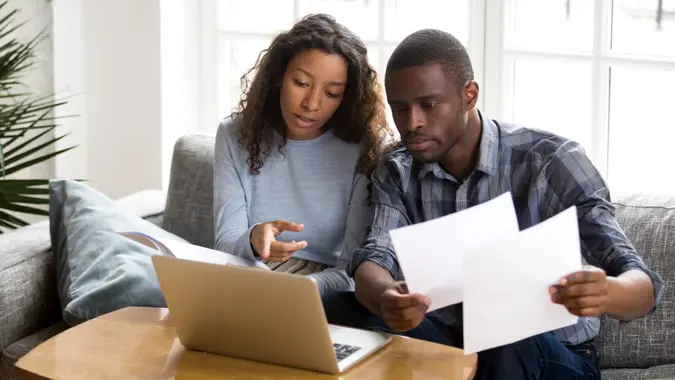 fizkes / Getty Images/iStockphoto
There's been a lot of talk in the financial press over the last year or two about falling mortgage rates. Much of this discussion has centered around whether or not homeowners should refinance their 30-year mortgages into those with a lower rate — something 78% of homeowners failed to do, according to Zillow, between mid-2020 and mid-2021. Although that's a valid concern, what's not as often mentioned is whether or not you should refinance by swapping your 30-year mortgage into a 15-year one. If you've never thought of this before, now might be the time, for some of the following reasons.
Helpful: Tips To Get Your Mortgage Payments as Low as Possible
Read: Strategies To Pay Off Your Mortgage Earlier
Lower Interest Rate
One of the main reasons for considering a swap from a 30-year mortgage into a 15-year one is to lower your interest rate. A 15-year mortgage will nearly always offer a lower rate, and in some cases, the difference can be dramatic. Even in 2021, when mortgage rates are near their all-time lows, the rate difference between a 30-year and a 15-year fixed-rate mortgage can be as much as 0.7% annually, or even more. That may not sound like much on the surface, but when the current 30-year interest rate is hovering around 3% or lower, a 0.7% annual rate drop amounts to a significant percentage. 
Make Your Money Work for You
Check Out: Here's How Much Mortgage Rates Have Fluctuated Over the Past Decade
Lower Total Interest Cost
The one main drawback of switching to a 15-year mortgage is that your monthly mortgage is likely to go up, in many cases significantly. However, that higher payment comes with a huge benefit: a much lower total interest cost on your loan. 
Imagine you have a $200,000, 30-year mortgage at 3%. Your monthly payments will amount to $843, and the total cost of your loan will be $303,555. If you switch to a $200,000, 15-year mortgage at 2.3% instead, your monthly payments will rise to $1,315. However, the total cost of your loan will only be $236,670. That's a whopping $66,885 in saved interest. That amounts to a savings of around 22% in interest costs.  
Shorter Payment Period
For most people, a home mortgage is the single biggest expense of their lives. With a 15-year mortgage instead of a 30-year mortgage, you'll eliminate that burden twice as fast, making just 180 payments instead of 360. Once you're free of your mortgage obligation, you can begin diverting that money toward savings, other investments, your retirement account or whatever you choose. Switching to a 15-year mortgage also all but ensures that you'll be done paying your mortgage before you retire, giving you more flexibility to enjoy your golden years. 
Make Your Money Work for You
Rates May Never Be Lower
Throughout 2020 and 2021, mortgage interest rates made repeated all-time lows, breaking below 3% for 30-year fixed-rate loans. With the economy expanding and the Federal Reserve Board indicating that it was likely to begin raising interest rates in 2023, the party may soon be over in terms of snagging a low mortgage rate. This is especially true of 15-year mortgage rates, currently hovering around 2.3% as of September 2021 — or even lower if you're willing to pay points, or upfront interest. If the economy heats up and rates go up, as many economists anticipate, this may be your last chance to ever get a mortgage rate as low as 2.3%. 
Last updated: Sept. 7, 2021
Make Your Money Work for You