13 Best Secluded HomeAways for Your Money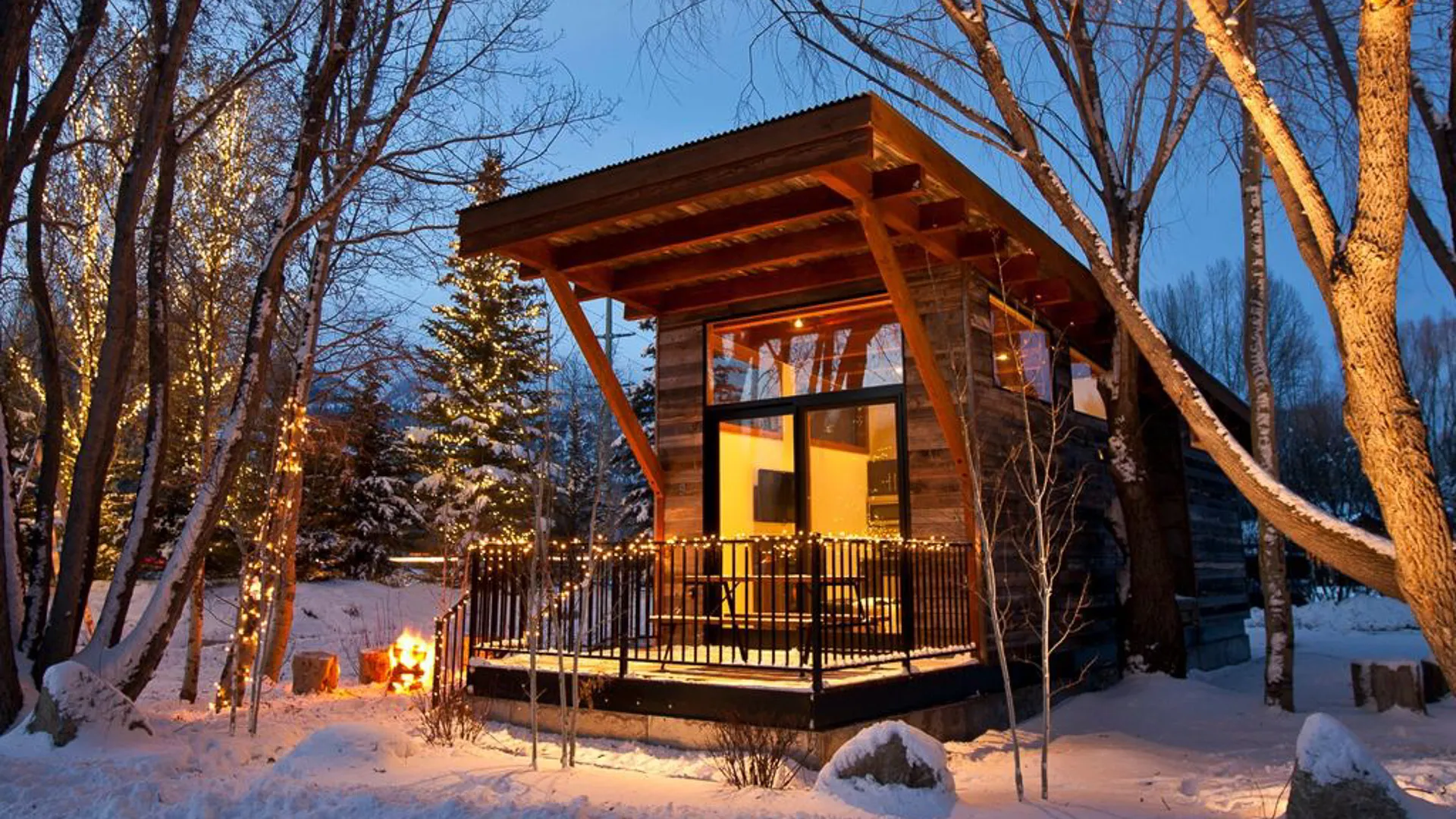 If you're looking for a real escape, it might be time to visit a destination that's slightly off the beaten path. 
A trip to a remote destination is the perfect way to completely disconnect and unwind. And with affordable vacation home rentals available to book on sites like HomeAway, you can rent out an entire dream house for a lot less than you would think — often for the same price or less than a hotel room.
GOBankingRates partnered with HomeAway to find the best secluded rental properties for your next getaway. Click through to see how you can live like a local in these affordable vacation rentals.
Yosemite National Park Area: Chateau in the Gateway
Location: Mariposa, Calif.
Property type: Chateau/country house
Estimated price: $265 per night
Yosemite National Park is located in central California, and it's one of the best destinations for a memorable family vacation. The park offers visitors the chance to hike, rock climb and camp, surrounded by the beauty of the Sierras. And located about an hour car ride away from the park's gate is this 2,750-square-foot vacation home.
Situated on 5 acres of tree-studded land, the property sleeps eight people. In addition to two bedrooms and two bathrooms, the vacation rental features vaulted ceilings and wood floors throughout, floor-to-ceiling windows with mountain views, a dining area large enough to seat 10, front deck and back patio areas, a hot tub, wet bar, pool table and barbecue grill.
Make Your Money Work for You
Yosemite National Park Area: Craftsman-Style Vacation Home
Location: Yosemite National Park
Property type: House
Estimated price: $395 per night
This 2,200-square-foot craftsman-style HomeAway vacation rental also sleeps up to eight people, but has three bedrooms and two baths.
It features vaulted ceilings, an open floor plan, granite counter tops, a gas fireplace and a flat-screen satellite TV. Every bedroom is furnished with queen beds, and the master bathroom features a luxurious soaking tub. The home also includes a redwood deck with a barbecue, as well as 270-degree nature views from the second-floor seating area.
While this home is on the pricier end, the cost per bedroom is still on par with some of the least expensive hotel options in the area. But, this vacation rental has the added bonus of being off the beaten path.
Grand Canyon Area: Cozy, Rustic Cabin
Location: Seligman, Ariz.
Property type: Cabin
Estimated price: $98 per night
The Grand Canyon National Park attracts about 5.5 million people each year, making it one of the most popular U.S. tourist attractions. This 400-square-foot, studio cabin provides a cozy retreat in the area — perfect for a couple or small family.
Panoramic windows offer views of the mountains and pine forests, and the covered, finished deck provides the perfect area to relax during the day or night. The cabin is close to several hiking areas and also features an outdoor fire pit.
A recent online search found that a four-star hotel in the Grand Canyon National Park area can cost up to $300 per night. In comparison, $98 is a good deal to get a place that's all your own
Make Your Money Work for You
Portland Area: Roomy Cottage With Bay Views
Location: Cape Elizabeth, Maine
Property type: House
Estimated price: $189 per night
The Northeast destination town of Portland, Maine, offers something for everyone — theater, museums, outdoor adventures, cruises, tours, wildlife and so much more. If you're looking for vacation rentals with amazing views, check out this one. 
With three bedrooms and 3.5 baths, this 1,700-square-foot cottage is located only 7.5 miles away from downtown Portland in nearby Cape Elizabeth. It boasts private beach access and views of the Atlantic Ocean. The newly built home also has a fully equipped kitchen, as well as a full bathroom and shower for each bedroom. There's also an outdoor grill and patio that's ideal for entertaining. The vacation rental sleeps eight people.
Wyoming Area: Secluded Getaway Country House
Location: Moose Wilson Road, Wyo.
Property type: Chateau/country house
Estimated price: $495 per night
Wyoming is home to natural beauty, national parks and ranch-style living. This 2,000-square-foot, two-bedroom secluded and unique rental property is tucked away in the mountainside and offers the best of all Wyoming has to offer. It's close to the town of Wilson for easy access but still far enough away to enjoy some peace and quiet, surrounded by nature and wildlife.
The chateau-style house sleeps up to four people and features reclaimed wood beams, a marble bathtub, custom stonework, imported sinks, and tile and stone floors, as well as two fireplaces, a garden, a bar area and an outdoor grill. The property is functional for couples and families. 
Hotel accommodations in the Wilson area can be pricey — the average price of a hotel came out to approximately $322 per night in a recent online search. So at an estimated price of $123 per person, you're getting more bang for your buck.
Make Your Money Work for You
Wyoming Area: Ski Cabin Near Jackson Hole
Location: Wilson, Wyo.
Property type: Cabin
Estimated price: $295 per night
Jackson Hole is known for its world-class ski resorts. So if you're planning a ski trip here during the winter months, consider renting a vacation home to save money on lodging.
For example, this modern yet rustic 400-square-foot cabin sleeps up to four people and is located just five minutes from the slopes at the Jackson Hole Mountain Resort ski area, making it the ideal destination for winter sports enthusiasts. Though the cabin is a studio, the bedroom can be closed off with a sliding door. The rental also features a full kitchenette and a hot tub.
Its proximity to the slopes makes it a steal for the price. In fact, a recent search for rooms at the nearby Teton Mountain Lodge uncovered rates starting at $370 per night.
Pocono Mountains Area: Modern Lakefront Chateau
Location: East Stroudsburg, Pa.
Property type: House
Estimated price: $520 per night
Do you want to stay somewhere where you can relax and recharge? When visiting the Pocono Mountains, you'll find ski resorts, water parks, a casino, golf courses and more. Sleeping up to 20 people, this 4,200-square-foot lakefront property is ideal for large groups who want access to all the area has to offer.
The HomeAway vacation rental is within walking distance to the beach and features a fireplace, a fully equipped kitchen with stainless steel appliances, a Jacuzzi in the master bathroom and a game room complete with a pool table and a ping-pong table.
The six-bedroom property is located in a gated community, and renters are welcome to enjoy the amenities, which include walking trails, an outdoor pool, tennis courts, a volleyball court, a baseball field and a basketball court. And best of all, the house cost breaks down to an extremely affordable $26 per person, per night when full.
Make Your Money Work for You
St. Simons Area: Charming Beach Cottage
Location: St. Simons, Ga.
Property type: House
Estimated price: $343 per night
St. Simons, located off the coast of Georgia, is full of Southern charm and things to do for the whole family. For example, you can explore the beaches, go golfing, relax at the spas and try new restaurants.
This 2,200-square-foot cottage sleeps up to 10 people, has three bedrooms and three baths, and is just a short walk from the beach. It has all the amenities you could want for a relaxing getaway, including a sunroom, screened porch, a newly remodeled pool, a deck and a grilling area.
And if you're trying to find a pet-friendly property, you'll be glad to know this one will accommodate up to two dogs. This HomeAway vacation rental is also close to the island's lighthouse and pier area, which has restaurants, shopping and other attractions to keep you — and the whole family — entertained.
Vermont Area: Luxury Vacation Home
Location: Morristown, Vt.
Property type: House
Estimated price: $408 per night
The Stowe, Vt., area is a mecca for outdoor activities and adventures, including zip-lining, rock climbing, skiing and snowboarding. Located approximately 9 miles away from Stowe Village in Morristown, this secluded 3-bedroom vacation home sleeps six people and provides an idyllic retreat for anyone looking to get away.
The house is situated on 40 acres of beautiful meadows, surrounded by mountain views. It also features wrap-around porches, heated floors and a massive fireplace. With an estimated cost of $136 per night, per room, you'll save on your stay compared to other top-rated hotels in the area.
Colorado Area: Rustic Cabin Retreat
Location: Carbondale, Colo.
Property type: House
Estimated price: $126 per night
This rustic, serene cabin is located in a field of wildflowers next to natural hot springs and features an outdoor hot tub where you can soak while enjoying the views. The one-bedroom property, which sleeps four, also has a finished deck and outdoor grill.
The vacation rental is located 3 miles from the town of Redstone, which is known for its fine art galleries, picturesque shops and fine dining. So, it's close enough to easily get to restaurants and other attractions, but far enough away that you can fully disconnect and enjoy the peacefulness of nature.
Make Your Money Work for You
Colorado Area: Rocky Oasis
Location: Snowmass, Colo.
Property type: House
Estimated price: $315 per night
The small town of Snowmass Village is surrounded by picturesque mountain peaks and has become a popular destination for skiers and snowboarders. Visitors also flock to Snowmass for fly fishing, whitewater rafting, weekly rodeos, hiking, biking and more.
This 2,800-square-foot rental property offers spectacular views of the Rocky Mountains through its large windows and from its many outdoor spaces, which include a large porch — complete with a daybed and hammock — and outdoor hot tub. White wood-beamed ceilings give the home a rustic charm, while modern amenities such as a steam shower and fully equipped kitchen provide everything you would need for a relaxing vacation.
Not only is the space accommodating, it sleeps up six people. That comes out to a relatively affordable $52 per person, per night. Renting an affordable place to stay is a great way to save money on your winter ski trip.
Montana Area: Flathead Lake Lighthouse
Location: Bigfork, Mont.
Property type: House
Estimated price: $486 per night
Flathead Lake is the largest natural freshwater lake in the western U.S., with over 200 square miles of water and 185 miles of shoreline. It's an ideal site for sailing, boating, fishing, kayaking and other water sports. And this unique, four-bedroom lighthouse-style home that sleeps eight people is located right above it.
The 2,300-square-foot property has mountain and lake views, multiple deck spaces, a media room and access to an electric tram to easily transport you to the dock below. It's the perfect place to relax and take in views of the lake, away from the distractions of everyday life. 
Make Your Money Work for You
Oregon Area: The Meadow House Near Crater Lake
Location: Prospect, Ore.
Property type: House
Estimated price: $157 per night
Crater Lake was formed nearly 8,000 years ago when a violent eruption caused a tall mountain peak to collapse. It's now the deepest lake in the U.S. and attracts visitors for the hiking and bike trails. 
Located 28.9 miles from the lake's south entrance is this 2,500-square-foot, three-bedroom property. The Meadow House is named after the surrounding meadows, which house vegetable and berry gardens. It also acts as a grazing area for wildlife, including wild turkeys, deer and elk.
Rest and relax in front of the fireplace on a cold night or in a hammock on a warm day. For a more active vacation, take advantage of the nearby hiking and snowshoe trails.
All vacation rental prices are estimates and subject to change.