Hotels Around the World Only the Super Rich Can Afford
These luxury hotels offer top-notch amenities for those who can afford them.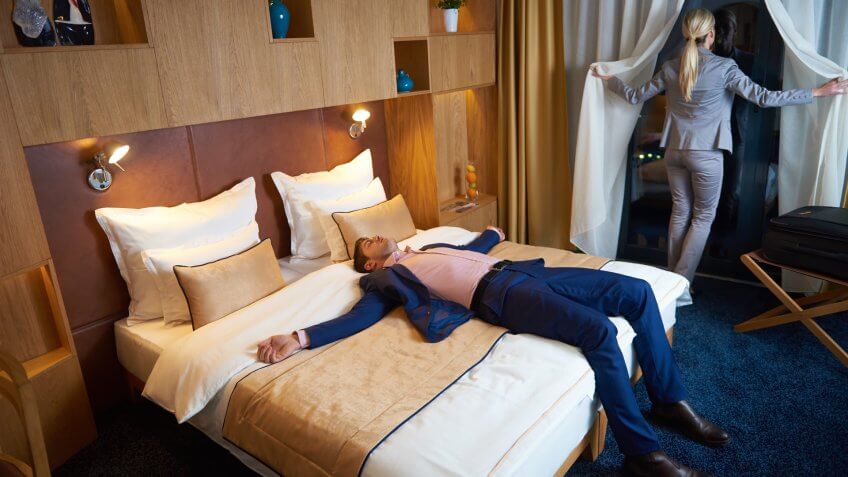 dotshock / Shutterstock.com
You might assume that 1-percenters spend their free time luxuriating in lavish vacation homes. And while it's true that many millionaires own property on picturesque islands, the wealthy also enjoy spending time in hotels — provided that they offer the right amenities.
From high-end hotels on the subcontinent to secluded safari villas in Africa, the available accommodations are truly limitless for those with the ability to pay. Whether you're heading out on an opulent adventure of your own or simply want to live vicariously, here are some of the hottest hotels around the world.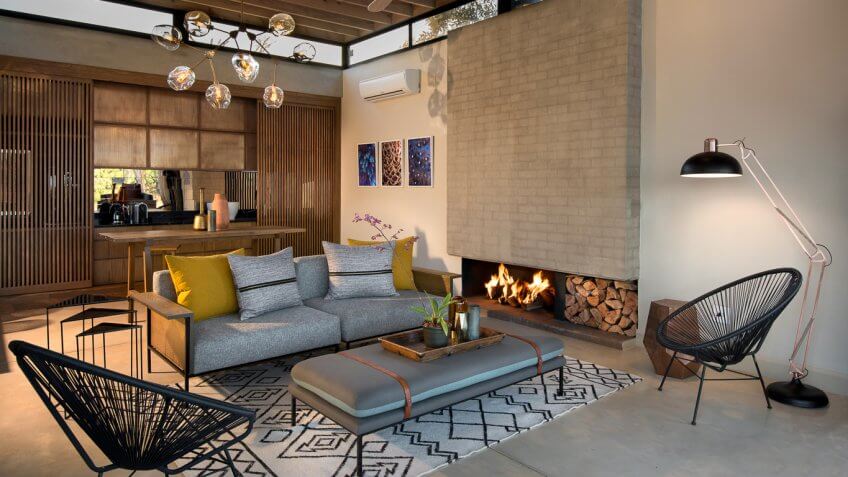 ©Lion Sands Game Reserve
Lion Sands Game Reserve
Location: Mpumalanga, South Africa
Room: Ivory Lodge Villa
Rate: About $9,000 per night
You might not think that South Africa, famed for its low cost of living, is a likely site for one of the world's most lavish hotels. However, the Lion Sands Game Reserve in Mpumalanga definitely embraces excess with open arms.
Though the Reserve's Kingston Treehouse gets much of the attention, it's the Ivory Lodge Villa that has the highest price tag on the lot. Built in 1933, this sumptuous lodging blends a safari-inspired aesthetic with sleek modern architecture. Perks include full meal catering for various dietary preferences, a private fire deck, outdoor shower, covered patio, private spa and gym, and — wait for it — your own personal Land Rover.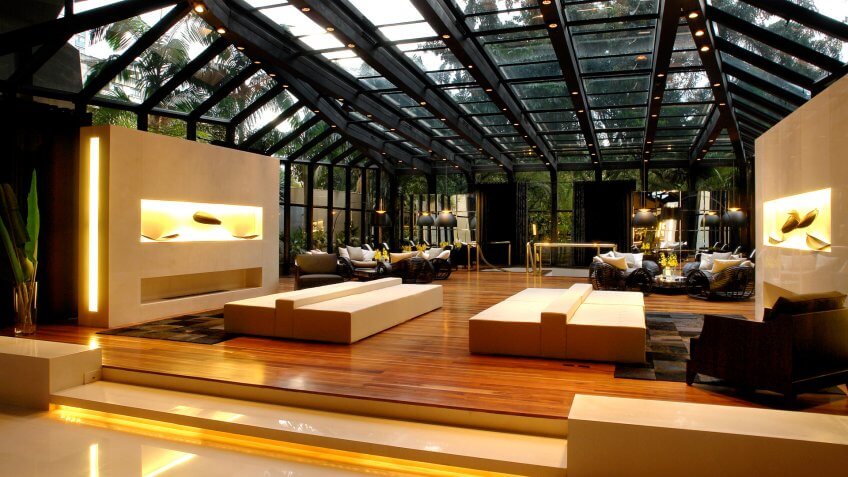 ©Tivoli Mofarrej
Tivoli Mofarrej
Location: São Paulo
Room: Presidential Suite (not pictured)
Rate: About $15,850 per night
Like other luxurious presidential suites, São Paulo's Tivoli Mofarrej is fit for a commander-in-chief. In fact, this suite claims the title of the largest in Latin America, measuring an impressive 8,072 square feet.
Boasting floor-to-ceiling windows — which reveal a stunning 22nd-story view of the city — this luxurious lodging is decorated in gold and black, and features a huge sit-in shower. Plus, the hotel is home to one of the most acclaimed spas in the city, and it's within walking distance to its main business district (not to mention its fashion boutiques).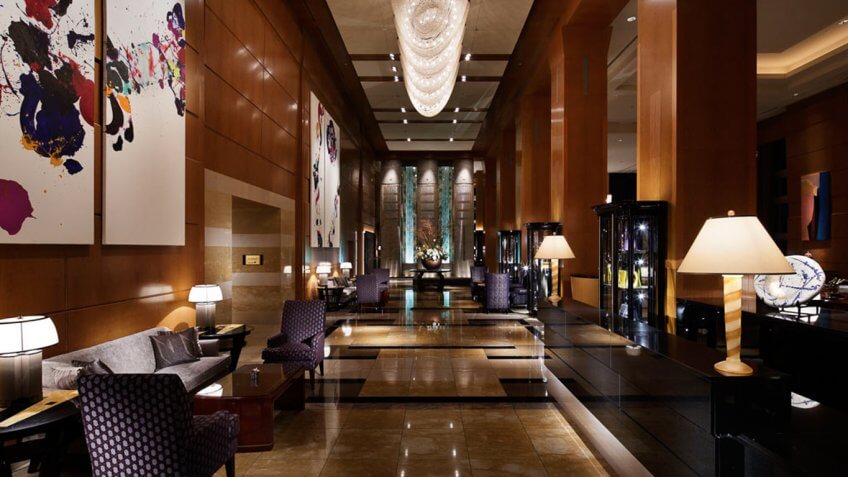 ©The Ritz-Carlton Tokyo
The Ritz-Carlton Hotel
Location: Tokyo
Room: Ritz-Carlton Suite (not pictured)
Rate: $17,750 per night
The 53-story Midtown Tower in the Roppongi District isn't just Tokyo's tallest building — it's also home to the city's most expensive hotel.
A suite has to be lavish to bear the name of the hotel — and the Ritz-Carlton Suite definitely exceeds expectations on that front. This 3,300-square-foot slice of modernity boasts plenty of traditional perks, such as complimentary shoe shines and a dedicated concierge. However, it also offers some unexpected luxuries, like an in-bathroom TV, rain shower and ESPA gift certificate. Additionally, the silver washi-papered walls and fluffy furniture will remind you that you're effectively walking around in the clouds.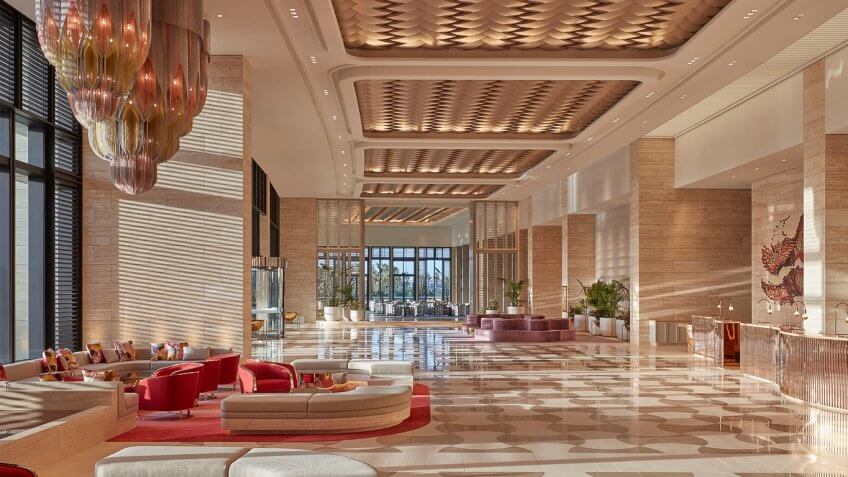 ©Crown Towers Perth
Crown Towers Perth
Location: Perth, Australia
Room: Chairman's Villa (not pictured)
Rate: $18,500 per night
A newer addition to the Perth hotel scene, Crown Towers boasts exceptional amenities for those with the requisite bank accounts. According to WA Today, this hotel hideaway features Italian stone, more than 3 tons of chandelier work and 450 eager staff members.
However, if you really want to experience life like a 1-percenter, book a stay in the hotel's Chairman's Villa. Along with four bedrooms, the suite offers a wraparound balcony, two stories of space connected by a grand staircase and — of course — full butler service.
Though you might find the price prohibitive, executive general manager Andrew Cairns isn't sweating it. He told WA Today that the Crown expects to host 79,000 overseas visitors each year, including plenty that stay in their more budget-friendly $482-per-night rooms.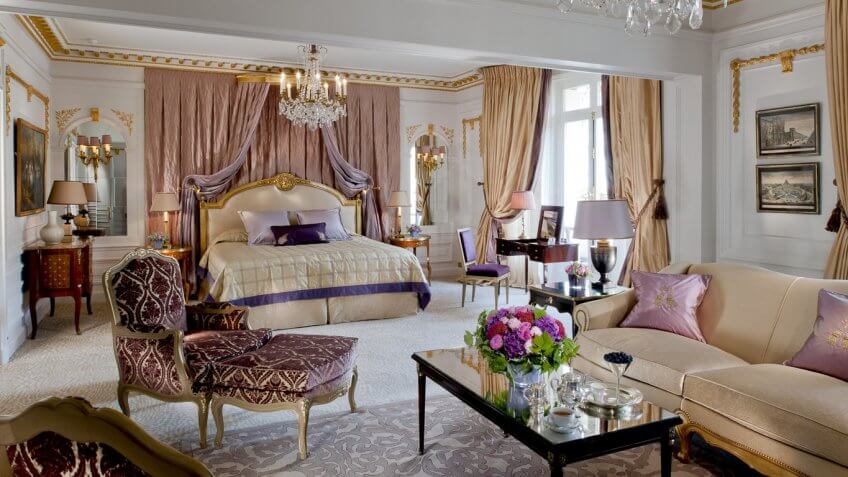 ©Plaza Athenee
Hôtel Plaza Athéné
Location: Paris
Room: Royal Suite
Rate: About $19,750 to $25,250 per night, depending on the season
If you're looking to stay in the lap of luxury, a trip to Paris probably comes to mind. And the Hôtel Plaza Athénée doesn't disappoint.
Eschewing the modern vibe favored by many of the world's most expensive hotels, the Athénée's Royal Suite goes all out with its French Regency-inspired décor, including fine linens, coral tones, plush carpets and plentiful fresh flowers, replenished daily. Additionally, this 4,850-square-foot suite offers four bedrooms and an equal number of bathrooms, an ample sitting room, a steam room and nine TVs. And since you're in Paris, you might as well enjoy a picture-perfect view of the Eiffel Tower and a complimentary bottle of Krug Champagne.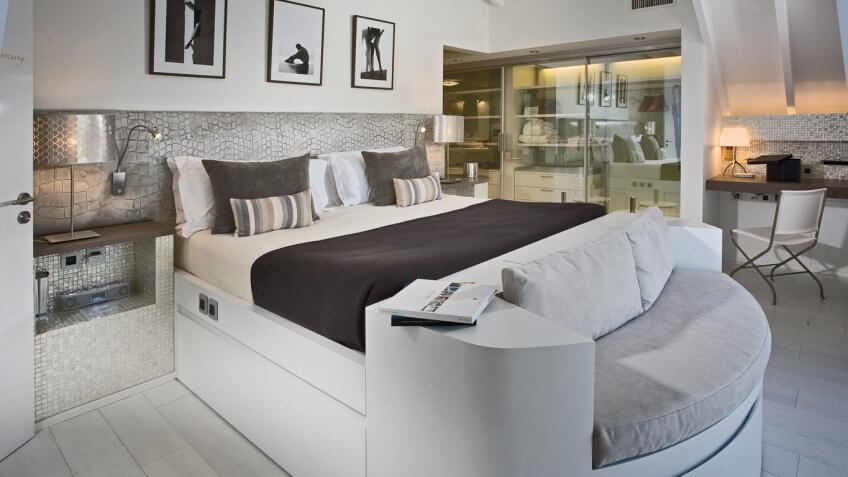 ©Eden Rock
Eden Rock
Location: Baie de St-Jean, St. Barthelemy
Room: Villa Rockstar
Rate: About $26,000 per night
As it turns out, you can be the rock star of your wildest dreams — if you have around $26,000 to spend on a hotel stay.
Positioned as a world-class beach house, Eden Rock compares its Villa Rockstar to "a hundred-million-dollar yacht on land." Occupying 16,000 square feet, the villa boasts four suites (one of which is tiled in white gold), two cabins, an on-site recording studio, gym, walled garden, fully stocked whiskey bar, swimming pool, pool table and business office. When you get tired of all that excess, just walk out to your own private beach and meditate.
VIP airport transfers, 24-hour butler service, your choice of sporting gear rentals and your own garaged Mini Cooper to hit the shops are all included, but actual musical talent is not.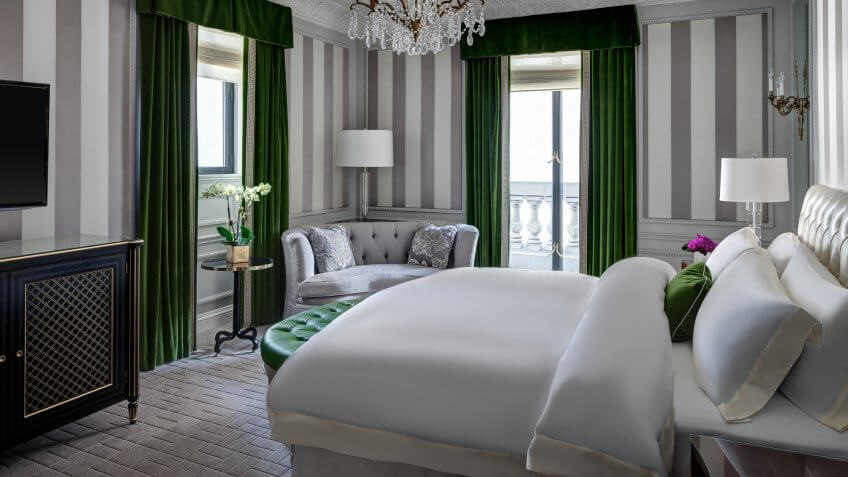 ©The St. Regis
The St. Regis
Location: New York City
Room: Presidential Suite
Rate: $35,000 per night
Measuring in at 3,430 square feet, the three-bedroom, four-bath Presidential Suite at the St. Regis in New York is billed as "a sumptuous collector's suite… where the sophisticated global luxury traveler surrounds himself with the art and treasures of his travel." And this is one hotel that delivers on its promise.
Along with a formal dining room, the suite boasts a wood-paneled library, hot tub and powder room. And while the $35,000 price tag might sound extreme, visitors receive numerous complimentary services along with their lodging. Enjoy free in-room movies, a full bottle of Champagne, airport transfers, breakfast for two, fresh fruit, shoe shine service, garment pressing and a full-time butler to handle whatever else you might need.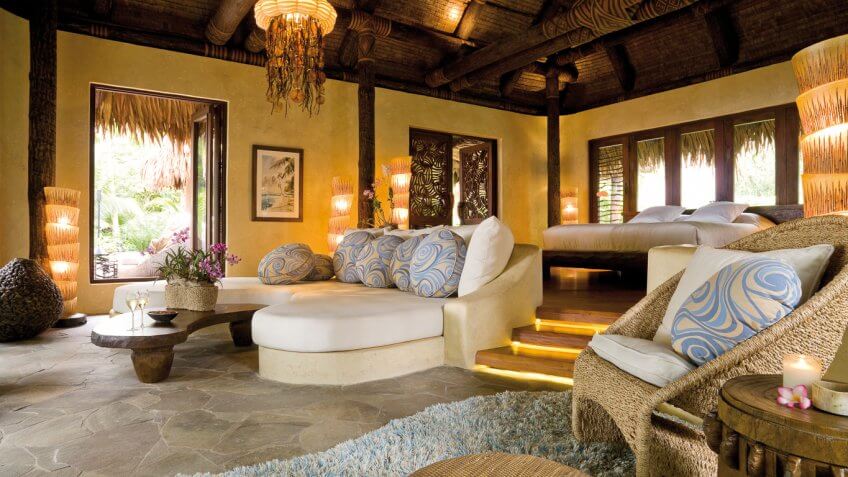 ©Laucala Island Resort
Laucala Island Resort
Location: Laucala, Fiji
Room: Hilltop Estate (not pictured)
Rate: About $40,000 per night
Laucala Island has a lot going for it. One of the world's most exclusive private island resorts, it's almost as well known for its self-sufficient produce and livestock as for its boating, kayaking and tennis courts.
The island sports 25 villas, but none are as opulent as the Hilltop Estate. True to its name, this accommodation is more than a simple hotel suite. Boasting 120,000 square feet of bedroom space, the lodging also features a pool, two separate guest residences, a private cook, nanny and personal chauffeur. But, you have more options, including the Overwater Villa, Peninsula Villa and more.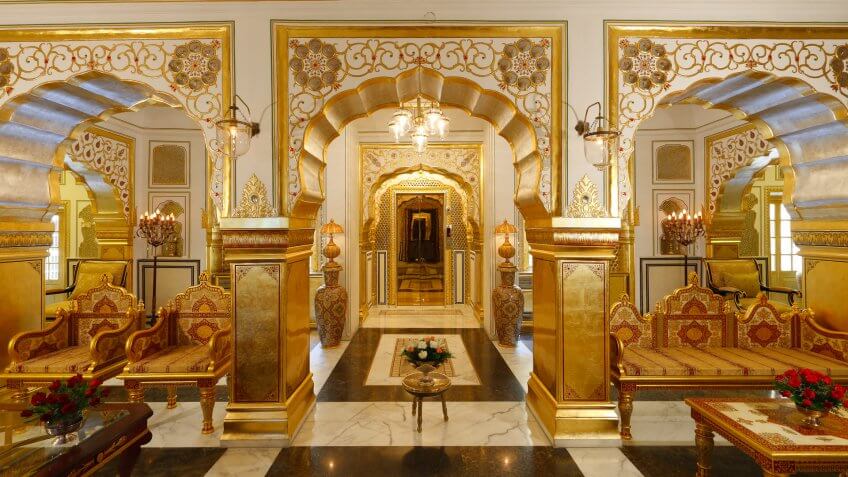 ©Raj Palace Hotel
The Raj Palace Hotel
Location: Jaipur, India
Room: Shahi Mahal Presidential Suite (not pictured)
Rate: $45,000 per night
For the price of a luxury car, you can bunk down in the Shahi Mahal Presidential Suite at Jaipur's Raj Palace for the evening. However, instead of getting a Lexus, you'll be getting one night in paradise. Along with their own personal kitchen staffs, guests enjoy a private movie theater and library.
But don't fret if you can't afford a night in the Presidential Suite; the four-bedroom Maharajah's Pavilion includes a private elevator and goes for a comparatively paltry $15,000 nightly.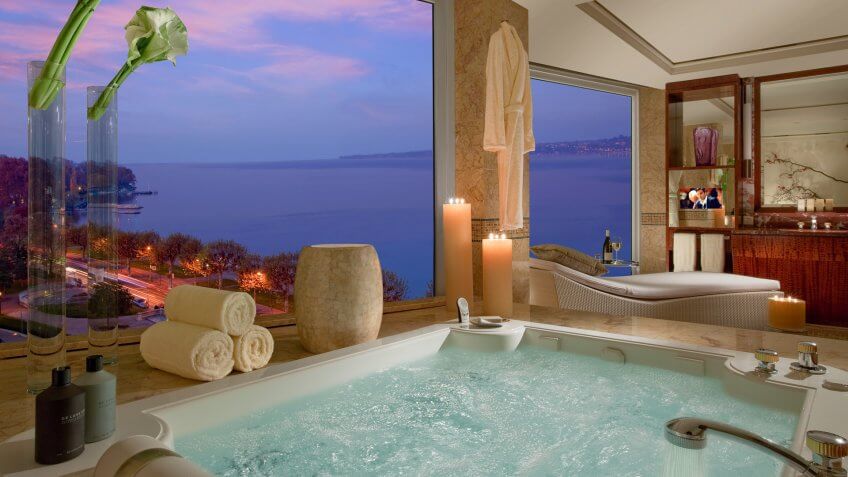 ©Hotel President Wilson
Hotel President Wilson
Location: Geneva
Room: Royal Penthouse Suite
Rate: $60,000 per night, according to Leisure.com
The most expensive hotel room in the world, the Royal Penthouse Suite offers more than 18,000 square feet of extravagance. Guests can take their pick of 12 bedrooms and 12 matching marble bathrooms, which overlook the lovely Lake Geneva.
Additionally, you can enjoy the steam room and lake-facing Jacuzzi, a Steinway grand piano, the priceless collection of art and books, and one of the biggest TV screens on the planet. And you don't have to worry about anyone interrupting your high-end holiday. You'll enter your suite via a private elevator and sleep easy behind bulletproof windows.
When asked to comment on the pricey room rate, a representative said, "Although the Royal Penthouse Suite is well known to be the most expensive suite in the world, we prefer to communicate on experience more than a price."
Up Next: 50 Hotel Secrets Only Insiders Know
Methodology: GOBankingRates sourced lodging rates from the individual hotel websites or hotel employees, except where otherwise indicated. Prices were accurate as of May 17, 2017.