12 One-of-a-Kind Hotels You Never Knew Existed

7 min Read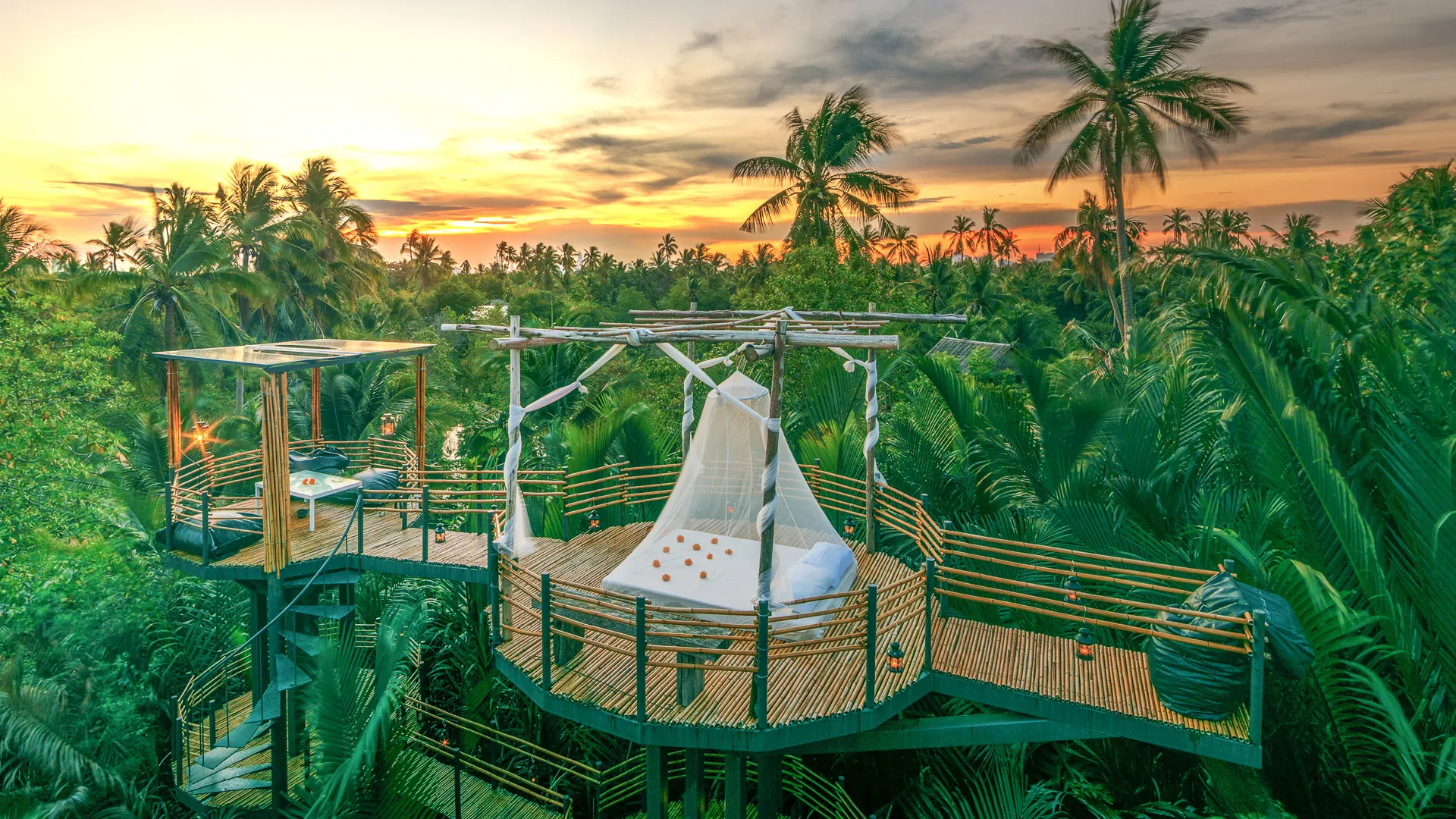 Booking a stay in one-of-a-kind hotel can add excitement to your vacation. From enchanting lodgings sculpted from ice to secluded bunkhouses high in the trees, here are some of the world's most unique hotels.
Make Your Money Work for You
Hotel Costa Verde, an Airplane Suite
Escape to Manuel Antonio National Park in Costa Rica to stay in a hotel suite created inside a refurbished 1965 Boeing 727 plane. The two-bedroom suite sits on a jungle canopy that offers breathtaking views. Prices start at $260 per night, depending on the season. Carry the aviation theme into meal time by dining in the El Avion restaurant, which is inside a refurbished C-123 Fairchild Provider plane.
If you don't want to stay inside the Airplane Suite, you can take your pick of the other houses and bungalows Hotel Costa Verda has to offer. Prices for other accommodations start at $107 per night, depending on the season.
Palacio de Sal, a Salt Hotel
You'll have an otherworldly experience when you travel to Uyuni in southwest Bolivia to stay in the Palacio de Sal, the world's first salt hotel. Located near the Salar de Uyuni, the world's largest salt flat, the hotel is made entirely of salt. The hotel boasts 42 rooms, including nine VIP rooms with igloo-shaped roofs. Stay in the VIP rooms for first-class comforts and amenities.
Room rates for the Palacio de Sal start at $100 per night, depending on the season.
Santos Express, a Train Hotel
You'll want to jump aboard the Santos Express, a train hotel located at Blue Flag Santos Beach in Mossel Bay, South Africa. You can enjoy endless views of the Indian Ocean from your room, which is a compartment inside the train. Choose from single- and double-bed rooms or spring for the honeymoon caboose.
Santos Express rooms start at as little as $13.55 per night and include a light breakfast. Guests need to bring their own towels.
Kokopelli's Cave, a Cave Hotel
Cave exploration is on the agenda for many vacationers. But why stop at spelunking when you can sleep in a cave, too? Located in Farmington, N.M., Kokopelli's Cave is carved inside the cliffs of Tertiary Ojo Alamo. The 1,700-square-foot cave hotel is 70 feet below ground level but includes modern comforts, such as a full kitchen and bathroom, waterfall shower and Jacuzzi tub. Take some time to explore area attractions, including the Aztec Ruins National Monument and Chaco Culture National Historical Park.
Guests must reserve Kokopelli's Cave for a minimum of two nights, which will cost $620 for up to two people, plus a cleaning fee. Additional guests are $50 each for two nights.
Make Your Money Work for You
The Manta Resort, an Underwater Room
The Underwater Room at The Manta Resort puts you in the middle of the reef floor where you can watch all types of fish swimming by day and night. Underwater spotlights let you see sea life after dark. The room itself is housed in a floating structure designed with three levels. Head up to the landing deck at sea level to access the lounge and bathroom. Sleep under the stars on the roof deck to catch the Milky Way.
A night in the Underwater Room will set you back $1,500. The Manta Resort is located on Pemba Island, Tanzania.
Kakslauttanen Arctic Resort, an Igloo Hotel
When you stay at the Kakslauttanen Arctic Resort in Saariselka, Finland, you will see the Northern Lights from the comfort of a glass igloo. Priced at $258 per night, each igloo sleeps two people and is designed for enjoying views of the night sky. The resort also offers roomier spaces for larger groups that include a private sauna, kitchenette and fireplace. Resort activities include reindeer safaris, ice fishing adventures and aurora hunting.
Borden Flats Lighthouse, a Lighthouse Hotel
Live the life of a lighthouse keeper for a day — or three — when you stay in the Borden Flats Lighthouse. Located about an hour south of Boston at the entrance to Mount Hope Bay, the affordable historic vacation rental is furnished with many 19th century elements. The lighthouse hotel also has some modern features, including solar power and an eco-friendly toilet.
The cost to stay at the Borden Flats Lighthouse starts at $299 per night, plus tax.
Hotel de Glace, an Ice Castle Hotel
One of the most iconic hotels in North America, the Hotel de Glace is a magical destination fit for fairy-tale lovers. Located in northern Quebec City, the hotel is made entirely of sparkling ice and snow. It has 44 rooms and suites as well as a Nordic relaxation area, where you can spend some time in an outdoor spa and sauna.
Stay in one of the themed suites for $150 per night, or spring for a premium suite with a fireplace to make the most of your experience. The hotel is open from January through March only.
Make Your Money Work for You
Ashford Castle, a Medieval Castle Hotel
Enjoy a luxury experience when you book a stay at this castle hotel. Located in Lough Corrib, Ireland, Ashford Castle has been accommodating guests since 1228 in its 83 rooms and suites.
At Ashford Castle, you can enjoy a traditional Lord and Lady Ardilaun Afternoon Tea, activities like horseback riding and golfing and gourmet meals in the George V Restaurant. Room options range from the Corrib Room to the Presidential Suite. You also can stay in the Hideaway Cottage for a more private experience. Room rates start at $319 per night.
Grand Canyon Caverns, an Underground Suite
Need some peace and quiet on your vacation? The Underground Cave Suite in the Grand Canyon Caverns in Peach Springs, Ariz., is billed as the darkest and quietest motel room in the world. The suite sits 220 feet below ground and does not have any natural light or humidity, so you don't have to worry about mold, toxins or even insects. The cavern features two double beds, a library of books and magazines, a working record player and non-natural lighting options to make your stay comfortable.
The Underground Cave Suite costs $850 per night for two people. Additional guests are $100 each with a maximum of six in the suite.
Woodlyn Park, a Hobbit Motel
Woodlyn Park in the Waitomo Caves area of New Zealand has a number of unique hotel room options, including rooms in a boat, train and plane. But the destination that attracts nerds is the Hobbit Motel, a two-room shire-like structure that is made of all-natural materials and is built in a hillside. Emerge from the Hobbit Motel to explore the Waitomo Glowworm Caves just minutes away. Blackwater rafting, tubing, boat rides and abseiling are a few other activities to add to your itinerary.
Rooms in the Hobbit Motel start at $285 per night.
Make Your Money Work for You
Bangkok Tree House, a Treehouse Hotel
To explore eco-friendly living or just stay somewhere that feels as close to nature as possible, make reservations at the Bangkok Tree House in Bangkok, Thailand. This tropical escape has outdoor showers, bamboo curtains and solar cookers. Stay in one of the cozy nests to sleep under the stars and enjoy views of the river.
At $125 per night, you can't go wrong booking the Tree Top Nest, which includes its own bathroom and private roof with a lounge and sunbathing area.
More Hotels: The 30 Most Expensive Hotels in America You Wish You Could Afford
About the Author