Safe Hotels To Stay in for Under $200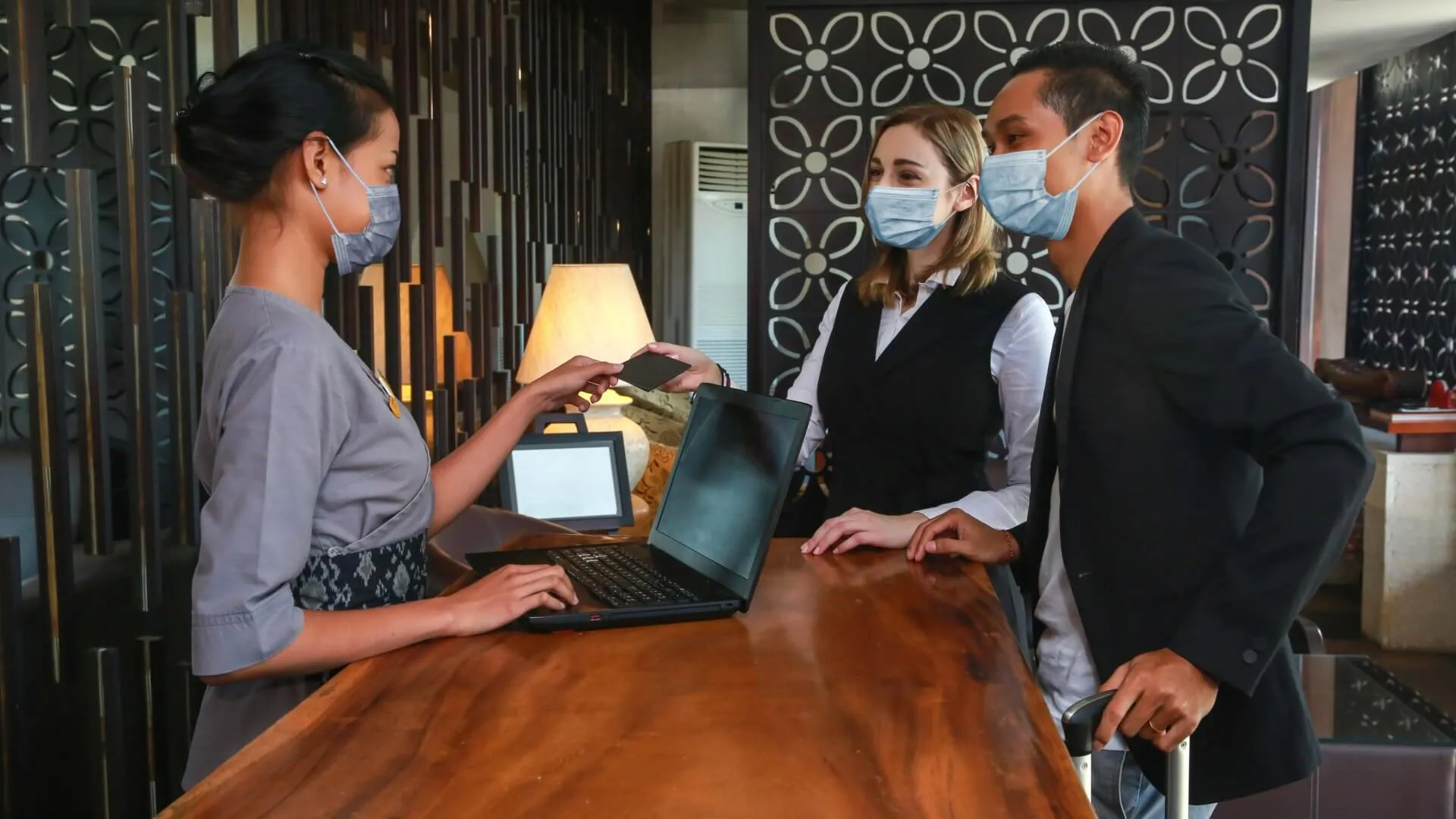 Hyatt
Average room price: $138.90
In addition to the face mask requirements implemented at most hotels, Hyatt has developed its Global Care & Cleanliness Commitment. The three core elements of this program are:
The GBAC STAR cleanliness and training accreditation process
The installation of a trained Hygiene and Wellbeing Leader or team at all locations
Consultation with a panel of trusted medical and industry advisors to help fine-tune safety protocols
A reporter from USA Today visited the Grand Hyatt in Washington and noticed that hotel staffers followed masking policies and hand sanitizer was widely available. This is in line with the company's stated COVID-19 protocols.
Hilton
Average room price: $101.17
To help guests and staff stay safe during the pandemic, Hilton unveiled its CleanStay program. Partnering with RB, the makers of disinfectants Lysol and Dettol, Hilton updated its cleaning standards in the following areas: 
Guest rooms: focused on disinfection, including high-touch areas
Housekeeping: scheduled cleanings, ability to opt-out of services, linens and toiletries delivered in protective packaging
Public areas and amenities: Disinfecting stations, hourly maintenance of areas such as elevators and bathrooms
Food and beverage: Spacing of tables, disposable dishware and utensils on request
Hilton also offers travel plan flexibility, allowing free changes or cancellations in most cases up to 24 hours before travel.
Make Your Money Work for You
Choice Hotels
Average room price: $83.88
The Choice Hotels Commitment to Clean program builds on the company's existing cleanliness protocols. These include:
Housekeeping on request

Hospital-grade disinfectant for cleanings

A Commitment to Clean "captain" appointed to each hotel

Partnership with Ecolab to ensure proper training and infection prevention
Personal hand sanitizer is also available at all Choice properties.
Best Western
In addition to requirements for face coverings and adherence to local and regional restrictions, Best Western unveiled its We Care Clean program in response to the outbreak. The hotelier claims industry-leading cleaning standards focusing on these five areas:
Front desk and lobby: Personal interaction is minimized, with streamlined check-in procedures and a mobile concierge platform.
Guest rooms and housekeeping: If possible, guest rooms are not entered for 24 to 72 hours after a guest checks out, at which point rooms are thoroughly cleaned with COVID-19-killing chemicals; daily housekeeping is only by request.
Temporary breakfast offerings: Breakfast rooms are closed, but "Grab & Go" offerings are available; individual hotels may offer plated breakfasts.
Public amenities: Fitness centers, swimming pools and other areas are either closed or thoroughly sanitized with disinfecting chemicals; hand sanitizer or wipes are provided for guests.
Hotel employees and staff requirements: Employees are required to use personal protective equipment; workstations are cleaned and disinfected after all shifts.
MGM Resorts
MGM Resorts Group implemented a seven-point plan in response to the coronavirus. The plan was devised in conjunction with public experts. Here are the components:
Screening, temperature checks and employee training
Mandatory masks for guests and staff
Physical distancing, with 

clear barriers installed where distancing isn't possible

Handwashing stations and hand sanitizers throughout the properties
Measures to provide improved HVAC controls and air quality
Incident response protocols
Digital innovations
Most of these protocols are self-explanatory. The digital innovations implemented by MGM Resorts include auto check-in, where customers no longer have to wait in line or have contact with resort personnel.
Accor
Average room price: $63.06
Accor hotels aren't well-known by the corporate name, but many of its hotel brands are. Accor owns diverse brands ranging from ibis and Fairmont to SLS, Swissotel, Mondrian, Sofitel, Delano, Banyan Tree and Raffles.
Accor's response to help keep staff and travelers safe is its ALLSAFE Cleanliness & Prevention Label. Aspects of the ALLSAFE program include:
Contactless check-in and check-out
Sanitizer available in high-traffic areas
Frequent disinfection
Staff training
Guest access to medical professionals via partnership with AXA
Improved food safety standards
Room service at no extra charge if restaurants are closed
Make Your Money Work for You
IHG
Room price: $86.04 – $243.92
IHG brands include InterContinental, Crowne Plaza and Holiday Inn. The IHG Clean Promise is the hotel company's response to the coronavirus pandemic. The company partnered with the Cleveland Clinic, Ecolab and Diversey to update and strengthen its Way of Clean program.
In addition to sanitizing stations, social distancing, personal protective equipment and enhanced staff training, IHG has empaneled a Global Cleanliness Board and installed employees called Clean Champions to help on-property teams maintain hygienic standards.
Focus areas of IHG's cleanliness program include reception, guest rooms, meetings and events, public spaces and facilities, and food and beverage.
Marriott
Average room price: $141.44
Marriott has received high marks from some reviewers for its handling of safety during the coronavirus. The company developed the Marriott Cleanliness Council to redesign its cleaning and safety standards. Major changes were made in four primary areas:
Face coverings: Now required for all guests and associates in public areas of hotels in North America, Latin America and the Caribbean
Surface areas and public spaces: New, enhanced technologies, such as electrostatic sprayers, are in use to disinfect areas
Guest contact: Social distancing, hand sanitizing and partitions at front desks minimize person-to-person contact
Food safety: Implementation of higher sanitation guidelines and better training
Radisson
Average room price: $106.50
In response to the pandemic, the company released its Radisson Hotels Safety Protocol, which includes a new 20-step protocol for hotels and a 10-step protocol for meetings and events. These protocols outline new disinfection and cleaning procedures, and they also provide for updated training and protective equipment for staff members. Physical distancing, enhanced cleaning of high-touch items such as remote controls in rooms, and grab-and-go food options are among the updates.
Wyndham
Room price range: $55 – $125
Like many hotel chains, Wyndham has created and named a COVID-19 response program. With Wyndham's Count on Us program, the following procedures have been implemented in its U.S. and Canadian hotels:
Masks required on all indoor public areas
Increased frequency of cleaning and disinfecting of high-touch areas
Disinfectant wipes provided with key card at check-in
Complimentary travel-sized hand sanitizers for each room
Enhanced social distancing measures in public areas
Social distancing and virtual attendees accommodated at meeting spaces
Housekeeping services are minimized at Wyndham hotels unless requested. The complimentary breakfast now consists of individually wrapped items at certain hotels.
More From GOBankingRates

BEFORE YOU GO
See Today's Best
Banking Offers