11 Tips To Book a 5-Star Hotel for the Price of a Motel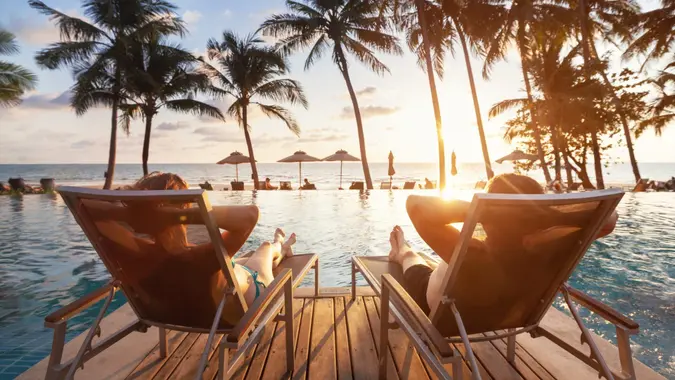 anyaberkut / Getty Images/iStockphoto
Hotels in the 5-star category are ranked highly for a reason. They typically offer beautiful views, great food, top-notch customer service and expansive beds that are so comfortable you may never want to get up. Stays at these spots don't typically come cheap, though. Prices vary by destination, but it's not at all shocking to shell out hundreds and hundreds of dollars per night on a room at a luxury hotel or resort.
Fortunately, staying at a 5-star hotel doesn't have to be an unattainable extravagance. There are more than a few ways to book a room at one of these fancy and upscale places for the price of a motel (or, almost). Let's explore 11 tips from travel experts.
Go Off-Season 
Perhaps the most reliable way to save on a 5-star hotel is to go off-season, when the hospitality sector is desperate for travelers. 
"This is when you will get the best deal," said Keri Baugh, a New England-based travel writer who runs the family travel blog Bon Voyage With Kids. "For some locations like Florida, this is September, right when the kids go back to school. Other locations have different shoulder seasons. But think about when most people travel, and do the opposite, and sometimes you can get a really good deal on a five-star resort; or if they are running a special — say with a night or two free — this can bring your average price down significantly."
Make Your Money Work for You
Join Hotels' Vacation Club Membership Programs 
Baugh is a Marriott Vacation Club member, a Disney Vacation Club member and a member of Marriott Bonvoy Rewards. These memberships can significantly reduce costs of fancy hotel stays. 
"Because hotel costs are one of the biggest parts of any travel budget, using either our Vacation Club membership to use points for rooms or a combo of vacation points and cash is often one of the easiest ways to get a luxury resort for either free or for very little money," Baugh said. "Also, cashing in our Marriott Bonvoy Rewards has gotten us rooms for basically the entirety of a vacation for free. With our Marriott Vacation Club membership, we usually have gotten an oceanfront one or two-bedroom suite — with a kitchen and laundry, which also saves money — every year with our Marriott Vacation Club membership."
Get a Credit Card That Allows You To Cash in Rewards Points for Hotel Stays 
Additionally, Baugh has a Capital One card that can be used to cash in reward points for gift cards for places like Hotels.com, which can be used for a variety of resorts, including those that have five stars. 
"Applying that gift card toward the price of the hotel can possibly result in the cost being either free or motel-rate when you average the price per night," Baugh said.
Buy Disney Gift Cards at a Discounted Price 
If a stay at Disney is in your sights, you can save on their hotel costs by purchasing Disney gift cards at retailers that sell them for less than face value.
Make Your Money Work for You
"If you buy them at Costco or at Target using their RedCard, you can get the full value of the gift card but at a discounted price (at Target, Red Card customers save 5% on the cost of the gift card but get full value)," Baugh said. "The gift cards have a maximum of $1,000, but if you get enough of those, you could save hundreds of dollars and pay for your vacation this way. Bring in your own food and snacks, and you can save close to $1,000 on your vacation."
Book a Hotel Undergoing Renovations 
Booking a hotel that's undergoing major renovations (but is still open) is a stellar way to knock down the price.
"This will require some research and destination flexibility, and you may have to deal with construction noise and views, but some 5-star hotels lower their rates during times of major renovations to compensate for revenue loss due to lower occupancy," said Philip Ballard, chief communications officer and head of investor relations at HotelPlanner. 
Request the Smallest Room 
Flying solo or don't mind getting extra cozy with your traveling companion? Request the smallest room. Note: You'll likely have to call and ask for this, rather than booking online. 
"Some older 5-star hotels rent out smaller, less expensive rooms that used to be reserved for hotel staff," Ballard said. "These rooms may only be let out during times of maximum occupancy though, so you'll need to call the hotel and ask if there are any off-the-books rooms not listed online that are cheaper."
Take Advantage of AAA, Senior Citizen, Military Veteran or Loyalty Discounts
It's tough to combine all these discounts into the same booking, but using AAA, senior citizen, veteran and loyalty discounts can save you heaps. 
"You typically have to pick just one discount, but if you speak to a sales agent with your online travel agency or the hotel front desk, you may be able to combine discounts if it's a 'private, closed-sales environment' where a real-life human can offer you a special discount because you asked nicely, or because it's your anniversary," Ballard said. 
Book a Sunday-Tuesday Trip in a Business District
According to Ballard, a Sunday through Tuesday hotel stay in a financial or business district is another way to save money on your stay.
"These are the slowest and typically the least expensive days for most hotels as weekenders have departed but business travelers have not yet arrived," Ballard said. "Hotels in a business district will typically offer lower rates Sunday through Tuesday." 
Sign Up for 5-Star Hotel Newsletters and Other Travel Discount Newsletters
Always be prepared for a steal at a 5-star hotel by signing up for their respective newsletters, as well as other travel discount newsletters. 
"When a unique discount comes around (possibly only once a year), be flexible with your dates and be willing to book immediately to lock in the discount," Ballard said. "Booking last minute deals can be a very effective cost-savings hack if you're willing to be flexible."
For Overseas Travel, Book When the Exchange Rate Is Good 
"If traveling overseas, travel where the exchange rate is most favorable and the 5-star hotels are less expensive," Ballard said. "For example, it's relatively cheaper for Americans to travel to Asia-Pacific right now because of the favorable exchange rate. And some of the least expensive 5-star hotels in the world are also in that region, including Kuta or Bali Indonesia; Bangkok or Chiang Mai Thailand, Phnom Penh Cambodia, New Delhi India, Kuala Lumpur Malaysia or Hanoi Vietnam."
Stay at a Motel but Relax at the 5-star Hotel During the Day
In Ballard's opinion, probably the best cost-savings hack altogether is to stay at a nearby motel at night but chill at the 5-star hotel during the day.
"Forego the expensive hotel all together," Ballard said. "Stay in a less expensive hotel or motel nearby, and then use the savings to enjoy a pool and spa day at the 5-star hotel as a day visitor. For example, many 5-star hotels allow day passes for visitors to use their facilities or lounge by the pool all day and enjoy the food & beverages for a $50 – $100 fee."
More From GOBankingRates