How to Save Money and Still Feel Like a Golf Master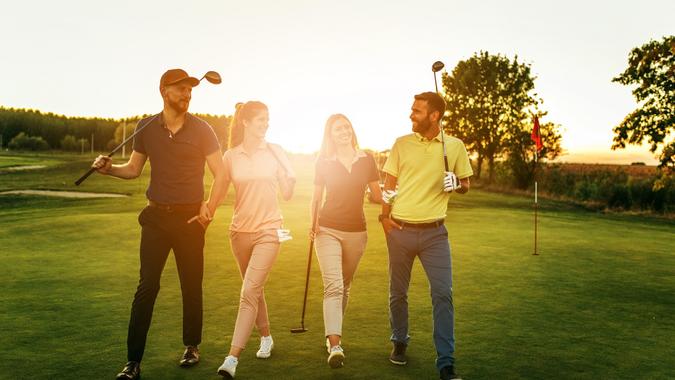 bernardbodo / iStock.com
Golf is known as an expensive sport.
From the price of clubs to lessons and greens fees, playing golf can cost thousands of dollars. That's no laughing matter.
Show Support: It's Not Too Late To Nominate Your Favorite Small Business To Be Featured on GOBankingRates — Extended to June 5
However, there are some smart things you can do to save money and still enjoy the game without feeling like you're settling. Here are several ways you can cut costs without cutting corners.
Buy Clubs During the Offseason
Just as gym memberships soar in January when people are making New Year's resolutions, golf equipment sales increase in the summer. When purchasing your golf clubs, buy during the winter. Equipment manufacturers often release their newest products in late winter, so that's a good time to buy something slightly older. Stores want to make room on their shelves for the latest equipment.
Go for the Whole Set
Golf clubs, like shoes, are not a "one size fits all" product. You're going to need to try different manufacturers to decide what feels comfortable to you, and your playing ability is certainly a factor.  After you find what you like, you're going to save money by buying an entire set, rather than purchasing each club individually. As you improve, you can add a driver or extra wedge, which is something you might not have been ready to try early on.
Make Your Money Work for You
Clubs can cost as little as $250 for a beginner set of 14 clubs and a bag. A quick online search showed sets of clubs ranging from $250-$1,300 at Dick's Sporting Goods, and you will spend $2,000 or more for an advanced set.
Discover: What It Costs To Play On America's 10 Best Golf Courses
Top manufacturers include Callaway, PING, TaylorMade and Titleist. Until you're really good, you don't need custom-made clubs from a high-end company such as PXG.
Skip the Cart
The old joke from Mark Twain that "golf is a good walk spoiled" will bring chuckles, but you can save $40 by choosing to walk instead of take a golf cart. And you'll get more exercise, too!
Play on Weekdays, or Later in the Day
Weekend rates are almost always higher, but most courses offer twilight deals to golfers around 4 p.m. or later. You can still play 18 holes — in the summer, at least — at a better rate, perhaps even as much as 50% off.
Did You Know: How Rich Are Tiger Woods, Phil Mickelson and the Other Top 10 Richest Pro Golfers?
Make Your Money Work for You
Brown Bag It
A full round of golf can take a long time, often four hours or more. Therefore, you are likely going to get hungry and thirsty. However, you can save $10-20 by bringing your own food and drink. Bringing along a bag of trail mix and an apple, plus a bottle of water, could add up to massive savings depending on how often you hit the links.
Skip the Logos
To play golf, you have to dress the part. Courses often have some sort of dress code, such as requiring collared shirts. A Nike top, however, certainly costs more than a shirt with no logo. Shop for generic apparel when you can.
Don't Pay to Ship Your Sticks
If you're planning to play golf on a vacation, think long and hard about whether to pay to ship your golf clubs. Unless you're really good, you can rent a set of clubs at your destination and save quite a bit of money (and hassle).
More From GOBankingRates
Last updated: June 2, 2021