Why It Might Be Easier to Become Rich Than Find Love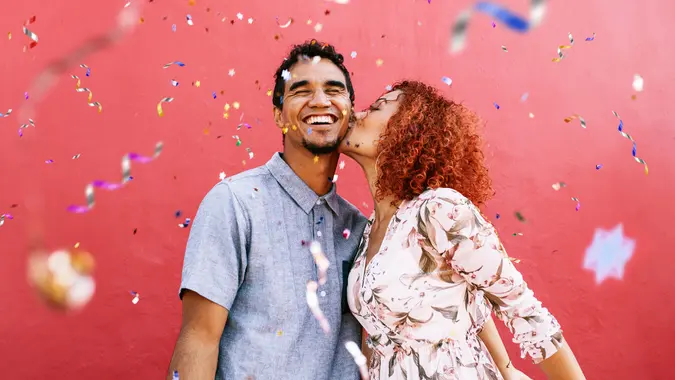 jacoblund / Getty Images/iStockphoto
While there are only a few billionaires in the world, many people believe they're on the way to financial prosperity. A 2017 survey of nearly 1,500 couples, conducted by TD Bank, found that more than 7 in 10 respondents felt they had the skills to achieve financial success.
In fact, finding financial success seems significantly more attainable than another important milestone: finding love. Even in the era of online dating, where you can find hundreds or thousands of options on dating websites and apps, finding love still seems improbable. Of the TD Bank survey respondents, just 42 percent said it was easier to find love than financial success — and that dropped to 21 percent in some parts of the country such as New York.
But what's causing people to feel like they're toiling in dating bankruptcy? We went to the experts to find out.
Difficulties Defining Success
Perhaps one of the biggest reasons money seems more attainable than love is that financial success feels easier to define. "There's a general uniform understanding of financial success," said Jason Thacker, head of U.S. consumer deposits and payments at TD Bank. "People know what milestones they should aim for."
Those milestones might differ slightly based on your age and financial situation, but generally include buying a home, being able to take time off for vacation and of course retirement, Thacker said. Younger people might include paying off debt, including student loans, living without financial support from their family and regular financial planning, too.
Make Your Money Work for You
Looking for love is a trickier search. While some might define success as finding a spouse and having children, millennials are increasingly marrying later or not at all, reported the National Center for Health Statistics.
More Tips: 7 Success Habits That Took Me to 7 Figures
Role Models and Media Portrayals
While outside factors affect both your financial and love lives, you have a lot more autonomy over your finances — and chances are, you have at least one person in your life you can turn to for financial advice to help you achieve success.
"[People] are told from a very young age to save, to make good financial decisions and to learn early how to invest their money," said Dr. Terri Orbuch, PhD and relationship expert, also known as The Love Doctor®. "It is also perceived as more socially acceptable to consult with someone for financial advice." And going to financial or debt counseling is seen as a socially acceptable, smart way to manage your money — people think of seeing a financial advisor as a necessary part of maintaining your financial health.
Good advice on dating, however, isn't so easy to come by. "People perceive that it is less socially acceptable to go to someone to ask for relationship or love advice," said Orbuch. And all-or-nothing portrayals of love in the media — from relationship nightmares to fairytale romances — can lead to unrealistic expectations about finding love, so even a healthy relationship might feel like a failure.
Lack of Control Over Love
With a set of financial goals and access to expert guidance on how to reach them, it's no surprise that people feel more control over their financial lives. In fact, 72 percent of the couples in the survey felt they had the personal finance skills to succeed at their financial goals. That feeling of control not only helps you set a smart path toward reaching your financial goals, but feeling like you've set realistic goals also means you're likely to meet them and achieve financial success.
Make Your Money Work for You
A successful love life, though, has a lot more variables. Even after you've defined what you want for your love life — your own version of success — you still need to find someone compatible who feels the same way. "People don't think that true love and finding the right person is within their control," said Orbuch. "They aren't sure how to do it."
Related: Ways Your Money Habits Are Ruining Your Relationship
Location, Location, Location
It's no surprise that it's easier to get rich in some parts of the country than others, but location has a surprising effect on the success of your love life too. The survey found that a whopping 79 percent of respondents in New York City found financial success easier than romantic success, significantly more than the nationwide average of 58 percent.
"New York City singles have too many choices," said Orbuch. With so many options available, it's tempting to look for the next best thing — and swipe through the thousands of options on dating sites — rather than committing to the partner you have. And with all the events, parties and nightlife common in NYC, committing can feel more like being tied down. "It's like being a kid in a candy store," said Orbuch. "There are too many distractions, too many other things to do in NYC to really focus on finding love."
The Bottom Line?
No matter what financial or dating success looks like to you, taking advice from the experts is the best way to achieve your goals. For dating, that might mean booking an appointment with a dating coach or attending relationship counseling. For financial health, it might mean meeting a financial advisor to discuss budgeting and financial planning, and creating a personalized plan to help you achieve your dreams.
Make Your Money Work for You
Love Trumps Money: Breakups Aren't Due to Money Problems, Survey Finds