50 Free Things to Do With Your Pet This Summer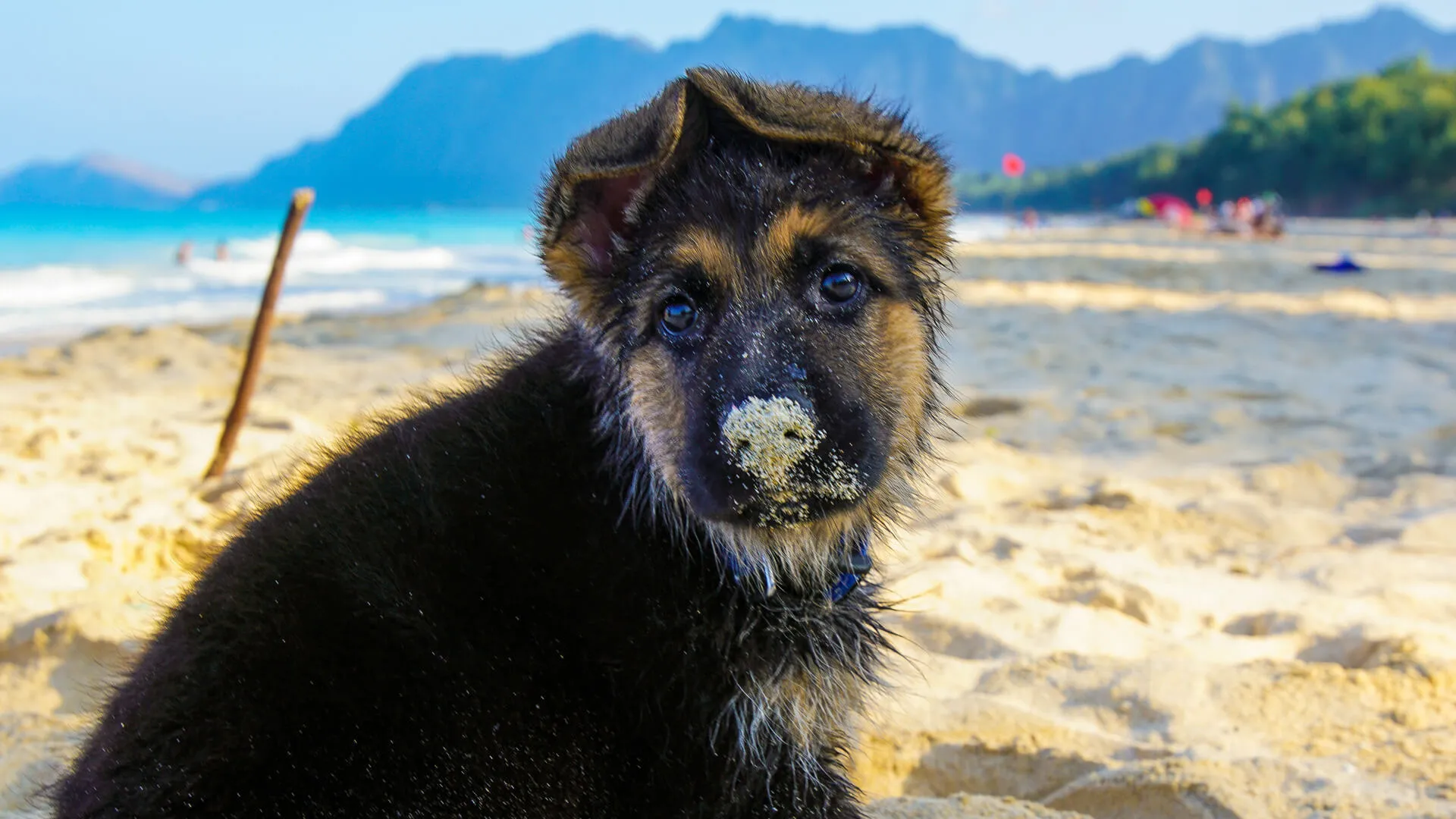 Take some vacation time and plan trips to explore new places with your canine companion. Dogs are always up for an adventure, and there's no shortage of adventures to be had this summer across the United States. From where to work out with your pup to where to eat and unwind with your pooch, all 50 states offer free and fun summer activities to experience with your four-legged best friend.
Click through to discover the cheapest cities to own a pet — and what you can do with them there.
Alabama: Red Mountain Park, Birmingham
The largest dog park in Alabama is a paradise for Fido. With a 1.7-acre large dog area, a 0.7-acre small dog area and a 0.3-acre special needs dog area for the physically challenged, elderly, injured or shy, the area also has pet waste stations and drinking water for dogs. Additionally, there are shaded areas with benches and open areas for running and fetching.
Alaska: Pullen Creek Park, Skagway
Watching the salmon run at Pullen Creek from May to September is a sight to behold not just for you but also for four-legged friends. Pullen Creek Park is a great spot to sit and enjoy a picnic or to take out your fishing pole and tackle box and let your dogs run amok in nature.
Make Your Money Work for You
Arizona: Avondale Friendship Dog Park, Avondale
At Friendship Park, furry friends will have their pick of amenities like tennis courts, Japanese gardens and a dog park. The dog park has a fenced-in section where your off-leash dog can play fetch and stretch their legs.
If you've got money to spend, these are the most expensive pets you can own.
Arkansas: Bark Park, Bentonville
In summer months and throughout the year, you and your pup can enjoy the Bentonville Bark Park. This off-leash area offers 1.3 acres of recreation space, so your four-legged favorite can get some exercise and social time with other dogs. The Bark Park features separate areas for large and small dogs, plus an agility course. 
California: Third Street Promenade, Santa Monica
Four-legged friends love Southern California's perennially sunny weather and outdoor activities as much as their human counterparts. So out there, pups can enjoy all the al fresco dining, window shopping and strolling along Third Street Promenade as much as their human counterparts.
Colorado: Red Rocks Amphitheatre and Park, Morrison
Red Rocks isn't just for music lovers — the natural park and amphitheater are to be enjoyed by pups and humans alike. You and Fluffy will have to scoot out of the park in advance of performances, but if you time it correctly, you'll get some hiking in at one of Colorado's natural wonders.
Make Your Money Work for You
Connecticut: Mystic Seaport, Mystic
The history of the seaport village of Mystic, Conn. will likely be lost on your canine companion, but your dog will love to wander and experience the sights and smells the New England town has to offer. Dogs aren't allowed in any of the museums or aboard the vessels, but there's enough on land to take in.
Delaware: Cape Henlopen State Park, Lewes
Open daily from 8 a.m. to sunset, Cape Henlopen State Park offers a number of  opportunities year-round for hiking and biking, and allows leashed dogs on the beach in the summer season.
Florida: Keel & Curley Winery, Plant City
Made from blueberries, Keel & Curley Winery sells three wine varietals and is open to wine-loving humans and their canine companions. Dogs are welcome in the tasting room and on the winery's spacious deck.
Georgia: Centennial Olympic Park, Atlanta
It's one of the most photographed and recognizable landmarks in Georgia — Centennial Olympic Park is home to the world's largest interactive fountain utilizing the Olympic symbol of five interconnecting rings. Leashed pets are welcome and doggy waste bag stations are located in the park.
Hawaii: Mahiku Farmers Market, Honolulu
Take your fluffy friend along as you browse the local produce, foods, flowers and goods from various cuisines and ethnicities at Mahiku Farmers Market in Honolulu.
Idaho: Hiking, Dog Beach and Galena Lodge, Sun Valley
Considered heaven on earth for dogs, Sun Valley welcomes dogs on all hiking trails in the summer months. After hiking and splashing around in one of the dog-friendly beaches, relax and unwind at Galena Lodge.
Make Your Money Work for You
Illinois: Klehm Arboretum & Botanic Garden, Rockford
Visit Rockford's Klehm Arboretum & Botanic Garden for free on the first Tuesday of each month with your leashed dog. Explore native and exotic plants while your pup goes crazy for new sights and smells.
Indiana: 100 Acres Art and Nature Park, Indianapolis
Is your pooch an art aficionado? Then you must head to Indianapolis' 100 Acres Art and Nature Park, open every day of the week from sunrise to sunset. This idyllic art park is so large that you can give your (leashed!) dog a taste of forest, meadows, lake and wetlands, alongside impressive public art created just for this unique space.
Iowa: High Trestle Trail — Connects Woodward, Madrid, Slater, Sheldahl and Ankeny
Considered the main attraction of Iowa's trail system, the High Trestle Trail runs through four counties and five towns for a stretch of 25 miles. Admission is always free to enter and visitors of all species should make a point to see the iconic, half-mile, 13-story-high bridge across the Des Moines River valley, one of the largest trail bridges in the world.
Kansas: Thomas S. Stoll Park, Overland Park
Let your pup run wild at Thomas S. Stoll Memorial Park's 7-acre, off-leash dog area. Make a day of it and barbecue using one of the park's grills in the designated picnic areas.
Kentucky: E.P. 'Tom' Sawyer Park, Louisville
On the outskirts of Louisville is a 539-acre oasis carved out of former farmland. The rolling hills make it a wonderful destination for man and man's best friend and boast picnic areas, tennis courts, swimming areas and a dog park.
Louisiana: Camellia City Dog Park, Sidell
Opened just under two years ago, bring your pooch to Camellia City Bark Park so they can mingle and play in the 4-acre park. Featuring areas for large (25 pounds and over) and small (under 25 pounds) dogs and dogs with disabilities; exercise and agility equipment; water and clean-up stations, the park will surely help expend some of your dog's energy.
Make Your Money Work for You
Maine: Eastern Promenade, Portland
You and your dog will love exploring the rocky coves and beaches and admiring the boats along the shores of Maine's Eastern Promenade.
Maryland: Sugarloaf Mountain Vineyard, Dickerson
A little over an hour's drive from Baltimore is Sugarloaf Mountain Vineyard. The vineyard's outdoor spaces are dog-friendly, however, dogs must remain on a leash. Leave the Frisbee and dog toys at home for your visit, and just relax as you take in Maryland's natural beauty.
Massachusetts: Blackstone Valley Bikeway, Worcester
Pedal the 48-mile path from Worcester to Providence, R.I., with your best furry companion. Feel free to pack a lunch or stop along at one of the path's ice cream or barbecue spots for a treat.
Michigan: Drinking With Dogs, Detroit
Leashed dogs are welcome on Tuesday, July 24 at The Old Miami, a live music venue in Detroit. The venue will feature food trucks and giveaways, and all proceeds will benefit Detroit Dog Rescue. The nonprofit is determined to save homeless, abused, forgotten and misplaced dogs of Detroit, and build the first no-kill rescue and rehabilitation center in Detroit.
Minnesota: Minnehaha Off-Leash Dog Park, Minneapolis
In the neighborhoods of Hiawatha and Minnehaha, the off-leash park is open from 6 a.m. to midnight and features over 6 acres for dogs to run free and splash around in a designated pond.
Mississippi: Clark Creek Natural Area, Woodville
Considered to be is one of the state's most gorgeous outdoor treasures, Clark Creek Natural Area is in southwestern Mississippi. The area features over 700 acres where you can enjoy 50 or more waterfalls and abundant wildlife with your favorite pooches.
Make Your Money Work for You
Missouri: The Interactive Sculpture Garden at the Nelson-Atkins Museum of Art, Kansas City
Admission is always free at The Interactive Sculpture Garden at the Nelson-Atkins Museum of Art. Although pups aren't allowed inside, you and your furry friend are welcome to wander the lawn and marvel at the ground sculptures.
Montana: Lewis & Clark Trail at Travelers' Rest State Park, Lolo
If you (or your dog) are history buffs, head to the Lewis & Clark Trail in Lolo, Montana (known better by some as Travelers' Rest State Park). It's open all summer from 9 a.m. to 5 p.m., and according to Missoula's official visitors' site, it's "the only campsite along the Lewis & Clark Trail that has physical proof" of that historic journey. Play fetch along the actual path two amazing explorers took hundreds of years ago.
Nebraska: Chalk Art Festival at Midtown Crossing at Turner Park, Omaha
On July 28 and 29, grab Fido and his leash and head to Omaha's eye-popping Chalk Art Festival. Admire masterpieces and enjoy live music and shopping, plus food and drinks at dog-friendly restaurant patios.
Nevada: Red Rock Canyon National Conservation Area, Las Vegas
Located 17 miles west of the Strip, Red Rock provides an alternative to the gambling and entertainment synonymous with Las Vegas. The 13-mile scenic drive provides fun for humans and dogs in hiking, biking and picnic areas.
New Hampshire: Poverty Lane Orchards, Lebanon
It doesn't get more New England than apple orchards and cider. Bring the pooch to explore the apple orchards, and enjoy free tastes of everything they grow or make — including Farnum Hill Ciders. Bring your own picnic and enjoy time in the fresh air with your furry friend.
Make Your Money Work for You
New Jersey: Pier 13, Hoboken
Enjoy unparalleled views of the Manhattan skyline just across the Hudson River at Hoboken's Pier 13. The hot-spot welcomes leashed dogs under 60 pounds, but dogs must stay off of the grass.
New Mexico: Montessa Dog Park, Albuquerque
Albuquerque is a great place for exercising your dog. Bring your dog to explore Montessa Park between the hours of 6 a.m. to 10 p.m. Don't forget to bring water for you and your pup.
New York: Coney Island, Brooklyn
Dogs aren't allowed on the rides, but leashed dogs can walk the famous Coney Island boardwalk, home of the first rollercoaster which debuted in 1884.
North Carolina: Charlotte's Trolley Trail, Charlotte
The 3.3-mile rail-to-trail welcomes walkers, inline skaters and cyclists with leashed dogs. The well-marked historic trail is flat and paved, and wheelchair accessible.
North Dakota: Fort Abraham Lincoln State Park, Mandan
The historical significance will likely be lost on your dogs, but they're welcomed just the same at Fort Abraham Lincoln. The Fort allows leashed dogs to join their humans on the many nature trails.
Ohio: Bow Wow Beach Dog Park, Stow
Operating on donations since its opening in 2007, Bow Wow Beach Dog Park is a 7.5-acre fenced park that offers a slice of heaven for dogs. The park features a 3-acre lake, sandy beach, grassy knolls and the park is open every day from mid-March to Dec. 1, depending on weather.
Oklahoma: Pioneer Day, Cheyenne
Mark your calendar for Pioneer Day on Sept. 8 in Cheyenne, Okla. Admission is free for the whole family — including dogs. Children can enjoy hands-on fun with pioneering activities: They can churn butter, quilt, crochet and roll the hoop. Treat yourself to some hand-cranked ice cream, and check out the depicted cavalry life, quilt show and much more.
Make Your Money Work for You
Oregon: Laurelhurst Park, Portland
Portland's Laurelhurst Park boasts over 31 acres of vast green space, including an area for dogs to run off-leash. The park is open from 5 a.m. to 10:30 p.m. and includes picnic areas, winding trails and sports fields.
Pennsylvania: Gettysburg Battlefields, Gettysburg
Leashed pets are welcome at Gettysburg National Military Park, but not allowed in the Museum and Visitor Center, the Soldiers' National Cemetery, or other park buildings at any time. Pet parents are welcome to complete the self-guided auto tour of the park but should provide ample water to pets on exceptionally hot summer days.
Rhode Island: Books on the Square, Providence
The cozy bookstore in Providence's historic Wayland Square welcomes all book-loving dogs — as well as the less-literate ones. The independent bookstore offers something for readers of all ages.
South Carolina: Charleston Tea Plantation, Charleston
Just a few miles south of Charleston, S.C., in the heart of the state's Lowcountry lies the Charleston Tea Plantation. Leashed dogs are welcome in the plantation and on the property's expansive front porch.
South Dakota: Crazy Horse Memorial, Crazy Horse
Free entry for Native Americans, active military and Custer County residents, the Crazy Horse Memorial, a memorial to honor Crazy Horse, a member of the Teton Sioux tribe killed in 1877, welcomes man's best friend. Within the common areas outside the Crazy Horse Memorial visitor complex, leashed pets are welcome. You can also bring your pet to the mountain carving viewing deck and the entry leading to the deck.
Make Your Money Work for You
Tennessee: The Park at Harlinsdale Farm, Franklin
Situated on the outskirts of Nashville and carved out of 200 acres of sprawling farmland are 4 acres dedicated for pups to run wild at The Park at Harlinsdale Farm. The farm has a nearly 80-year history of breeding horses and is now open to the public as a community space.
Texas: Zilker Dog Park, Austin
Austin's Zilker Park is a hot attraction for both humans and canines. Hop on the 10-mile Lady Bird Hike and Bike Trail and then let your pup cool off in the Texas heat by splashing around in the water downstream from Barton Springs Pool.
Utah: Willow Creek Park, Park City
In the summer months, the pond at Willow Creek Park welcomes dogs to splash, frolic and play in the park's 2.4-acre fenced area. For furry friends with extra energy to burn, the park features an agility course and a 24,000-square-foot area prime for playing fetch or Frisbee.
Vermont: Dog Chapel, St. Johnsbury
About an hour south of the U.S.-Canada border is St. Johnsbury's Dog Chapel, a kitschy yet sentimental tribute to all of the dogs who have passed away. Human and dog visitors are greeted by beautiful views from the top of Dog Mountain and are free to wander the mountainside property that includes an art gallery and chapel. Visit the chapel to see the walls covered with notes, drawings, photos and quotes from previous visitors who have left messages for their departed pup companions.
Virginia: Barrel Oak Winery, Delaplane
Settled about 55 miles west of Washington, D.C., is Barrel Oak Winery. At Barrel Oak Winery, all of the wine is made on the premises and visitors are invited to bring their own food, bring their own dog and relax on the winery's porch.
Make Your Money Work for You
Washington: Brooks Trailhead, Seattle
Brooks might not sell shoes for dogs, but it welcomes dogs in its first — and only — retail store, the Brooks Trailhead. Chat about all things running with the store's resident runners and shoe experts. Two-legged runners can also hop on a treadmill and get a free gait analysis to help you find your "sole mate."
West Virginia: West Virginia Hot Dog Festival Pooch Parade/Dog Costume Contest, Huntington
Clear your calendar for July 28 and start crafting the best costume for your four-legged best friend so they can take part in the Pooch Parade and Dog Costume Contest at the 14th Annual West Virginia Hot Dog Festival in Huntington. Although there's no entry fee, the nominal donation of $5 is required, and proceeds will benefit Hoops Family Children's Hospital.
Wisconsin: Wisconsin Brewing Company, Verona
Five minutes south of the greater Madison area is Wisconsin Brewing Company. The taproom and backyard patio offer fun for the entire family — yes, that includes dogs. Visitors are welcome Tuesdays through Sundays and are always encouraged to bring their own food.
Wyoming: Cheyenne Community Nancy Mockler Dog Park, Cheyenne
Dogs can socialize and play in this area that's been created just for them: Nancy Mockler Community Dog Park is fenced but wide open. The park is accessible daily from sunrise to sunset. It features a separate area for smaller breeds and senior dogs, and ample doggy waste bags.
Click through to read more about cheap, adrenaline filled trips you can try out.
More on Pets and Money