6 Ways Happy Couples Talk About Money

10 min Read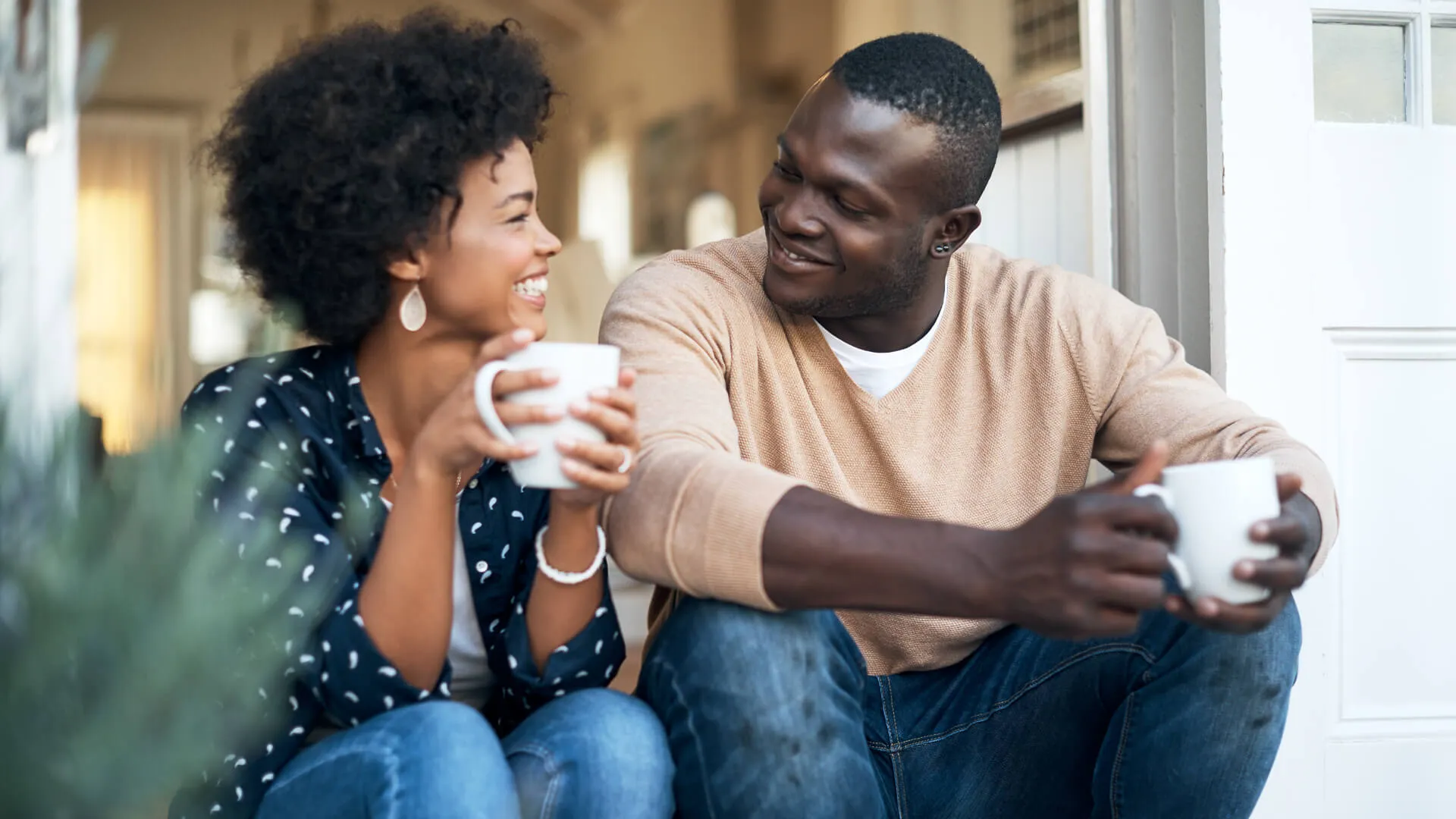 Talking about money with your significant other can be awkward, especially when the conversation quickly escalates to heated arguments. But avoiding the money talk with your partner could be even more detrimental to your relationship.
In its Love and Money survey, TD Bank found that 90 percent of respondents who say they are in happy relationships discuss money at least once a month. Meanwhile, just 68 percent of unhappy couples talk about money this often.
But, how do you have a conversation with your significant other without arguing? And, how do you make smart money decisions as a couple? If you want to have a successful relationship, follow these strategies happy couples use to discuss finances.
They Stay on the Same Page
First and foremost, you and your partner need to be on the same page when it comes to finances. That means you have to agree to make a plan for your money together.
"With almost 40 years of experience, I can tell you that short- and long-term planning is a joint effort," said Ron Weiner, CFP, managing director and partner of RDM Financial Group at HighTower. "In today's world, regardless of who earns what or who is more financially savvy, working on budgets and short- and long-term projections together is truly essential for not just financial success — but personal happiness."
Why Shared Goals Are Important
For example, perhaps you and your partner want to buy a home. After all, "purchasing a home is one of the largest investments a couple ever makes, and it's a landmark for finances, relationship success and the future of families," said April Masini, a relationship expert and founder of relationship advice forum Ask April.
You need to be on the same page as your partner to make sure this purchase is right for your relationship, family and overall finances. After all, there are plenty of downsides that come with buying a home.
"It might be perfectly okay to drain assets by having that vacation home to enjoy in the short term," said Weiner. "But you might have to look at the reality of selling that asset in later years to support your retirement lifestyle … It's easier to plan that together than for one person to simply say, 'Honey, we simply can't afford this anymore.'"
Make Your Money Work for You
They Make Money Dates
Date night isn't just for dinner and dancing. Financially successful couples also set dates to check in on their money. Besides helping couples stay on the same page, regular money dates offer another perk: They allow you to stop fighting about money.
"The main reason couples fight over money is that they leave their finances too open-ended, too open to debate," said Brian Davis, a BiggerPockets columnist. "Couples should sit down and have a serious conversation to agree on a budget. Then, find ways to systematize that budget to cut out any ambiguity. If couples do it right the first time, they don't need to rehash the same financial arguments over and over; they each have a certain amount of their own money, and everything else is systematized."
How to Have Better Money Talks
For example, Davis and his wife have a money date on the last Sunday of every month. "We have a standing in-house financial date where we make a nice dinner, have a bottle of wine and sit down with our laptops to review our credit card statements for the month," he said. "We transfer money from our joint account to each of our credit cards for any joint expenses we put on them — usually just big-ticket purchases like airfare for a trip."
Any personal expenses they put on their credit cards are then paid for out of their personal checking accounts.
"It's less of a chore than it sounds," said Davis. "Out of a three-hour evening of eating and drinking, it only takes 15 minutes to pay our credit card bills."
They Treat Their Relationships Like a Business
You wouldn't expect a business to succeed if its owners didn't track income and expenses, or set short-term, mid-term and long-term goals. Relationships are no different. Keep constant tabs on your cash flow, or the money going in and out of your accounts.
"Longer-term projections are needed to put everything in perspective," said Weiner.
For example, if you want a second home near the beach, do a proper short- and long-term analysis of how that will impact your finances now, as well as in the future.
"When you actually do a budget and include the cost of entertaining weekend guests, painting the house every two years — because it's near the water, increases in property taxes and the desire to leave that property to your children instead of selling it, this decision could have a major impact on a couple's short-term cash flow as well as long-term financial independence," he said.
Make Your Money Work for You
How to Create a Path to Success
Couples should have effective conversations about their goals. Weiner recommends that couples create a "measurable path" to whether they are on target for whatever their goals are. But, like in any business, the road to success isn't always straight. So, you need to plan for missteps and allow yourself room to learn.
"It is not unusual for clients to call us and say something like, 'You're going to hate us.' That means they did something well outside their own plans," said Weiner. "The key is that they understand what they did. That alone will help them in the future."
It also might be easier to talk about money with your partner if you think of your significant other as a joint CEO, CFO or even your "business" partner. Both of you are equally responsible for coming up with a financial plan and raising the red flag when something is amiss. Then, as a team, you can work together to make sure you're back on track toward achieving your financial goals.
They Work on a Written Budget Together
Whether you're single, married or living with your partner, having a solid budget is another cornerstone to financial success.
"Managing your financial health is not much different than managing your physical well-being," said Steve Ward, founder of the Love Lab app. And, it isn't about obsessing over the numbers. Instead, as Ward put it, "budgeting is like rationing. Counting dollars and cents is not much different than counting calories."
If you want to stop fighting about money in your relationship and have successful conversations instead, sit down with your partner to create a written budget.
"I think the most important thing is to have a written budget each month that both people agree to prior to the start of that month," said Jeff Campbell of Middle Class Dad.
How to Create a Budget You Can Stick To
For example, Campbell and his wife plan their budget about six weeks in advance and agree 100 percent on all expenses.
"We have a rainy day fund for emergencies, and we pay cash for all expenses outside of monthly recurring bills to avoid overdrafts or arguments over mystery charges that weren't discussed in advance," he said.
They also have agreements about debt and borrowing money. "We also don't borrow money other than the primary mortgage," said Campbell. "And we believe that is key to staying afloat financially and staying ahead — no matter what happens in the economy."
In addition, the couple budgets for regular contributions to investment accounts and vacation funds. "For retirement, we invest 15 percent of our income every month into Roth IRAs, and we also contribute monthly to our kid's college 529 funds," he said. "For vacations, we do take one or two per year, and we either save up months in advance or — since my wife is a teacher — she sometimes will take on a summer job to help."
The couple's budget even includes a line item for holiday spending. "We like to set aside $90 a month for Christmas spending so we aren't scrambling in November or tempted to borrow money," added Campbell.
Sit down with your partner, and come up with a budget that works for your relationship. And, meet regularly with your significant other to discuss and amend your budget as needed.
Make Your Money Work for You
They Keep 3 Accounts: Yours, Mine and Ours
Here's another secret to a successful relationship: "Yours, Mine and Ours" accounts. By creating separate and joint accounts, you and your partner can manage money and prevent money arguments down the line.
"One idea that helped my marriage exponentially was creating three checking accounts: one for me, one for my wife and a joint account," said Davis. "We then set monthly personal allowances for each of us to spend on whatever we each want, with no questions asked and no access to the other person's personal checking account."
Davis and his wife have each of their paychecks deposited into their joint checking account. And, their personal allowances are auto-transferred to their separate bank accounts.
"Most of our expenses are joint expenses that come out of our joint account," said Davis. "But when one of us goes out alone with friends, or goes to get a massage or goes shopping for clothes or shoes, it comes out of our personal accounts."
Why Multiple Accounts Work
This strategy can be especially helpful when one person makes more than the other or the individuals have very different spending habits. But although the couple keeps separate "fun money" accounts, it forms a united front when it comes to long-term financial goals.
"Our savings and investments are the first expenses that go out, rather than the last like most people," said Davis. "It structures our savings to be our No. 1 priority — without us having to even think about it."
They Hire Professional Help When Needed
If you and your partner can't amicably agree on the best strategy for your money, consider getting help. A relationship expert, for example, could help you and your partner talk about money in a calm, respectful manner. And, a financial advisor can help you make the best decision for your money, from budgeting to investing to saving for retirement.
"Surround yourself with a strong team of trusted professionals who will act in your best interests and effectively communicate with each other," said Kevin Phillips, a financial advisor with Savant Capital Management. "Doing so can help couples implement strategies to further enhance their wealth while avoiding potential pitfalls along the way."
Make Your Money Work for You
How to Protect Your Wealth
Sure, it might seem overwhelming to have a team of pros throwing complicated financial terms your way. But Phillips said a good money manager will help you understand different investment strategies, as well as the risks associated with each one.
"Keep a good eye on your accounts, know why and where money is being moved and be very wary of sales pitches to buy products, companies and investments that sound too good to be true," he said. "It's very disheartening to hear stories of very successful families who have had their hard-earned money stolen by someone they trusted."
More on Relationships and Money:
About the Author